IPCPR: Hits and Misses 2
September 21st, 2016
PUBLISHER'S NOTE: Our intrepid reporters, jefslat (Jeff Slatton) and his lovely bride, attended the recent IPCPR show in Las Vegas. They collected many samples from the vendors there. On a volunteer basis, these cigars were sent to readers with the agreement that they would write regarding what they did and didn't like about the new offerings from the show. It has come to my attention that a number of the cigars at this year's show were actually released last year, as pending new FDA regulations would make it prohibitively expensive for smaller manufacturers to create new blends. The following reviews were submitted by Briandg (Brian Gardner). There will be an ongoing series of these reviews until all of the material submitted is exhausted. There will likely be some overlap of some brands and vitolas, as the manufacturers provided multiple samples for review.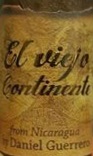 1: Daniel Guerrero El Viejo Continente
The Daniel Guerrero El Viejo Continente was a standard Robusto, and very nicely presented. It was a shame that the thing came in cello; it hid the wrapper, the best selling point of the quality of the cigar. This was a beautiful, dark, shiny Maduro - toothy and a bit rough. There were even a few flecks of crystallized bloom on the wrapper. The bunch was firm and consistent, while the draw was perfect. The cigar burned straight and nearly perfectly. The flaky white ash broke pretty soon, and the foot was cratered. But it straightened up and, for the rest of the time, it smoked well.
A very fine smoke. Nothing stood out from the blend that I could pick up. A slightly sweet herbal character developed in the aroma after purging. It seems to have a deceptive nicotine kick to it. It would go well with a couple of nice crisp lagers; in fact, that sounds like such a good idea that I'm going to go pour a beer to go with the second half. Not my cup of tea, exactly, but I highly recommend it. Give it an 85 based just on the liga and flavor experience. But this thing deserves a 90+ for construction, appearance and the fine way it smoked.
2: Foundation El Gueguense Corona Gorda
My first impression of the Foundation El Gueguense Corona Gorda, when I pulled the cello off of this cigar, was that it had great promise. And when I finally put it down, it had fulfilled every bit of that promise. It was an exceptional cigar. The wrapper was a fine, satiny looking reddish Corojo, lightly veined and very well-constructed. It had an awfully nice looking band, to boot. Clipping it off and trying the cold draw, it drew perfectly. The pre light aroma of the wrapper was simple, earthy tobacco. The bunch was firm and consistent, solid all the way from head to foot. The smoke was flavorful and aromatic, medium in body, and easy on the throat and palate. As I worked my way through, it developed a woody, leafy aroma, and a sweet coffee character occasionally appeared in the aroma. It was a well-built cigar that should smoke quite well, I thought, but I didn't get that part right.

Even though the bunch seemed perfect, the binder and wrapper just never managed to keep up with the bunch. I was correcting the wrapper a lot, and it burned slightly hollow all the way through to the end. This doesn't present a problem for everyone and, of course, it may have just been the result of that single cigar on that hot, muggy night. 87 is a good place to put it, maybe higher, and it has my strongest recommendation. Would it be too much to ask for a Lancero or Lonsdale? That, I believe, would be a very good vitola to put this blend in.
3: Core Zero Patriot Constitution
The Core Zero Patriot Constitution was a very nice looking cigar, a 6 X 52 Toro with a nice, slightly mottled shade-grown wrapper. It was well constructed, with a good, solid, consistent bunch. The Pennsylvania shade-grown wrapper had the expected leafy, barnlike aroma of a shade-grown leaf. The draw was lighter than usual, it seemed, for a solidly built cigar - ordinarily a sign of a problematic burn. But there were no insurmountable issues upon lighting it up. It never did burn completely straight, due to a small tunnel, but it only took an occasional touch up to straighten out the wrapper. There were no surprises on the gustatory front. Taste and aroma were much like any shade wrapper/Dominican blend, such as a Macanudo or a Romeo y Julieta.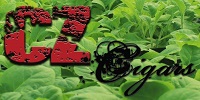 Starting off with a few hot, harsh puffs, it evened out immediately. The smoke had the typical grassy, herbal sharpness of a shade grown cigar, but it avoided the heavy handed, nose tickling, eye watering and paint peeling harshness that one sometimes finds in a shade-grown cigar. It had a pleasing aroma, with a hint of what may have Nicaraguan leaf. It was well balanced, medium bodied and easy to smoke. I'm partial to shade grown cigars, and getting it right is not as easy as people would think. It's easy to hide blending problems behind an intense Maduro wrapper. But a shade-grown stick has to have balance. Comparing this to a Macanudo, for example, it holds up well. In fact, I might actually prefer the blend found in the Constitution. I'm giving it an 82-85 for overall score. Heck yes, I'd buy it again, and recommend it for shade grown enthusiasts. If you're a fan of the Macanudo, give this one a try for a change.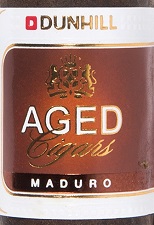 4: Dunhill Aged Maduro, 4 X 53
I don't like the stubbies. Never really cared for large ring short cigars at all. But, that doesn't matter really. This is about the great qualities of the Dunhill. This was a magnificent thing - a deep, dark Oscuro. The wrapper was glossy and perfect. Aroma of the wrapper was earthy, with a hint of baseball leather. It was, as would be expected of a Dunhill, built with perfection in mind.
The cold draw was very light. Lighting it took forever, and I had misgivings. It burned perfectly, though, and went straight and fine all the way to the end. A Dunhill is one of the truly premium cigars. There's no doubt that this was top-tier. It had a fine cone-shaped ash, refined and smooth taste, and perfect burn. In flavor, it was what one should expect from a Maduro/Dominican cigar such as the Romeo or certain others, having the grassy, sharp flavors and aroma, with a bit of espresso in the mix. I enjoyed it a great deal. Unfortunately, it's a rather short smoke. I'll take a Lonsdale next time. Got to give it an 88. For a stubbie, it smoked well. Flavor and aroma were right where I expected them to be, with a fine, medium to full smoke. Highly recommended and, as stated, firmly in the 88 range.