IPCPR: Hits and Misses 3
September 22nd, 2016
PUBLISHER'S NOTE: Our intrepid reporters, jefslat (Jeff Slatton) and his lovely bride, attended the recent IPCPR show in Las Vegas. They collected many samples from the vendors there. On a volunteer basis, these cigars were sent to readers with the agreement that they would write regarding what they did and didn't like about the new offerings from the show. It has come to my attention that a number of the cigars at this year's show were actually released last year, as pending new FDA regulations would make it prohibitively expensive for smaller manufacturers to create new blends. The following reviews were submitted by Briandg (Brian Gardner). There will be an ongoing series of these reviews until all of the material submitted is exhausted. There will likely be some overlap of some brands and vitolas, as the manufacturers provided multiple samples for review.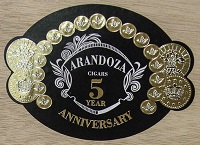 1: Arandoza Fifth Anniversary Toro
The Arandoza Fifth Anniversary Toro is a cooperative effort with the Arango Cigar Company and rising star Eric Espinosa. It was a genuinely beautiful cigar. The wrapper was a glossy, smooth Oscuro, although it was a bit bumpy on the surface, with a few veins protruding from the binder. The construction was solid, and the cold draw was just perfect. The aroma of the wrapper was leathery and earthy, as expected, and I anticipated greatness.
I clipped and lit, and from the first puff, this was a potent, jarring smoke. I got mostly pepper with some espresso notes and a bit of dark cocoa. The smoke was hot, and left my palate burning with every deep puff. The binder/wrapper combination was obviously thick and heavy, as it was impossible for it to keep up with the burning filler. In fact, it was even hard to burn off the wrapper just to find the filler. I should have used a torch. Nothing can smoke well if you're a big whiny baby like me who can't sit and puff on such a powerhouse. Of course, I had to take the thing as slowly as possible; it was mind-bogglingly strong. Going to give it a solid 86 or higher. This powerhouse of a cigar is just what one of my besties would love.
The Arandoza Fifth Anniversary is a quality cigar - a fine cigar, maybe even excellent. But it is not for everyone. I'd suggest them to the leather-tongued fans of heavy Nicaraguans. Myself, I couldn't take it. I had to put it down before I had even made it two inches in. I'm certainly not disappointed, though. I learned something new, and I've had the opportunity to share it with interested parties.
2: Aging Room Pelo de Oro Scherzo
The Pelo de Oro is a Nicaraguan puro from A. J. Fernandez, made with tobacco not normally found in a run-of-the-mill smoke. Pelo de Oro is a Nicaraguan tobacco that is frankly a risky investment, since it is susceptible to the dreaded blue mold fungus. A single night of wet fog and a cool morning can wipe out an entire field, wilting and destroying plants from top to bottom and ruining the harvest.
I was eager to try this one. Much like many of the Fernandez labels I've tried, this was a magnificent smoke. I was concerned at first that there would be serious burn problems, as the bunch was heavy and hard around the wrapper and slightly looser within the filler. These concerns never materialized, though the cigar required some touch ups. The wrapper was simply beautiful. It came with a triple cap and pigtail closure. A reddish EMS, it had a satiny leaf with slight toothiness. It measured 5.5 X 55 - a hefty stick that was solid end-to-end and beautifully blog. The leaf had little pre-light aroma, and the draw was a little light. Regardless, it burned well beginning to end.

Lighting it up, I found that it was a full-bodied smoke with a peppery character - smooth and flavorful, changing from a full-blast, pepper-up-front into a more complex, savory and aromatic smoke in the last half. It evolved into a dark chocolatey aromatic feature that became strong tastes of espresso approaching the nub. Some beefy, roasted meat aromas came in at the very end. I found it to be a fine smoke, powerful yet refined, and lacking in harshness that such a full bodied cigar would commonly have. Towards the very end, this powerful smoke had my lips tingling. but even at the last inch, it was still smooth enough for a mild cigar weenie like me.
I've spent a lot of time sharing my thoughts of the cigar itself - not so much on the flavor characteristics, because this is important to me. It's also where the cigar absolutely excelled. In any case, a good cigar from A. J. Fernandez should speak for itself in that aspect. It rates an 85 or higher in my estimation, and I strongly recommend it.
3: The Veritas Cigar Company #412
The Veritas Cigar Company #412 presented as a fine, elegant cigar. The wrapper looked a bit dull and dry, but it was perfectly formed, smooth and without flaw. The cap was finely shaped, and the bunch was solid and consistent throughout. The wrapper had only a very mild aroma of dark cured tobacco.

Given this wonderful presentation, I was anticipating greatness. The draw was rather tight. It lit easily, with a burst of cinnamon in the first few puffs. Then the aroma faded away for just a tic. I began to taste the pepper a few minutes after lighting. The maker suggested that I would experience a whole lot of tastes, including raisins, toast and wasabi peanuts. But I'm going to reserve judgemnt on those things for myself. The ash was bright and flake-free, and it burned evenly from the beginning.

This is described by the maker as a full flavored smoke with robust flavors of pepper and other spicy notes. But up front, this smoke is no more than mild to medium. At about an inch, black pepper crept into the aroma and later, a bit of sweetness. Some stronger peppery features came in at the very end, with about 1.5 inches to go. Even to the end, the full power that was described failed to appear.
In any case, this turned out to be an exceptional cigar. It was flavorful and aromatic, smoked like a fine premium, and was a most refined and pleasant smoke in the medium-bodied range. I enjoyed it greatly, and give it an 86-87. I strongly recommend it.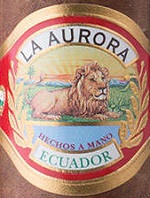 4: The La Aurora Ecuador Corona
The La Aurora Ecuador Corona came in a sampler of all available wrappers. It was a green-banded Corona, banded in the colors found in the Preferidos line. It was somewhat soft, with a nice wrapper, and well-built. The wrapper had a pleasing aroma - basically the scent of fine cured tobacco. The draw was a little loose, but not terribly so. When I lit it up, it presented as a rather ordinary smoke - a little peppery and hot. I got the impression of a Punch in EMS.

The cigar was less than perfect. The burn was crooked and cratered badly, and it went out several times. The ash was flaky, and I wound up with my shirt speckled from top to bottom with bright white spots.
The flavor was really rather uneventful; it was a peppery blend of simple tobacco flavors. Towards the very end, I got some interesting aromas of browned meat.

This sampler wasn't meant to be a true example of the premium lines that they manufacture, but rather simply an opportunity to gather the fundamentals of the brand and blends. The actual Ecuador line from the premium vitolas is a fine example of a cigar. I have had them in the past. And overall, the Ecuador blend was a fine line that earned an 85 when I reviewed them in the past.