Recluse Amadeus Habano Reserva Robusto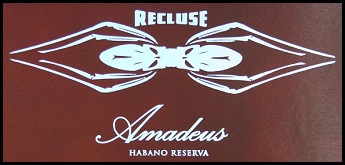 September 24th, 2016
From the press release: "The Recluse Amadeus Habano Reserva is the newest blend from Iconic Leaf. With its Habano wrapper, Mexican San Andrés binder and a variety of Dominican fillers, including Pennsylvania Broadleaf, this is a specially blended tobacco flavored trifecta! The flavor profile is a recipe for delight... toasty nuts, woodsy cedar aside mellow chicory, creamy caramel, and a touch of sweet cherry and raisins. Black pepper balances the smooth flavors with a bit of tongue-pleasing bite of zing! It's a medium to full-bodied smoke with excellent construction for the ultimate smoking experience! So gather your senses and get ready for an alluring seduction of brilliantly blended tobaccos and flavor enhancements. This is a smoke to share with friends or to simply enjoy on your own. Whichever you decide, you'll be glad you've uncovered the Recluse Amadeus Habano Reserva and made it your own!"

This fairly substantially box-pressed cigar gives off heavy cocoa notes from the wrapper and the foot. Another interesting feature of the cigar is that simply rolling the end between your fingers eliminates the need for a cutter. The easy, dry draw yields noticeable scents of cocoa.
Once lit, the initial draws show notes of medium-full tobacco, light cocoa and pepper. There is also a pronounced sweetness on the draw, which accentuates the cocoa aspect.
The flavors mellow a bit at the one-third point, with less pepper, less intense tobacco and the emergence of smooth leather notes now being discernible.
The light, cool smoke is very pleasant, and solidly in the medium range.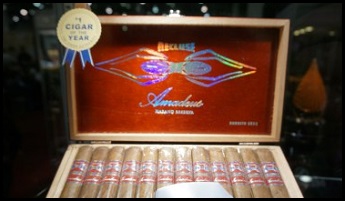 Around the last third of the session, the cigar and smoke begin to heat up. A couple of purges solve this temporarily, but I can tell that I will not make it to the final inch.
This is a very nice and complex cigar. But it will have to be smoked very slowly to avoid heat issues. Still, based on flavor and complexity, I will give it 8.25/10. Joe Bob says, "Check it out."
__________________________________________________
Jeff Slatton (jefslat) hails from the San Antonio, TX area.