A Cigar's Tale Review XXI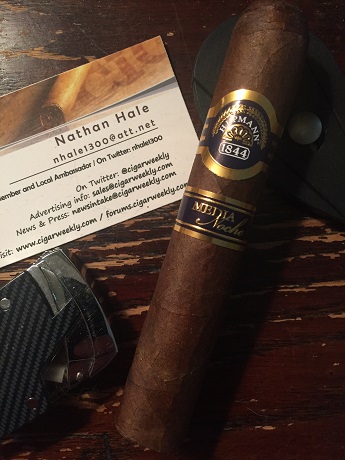 October 6th, 2016
Cigar name: Media Noche
Cigar brand: H. Upmann
Wrapper: Pennsylvania Broadleaf
Binder: Dominican Republic Piloto
Filler: Dominican Republic
Vitola reviewed: Robusto (5 inches by 54 ring gauge)
Strength: Medium
Body: Medium+
Price: $7.00
Visual
This is a cigar that immediately catches your attention. There is something about the way the wrapper and band come together that just jumps out at you. The wrapper is dark brown, and has a slight tooth to it. There are tight seams and two prominent, medium-sized veins running along the firm cigar.
Cold aroma
The scents coming off of the wrapper include chocolate, leather, cedar and coffee. The foot brings notes of raisin, barnyard, cream, butter, floral, black pepper, musk and caramel. All of these fragrances come together nicely, and give me hope of a pleasant smoking experience.
Cold draw
With the cap cut and a few draws taken, I start to get a picture of what is to come – a cold profile of peanut, earth, bell pepper, crushed red pepper, hay, butter, leather and raisin.
1st third
The beginning of the stick shows promise. The notes of coffee, hay, butter, caramel, black pepper, cedar and a touch of blackberry start things off in the right direction.
2nd third
The second third doesn't disappoint either. Flavors that come up to the top include black pepper, cumin, cocoa, toast, cream, caramel, leather, almond, tobacco and espresso. There are some good flavors there, and they come together nicely.
Last third
Moving into the end phase, I sense an introduction of some new flavors. I already expect the espresso, cedar, cream, toast, black pepper and almond, but now also get orange spice, zest, grass, cloves and some crushed red pepper on the retro-hale.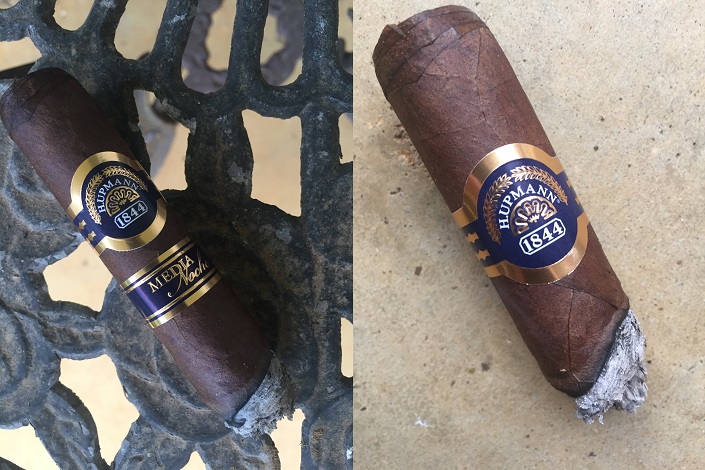 Afterthoughts
Things came together really nicely, and made for an enjoyable experience. The draw was perfect, and the burn was even throughout. The ash was a light gray, and there was plenty of smoke production that was aromatic and pleasant. Thanks to cigarweekly.com for the sample to review.
__________________________________________________
You can follow me at www.facebook.com/ACigarsTale or on Twitter and Instagram @nhale1300. As always, you can find more of my reviews (and additional reviews by many other talented reviewers) at www.cigarweekly.com. There, you can also find interesting articles concerning non-cigar related topics, as well as great content on the forums.