A Cigar's Tale Review XXII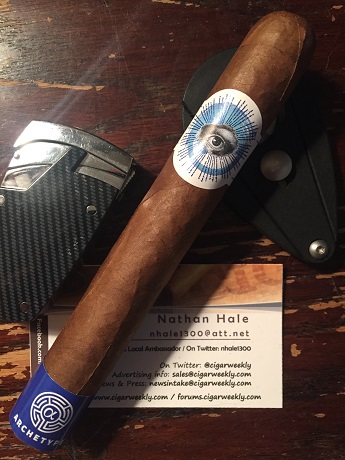 October 10th, 2016
Cigar name: Archetype Sage Advice
Cigar brand: Ventura Cigar Co.
Wrapper: Ecuadorian Habano
Binder: Dominican Republic
Filler: Dominican Republic
Vitola reviewed: Toro (6 inches by 52 ring gauge)
Strength: Medium+
Body: Medium+
Price: $11.99
Visual
Upon visual inspection, I find an oily wrapper with a milk chocolate color. There is a slight tooth, and the seams are almost nonexistent. I also note a couple of small veins running along the outer leaf of the firm stogie.
Cold aroma
The wrapper gives off nice scents of leather, dried fruit, cinnamon, cedar and earth (dirt). The foot brings fragrances of chocolate, raisin, grass, flowers, cocoa and coffee.
Cold draw
After cutting the stogie, I take my usual puffs before lighting. This cigar brings on flavors of cocoa, chocolate, peanut and cinnamon.
1st third
The first third of this treat has a nice profile to it. Notes of cocoa, coffee, almond, cream, cloves and black pepper hit on the back of the throat. And a floral, crushed red pepper sensation on the retro-hale makes for a pleasant initial experience.
2nd third
The second part of my journey exposes some of the same notes as well as additional ones of cocoa, black pepper, toasted almond, hickory and floral hints. At this point, the cigar is a bit snug for me, but I am getting a nice, light gray, almost white ash.
Last third
In the final third, the cigar starts out with some dried fruit, cocoa, leather, cedar, zest and white pepper. There is a nice smoothness here during the final third.
Afterthoughts
This was a cigar that was given to me by Cigar Weekly from this year's IPCPR show. I wasn't really sure what to expect. But after I started smoking this cigar, I was pleasantly surprised at its goodness. It had some fantastic flavors, plenty of smoke, and was aromatic. The draw never really loosened up, but was not too snug for me to complain. The burn was even throughout. Overall, I enjoyed the Archetype Sage Advice. I would certainly look to add a few to my humi for the future.
_________________________________________________
You can follow me at www.facebook.com/ACigarsTale, on Twitter and Instagram @nhale1300. And, as always, you can find my reviews and a lot of other great content at www.cigarweekly.com.