A Cigar's Tale 'Short Story' Review XXIV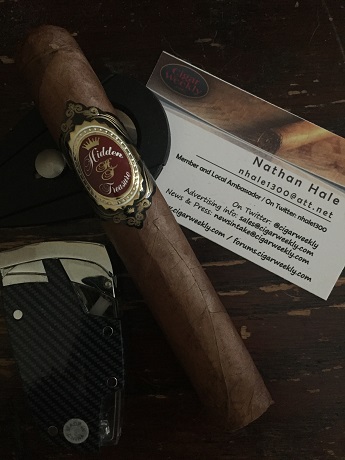 October 20th, 2016
Today, I am reviewing yet another sample from the 2016 IPCPR. This cigar is the Hidden Treasure from USA Sales, Inc. It's a Robusto, measuring 5.13 inches long by a 52 ring gauge. The Hidden Treasure has a Habano wrapper, and retails at a price somewhere between $7.49 and $9.99.
I had trouble finding information on this cigar, and requested some from the company via e-mail. However, at the time of writing this review, I had still not received a response. All I can say is that the band had 'Dominican Republic' printed on it, so I assume that country is where the Hidden Treasure originates from.
The wrapper had a light chocolate color, and presented with some notable medium and small sized veins.
The scents coming off the wrapper included notes of barnyard, earth, musk and avocado. The foot had a more pleasant aromatic presentation of raisin, cedar, coffee, black pepper, cream, caramel and cloves.
After cutting the cap and taking a few draws prior to lighting, I got some sensations I had seldom experienced before – at least not at the same time. I picked up notes of peanut, dirt, musk, game, tobacco, mildew and mahogany.
Toasting the cigar and letting it burn down just a bit, I started to zero in on the flavor profile, which consisted of peanut, barnyard, dirt, dust, coffee, mildew, tobacco, cumin, game, paper, smoked meat, black pepper and a touch of toast.
The profile really didn't change throughout the cigar, and what I started out with is pretty much what I ended up with. The draw was good. But the burn was uneven, and I had to relight the cigar several times.
Whether or not my particular cigar represented what one might typically expect may, of course, be open to some debate. That said, I scored my sample of the Hidden Treasure as follows...
Pre-light: 3
Light: 2
Draw: 8
Construction: 6
Flavor: 1
Power: 8
Average: 4.6
__________________________________________________
You can follow me at www.facebook.com/ACigarsTale, on Twitter and Instagram @nhale1300. And, as always, you can find my reviews and a lot of other great content at www.cigarweekly.com.