Battleground Old Powder Keg Torpedo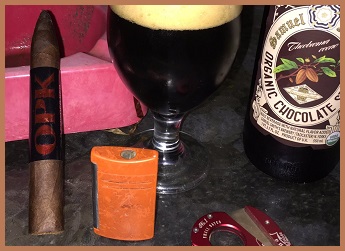 October 12th, 2016
Size: 6 inches by 52 ring gauge
Available in boxes of 20 cigars
The OPK Torpedo is marketed by Connecticut Valley Tobacconist, located in Enfield, Connecticut. The next two paragraphs are quoted directly from the firm's website:
"The inspiration for this cigar comes from Colonel Augustus Hazard who owned and operated the fabled HAZARD GUN POWDER COMPANY, in our home town over 150 years ago. Legend is this area produced 40% of the gun powder used during the Civil War. The powder works blew up long ago, only the village of Hazardville remains."
"This long filler cigar is made from a blend of Central American tobaccos, a local Connecticut Broadleaf binder and Maduro Corojo wrapper. This cigar is "THERMO NUCLEAR". Not a breakfast cigar by any means. Rated one of the "Best Full Bodied" cigar by Perelman Cigar Cyclopedia two years running!"
As for my sample, I initially picked up leather and cocoa notes from the somewhat toothy wrapper and from the foot. The bunch was solid, and a fairly easy cold draw revealed leather notes.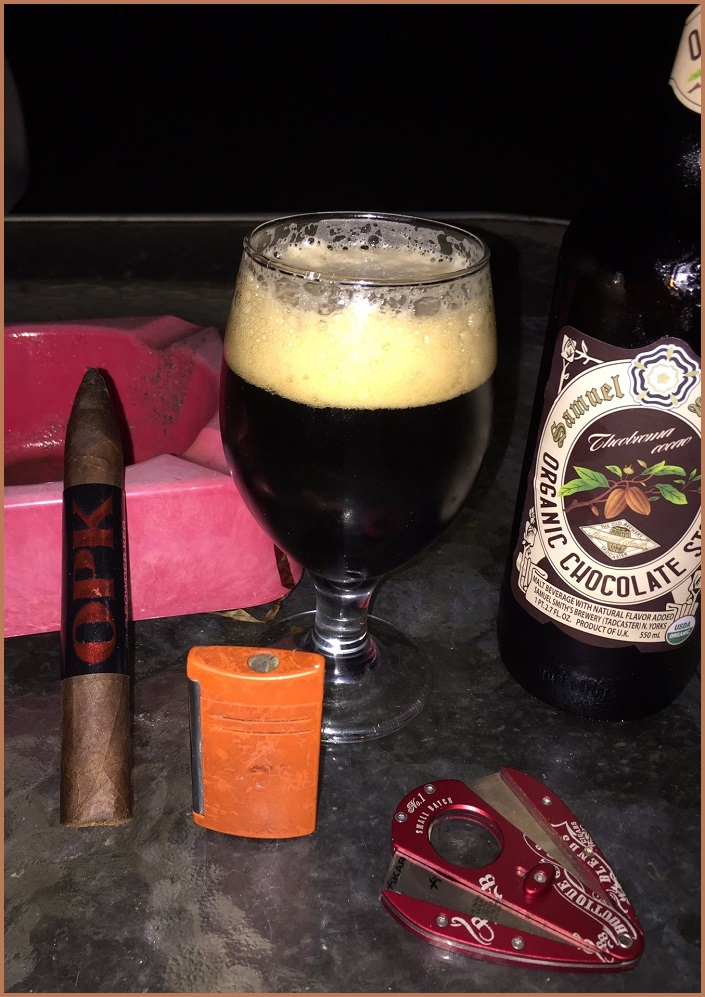 Upon lighting, I immediately sensed leather along with spicy notes. Draw and burn were smooth and clean, with some very light bitter tones on the lips. And the medium grey ash was solid.
Those spice notes seemed a bit subdued during the first third. Surprisingly, the cocoa aroma of the unlit cigar had yet to manifest itself.
Then, at about the one-third mark, subtle cocoa notes did begin to appear. By this time, the peppery spiciness was mostly gone, leaving behind some cinnamon notes.
A prominent presence of Ligero gave the cigar a nice kick, which was not overpowering and very pleasant. Some coffee notes emerged just past the first third. The cocoa notes then faded a bit, but the cinnamon characteristic remained.
I was now experiencing lots of thick, satisfying smoke. The coffee and cinnamon aspects were still there as a very smooth and leathery component emerged. Cocoa notes remained, but this may have partially been due to the Chocolate Stout I was sipping.
At the two-thirds point, the flavors settled into a most pleasing coffee and leathery smoke, which was just on the full side of medium. The burn continued to be perfect, with a conical coal evident.
The final third maintained a very pleasant leathery flavor, with the cinnamon tones lingering. The strength appeared to increase as the cigar heated up a bit, but not unpleasantly so.
Approaching the final inch, the smoke heated up enough to sting a bit on my lips. Although this wasn't anything small purges couldn't combat, it signaled that the end of the cigar was near. That said, the smoke remained very pleasant.
At one inch, the cigar became too hot to hold, and I put it down.
The richness and complexity of the smoke makes this cigar stand out, and earns it a 9/10. Joe Bob says, "Check it out."
__________________________________________________
Jeff Slatton (jefslat) resides in the San Antonio, TX area.