Gurkha Red Witch Robusto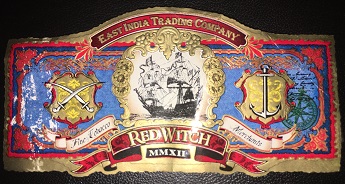 October 19th, 2016
Size of cigar: 5 inches by 52 ring gauge
I enjoy cigars and the cigar life, and am a cigar enthusiast. I have never claimed to be an expert, but I do know a little about cigars. As an enthusiast who does occasional reviews, I feel it is my job to give you the basics of the cigar – the practical information you want to know before you purchase a particular cigar. I'm not going to dazzle you with arcane information and minutiae. I simply try to supply you with the nuts and bolts of a cigar. If you want purple prose about a cigar's flavor and the employment history of the blender, I'm not your guy. On the other hand, if you want to know a fellow enthusiast's succinct opinion, read on. This time around, I'm reviewing Gurkha's East India Trading Company Red Witch Robusto.
East India Trading Company is one of Gurkha's four families of cigars. The Red Witch name refers not to a woman, but to a 19th-Century trading ship. The band of this cigar is covered with some impressive artwork, which features the aforementioned ship and Gurkha's signature crossed blades. The line is manufactured in Nicaragua, and uses an Ecuadorian Rosado leaf for the wrapper. The filler is Nicaraguan, and the binder Dominican.
The cigar I smoked was a standard-sized Robusto. It was gently square-pressed, and thus a tad light and soft when squeezed. The outer leaf was medium-brown with few veins and no blemishes, while the cold smell was pungent barnyard and rotting fruit.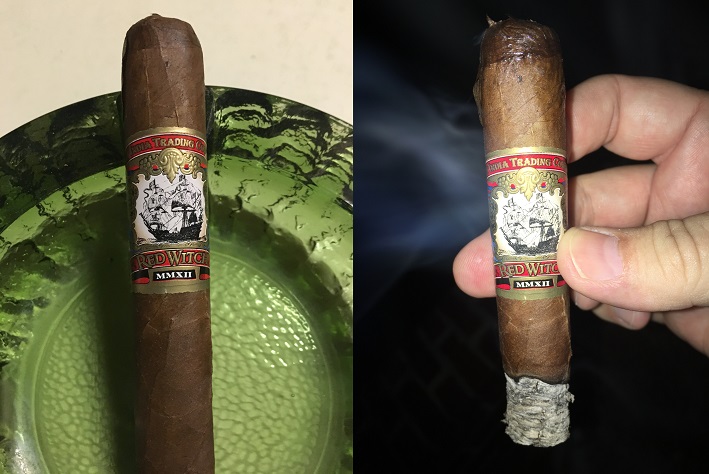 I used a punch-cut and a cedar splint to light up. The draw was free, and produced plenty of smoke. The sturdy ash was a salt and pepper tone with tight, uniform segments. The burn was even and a tad hot. (That happens sometimes when using a punch-cut on a loosely-packed cigar.) Smoking time was forty minutes from the foot to the nub.
The flavors I noticed through the first stage of the cigar were wood, earth, and subtle pepper and spice. Like many cigars, the Red Witch started out brazenly, and then quickly calmed down and mellowed out.
During the middle third, that rotten fruit cold smell became a delicious fruity tartness. The initial flavors of pepper, wood, and earth persisted to the end. The finish was smooth, with some metallic notes creeping in. Overall, the cigar provided a very nice profile. I'd call this one mellow and medium-bodied.
How did I score it using the Cigar Weekly system?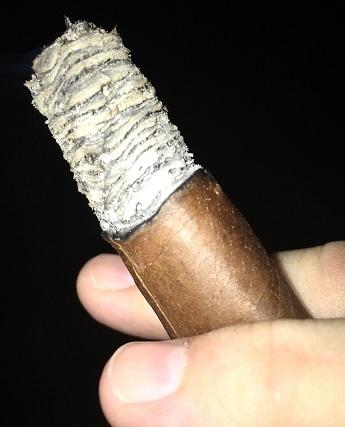 Pre-light: 8.5
Light: 9
Draw: 9
Construction: 9
Flavor: 8.5
Power: 7
Average: 8.8
In summary, I was surprised and impressed by the Red Witch Robusto. Let me be honest – there are so many Gurkha labels that you don't always know what you're going to get. Some are great, and some not so much. This Red Witch Robusto was one of the good ones. It performed well and surpassed my expectations. The best part? It retails for around $5.00. I'll certainly be purchasing more.
One more important question: What beverage would I pair with the Red Witch? Because of its medium-body, I would think it would pair with almost anything. It is certainly smooth enough to match up with wine or a liqueur such as Amaretto. And, at the risk of sounding sexist, I'll say this: Guys, if you want your lady to join you in your love of cigars, this is a good choice for her to try. It's nice and mellow with a suggestive name. She's apt to like it. And I believe you will too.