Crowned Heads La Imperiosa Magicos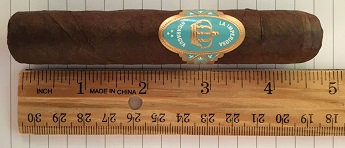 November 7th, 2016
Size of cigar: 4½ inches by 52 ring gauge
Knowledgeable cigar enthusiasts know the story of The Crowned Heads. Jon Huber and a few of his fellow employees split from CAO in 2010, and formed their own Nashville-based cigar company. Since then, the fledgling boutique cigar company has enjoyed incredible success.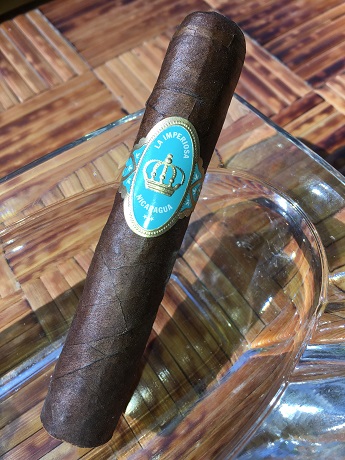 Crowned Heads presents a fiercely independent and successful image, and lives up to that image by making some damn fine cigars. The company has worked at a torrid pace, averaging more than one new full-line release per year, in addition to one-offs.
One of its limited annual releases, Las Calaveras (in 2014), was extraordinarily popular. In a curious move the following year, Crowned Heads used the very same Las Calaveras blend to make a new line (complete with new and different sizes), and called it La Imperiosa. But who am I to argue with the brand's success? Of the four vitolas in the La Imperiosa line, it is Magicos that I'll be reviewing here.
The La Imperiosa Magicos is a short, chubby Robusto. Its band is bright blue with gold trim, and sports the Crowned Heads logo, 'Nicaragua' and the three stars from the Tennessee flag. The cigar is manufactured by the legendary My Father factory in Esteli. Its specifications list the wrapper as Ecuadorian Habano Oscuro, and the binder and filler as Nicaraguan.
My sample was dark brown with an oily sheen. The wrapper appeared tough and a little bumpy, but with only a few veins and one small blemish, which was no big deal. The cold smell was moldy and dank. Things looked and smelled promising.
As is my custom, I used a punch cut on the triple-seam cap. A cedar splint supplied the flame.

The draw was easy, and there was plenty of smoke. The slow and even burn led to a session lasting forty-nine minutes in total. The mid-gray ash was a tad flaky, but quite sturdy. Simply put, this Magicos was well-constructed.
After firing the cigar up, the first flavor I noted was subdued hot pepper. By subdued, I mean that hot pepper was there, but it was far from overwhelming. Other initial flavors present were earth and wood. There was also an unpleasant mineral or 'blood' taste that quickly faded away.
As the cigar burned to the midpoint, I tasted mushroom and vegetal flavors beneath the pepper, wood and earth. The different nuances were, in fact, difficult for me to discern. To me, that says, "Complex flavor profile."

The La Imperiosa was a full-bodied cigar, yet its flavors were delicate. I'd term that characteristic 'smooth'. Leathery notes showed up toward the end to announce the finish. The smoke had a nice oaky aroma, and left a pleasant aftertaste.
My Cigar Weekly ratings looked like this:
Pre-light: 8.5
Light: 9
Draw: 9
Construction: 10
Flavor: 9
Power: 8.75
Average: 9.1

Overall, my opinion of The Crowned Heads La Imperiosa Magicos is that it is a very good cigar – hence the 91 out of 100 points score. I believe most cigar enthusiasts and connoisseurs will enjoy this stick. It is well made, and smokes like a dream. Because it is a hearty smoke, it would probably be best enjoyed after a heavy meal, and paired with an equally strong libation.
While demand and ratings prove that the Crowned Heads Las Calaveras 2014 Limited Edition line is extremely good, it is also highly elusive. Remember, the La Imperiosa line utilizes the same blend, and should be easier to find as well as (perhaps) a bit less expensive.
The Magicos retails for around $9.00, give or take. By the way, La Imperiosa is Spanish for The Imperative. That's as in, "It's imperative that you find this cigar!"