Jas Sum Kral Red Knight Robusto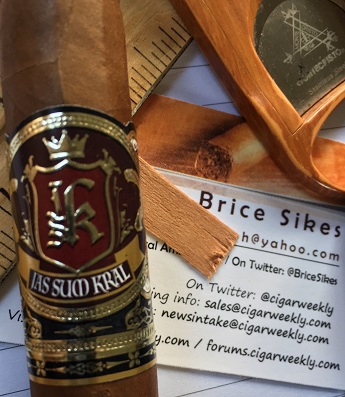 January 16th, 2016
Cigar size: 5 inches by 50 ring gauge
The Jas Sum Kral line is the creation of cigar industry newcomer Riste Risteski, a big man with a personality to match. The JSK line was his idea, and came to fruition with the help of master blender Noel Rojas of the New Order of the Ages factory in Esteli, Nicaragua.
The name Jas Sum Kral translates from Risteski's native language (Macedonian) into English as "I am King". The first cigar series issued in the JSK lineup is called Red Knight. There are four vitolas in the line. The cigar I smoked for this review was the Robusto.
The JSK Red Knight cigars are adorned with attractive red and gold bands sporting the JSK logo on a knight's shield between two heraldic lions. As for the blend that Risteski and Rojas developed, it uses a 'top secret' filler inside a binder of Mexican San Andrés and Nicaraguan seco leaves. The wrapper is a 'light claro' Ecuadorian Habano leaf.
The sample I was supplied with was a standard-sized (5 x 50) Robusto with a medium-brown wrapper. There were precious few veins and no flaws. The head sported a pigtail cap, and the foot was closed. This was indeed a handsome cigar. When pinched, the cigar showed uniform sponginess from one end to the other. The smell off the wrapper was woody, vegetal, and promisingly dank and rotten.
I normally use a punch cut for my cigars. But this time, because of the pigtail cap, I used a modest guillotine cut. The flame was supplied from a cedar splint. And while the cigar was difficult to light, once aflame, the draw was easy and there was plenty of smoke.

Immediately after lighting, the burn went off angle a bit. However, a touch-up evened things out. And from that point on, the burn was slow, cool and symmetrical.
The Red Knight Robusto showed itself to be a 'polite' cigar, as it didn't give off much smoke between draws. Yet it never even came close to going out. Total smoking time clocked in at 49 minutes. The ash was sturdy and pale gray in tone with large segments.
My first few puffs were semi-sweet, and featured light pepper, paper, cedar and a touch of leather. In the middle third of the cigar, I picked up sweet fruit and caramel as well as a ginger/cinnamon type of spiciness overlaying earth, peat and nuts.
On the back end, I tasted starched linen. Yeah... weird, I know. I think that was one of those flavors that I noticed just before the end of the stick. Bitterness appeared soon afterward, indicating the cigar was done. The finish was short but mellow.
The JSK Red Knight Robusto was just north of medium with absolutely no harshness – just a stout flavor profile. Its sweet spot was definitely the middle third.
Here's how I judged the JSK Red Knight Robusto according to Cigar Weekly's criteria:
Pre-light: 9.5
Light: 8
Draw: 9
Construction: 8.5
Flavor: 9
Power: 8 (not included in average)
Average: 8.8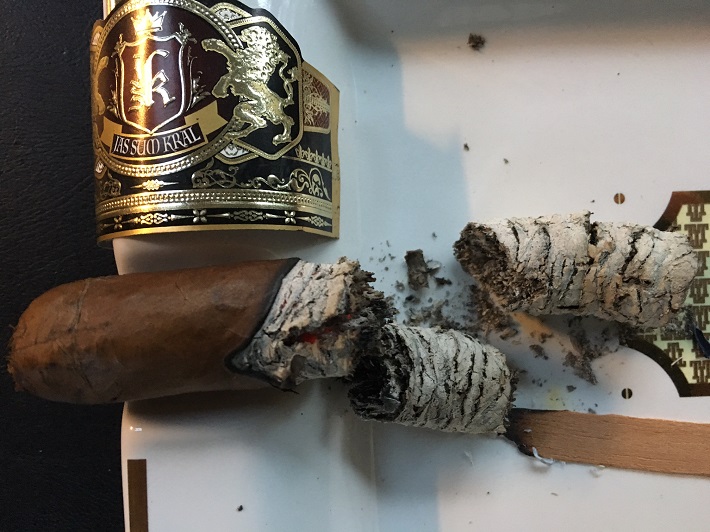 Okay, it's not an amazing score. But it's not bad either. The funky burn off the light negatively influenced my opinion somewhat. Other than that, this was a most pleasurable experience, and one I would definitely repeat.
If you consider yourself a cigar enthusiast, you should try a Jas Sum Kral Red Knight. However, good luck in finding it. Retailers that stock this cigar are few and far between. And you won't find these sticks for sale online. Check the company's website (jassumkral.com) for a list of retailers.
Jas Sum Kral describes its cigars as "boutique as f**k". If by that the company means hard-to-find, small batch and really good, then I would agree – yes, they are indeed "boutique as f**k".