A Cigar's Tale 'Short Story' Review XXXI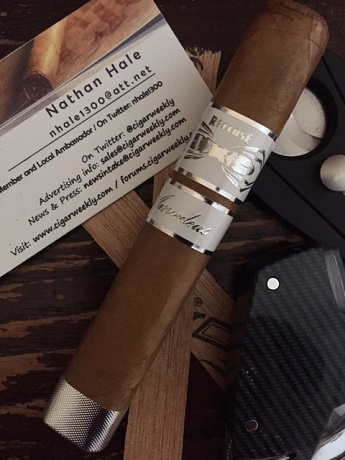 April 10th, 2017
Today, I am reviewing yet another sample from the 2016 IPCPR called Amadeus, from the Recluse Cigar Company. It is composed of an Ecuadorian shade-grown Grade-A wrapper, a proprietary binder and Dominican Ligero, Viso and USA Pennsylvanian Broadleaf filler leaves. This is a Robusto, measuring in at 5 inches in length by 52 ring gauge. It's a box-pressed cigar that runs around $7.50.
I initially observe that the caramel colored wrapper is smooth, with seams that are tight and almost nonexistent. There is a bit of sponginess upon my examination. The scents coming off the wrapper include cedar, coffee and cream. The foot brings molasses, cinnamon, leather, cedar, cream, raisin and black pepper. The cold draw adds some salt, peanut and crushed red pepper.
The first-third brings flavors of grass, butter, vanilla, crushed red pepper, cedar and cinnamon. The second-third transitions into coffee, toast, hay, almond, crushed red pepper and raisin. The final-third includes more crushed red pepper, toast, hay and almond, and then adds black pepper, espresso and leather.
The draw is loose and the burn even throughout. There's plenty of pleasing smoke production. This cigar shows a medium body with a medium-plus strength. It's a pleasing cigar, and something worth smoking again.
Score:
Pre-light: 9
Follow me on Facebook at www.facebook.com/ACigarsTale, or on Twitter and Instagram @nhale1300. You can also find me (as well as great content from other contributors) here at www.cigarweekly.com.