Toraño Exodus Robusto

April 27th, 2017
A few months ago, I received a number of cigars from Jason Clabaugh (BigO) for the purpose of reviewing them. Unfortunately, life events made it difficult for me to set aside adequate time to smoke the cigars with a critical eye and write reviews. Therefore, these cigars remained in my humidor waiting for an opportune moment. Well, that moment finally arrived.
It's been quite a few years since I last smoked a Toraño cigar. Since then, there have been a number of changes to the brand. First and foremost, Toraño was sold to General Cigar Company. It would appear that General consolidated many of the Toraño cigar lines, and last year introduced a new Exodus line. (Previously, there had been multiple Toraño lines that included the 'Exodus' name.)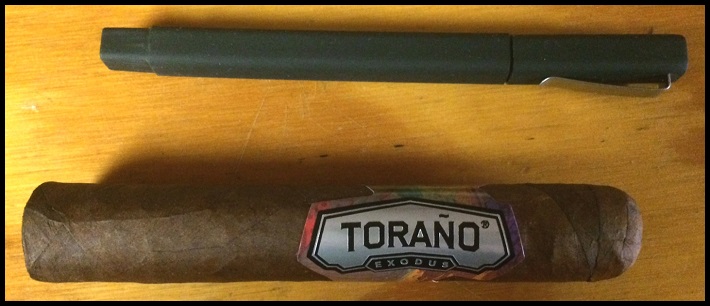 This new line sports a very interesting cigar band, which is quite attractive and colorful. But the wording on the band is written sideways. As I usually take the band off a cigar when I smoke it, the band design makes very little difference to me. But in this case, when the band is left on it looks, well, weird.
As I held the Toraño in my hand, the name on the band appeared upside-down. Obviously, this didn't take away from the quality of the cigar. Nevertheless, it just seemed awkward.
The cigar itself looked very nice. It was well constructed, with no soft spots and no defects that I could see. Upon clipping the head of the cigar, I took a pre-light draw and it was perfect – neither too tight nor too loose.
I used my Alec Bradley 'The Burner' table cigar lighter to ignite this cigar, and was greeted with a perfect draw and a thick, if not chewy, smoke. I detected earthy flavors, pepper and a hint of mint. This profile remained the same throughout the one hour and fifteen minute duration of the smoke. At times, I detected some bitterness, but it was not overwhelming.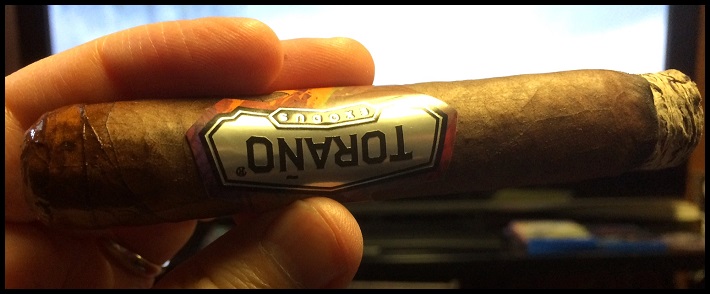 The ash on this cigar was rather... interesting. The first inch or more of the Toraño Exodus burned almost perfectly, and the ash remained solid and firm. After tapping the ash off, however, I noticed that the burn quality changed. It continued to be even, but the quality of the ash was different. The ash looked 'dirty' and flaky. As I was smoking this in my man cave, I didn't want the ash to fall in my lap and get all over my floor and/or furniture. So I started tapping the ash off with more frequency. It never did fall off, but a few flakes did drop into my lap. I can only imagine what would have occurred had I been smoking outside with even a light breeze.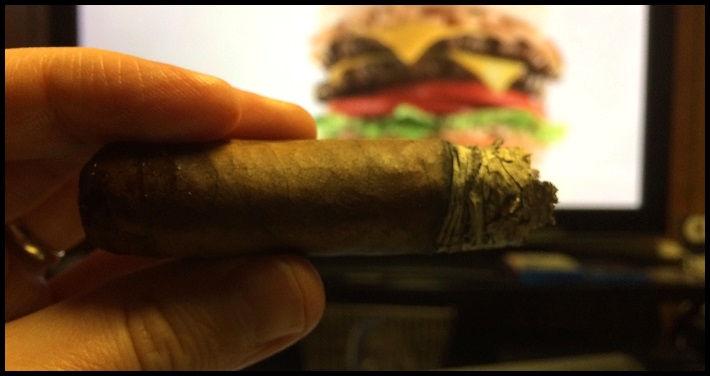 I was very impressed with the quality of the draw, and the fact that this Robusto-sized cigar lasted for well over an hour. That demonstrated to me that the cigar was very well made, which is why I am somewhat perplexed at the ash issues identified above.
Overall, I enjoyed this cigar very much, and am considering picking up some more. With the exception of the flaky ash, the construction of this cigar was excellent. I can recommend the Toraño Exodus Robusto without hesitation.
Rating / Analysis
Pre-light – 10
Light – 10
Draw – 10
Construction – 8
Flavor – 7
Power – 7
Average – 9 (average does not include power)
__________________________________________________
Rob Geyer (Rob G) hails from Syracuse, NY. His man-cave is the envy of all of us.