Cigar Factory Social Club Robusto

June 26th, 2017
The Cigar Factory Social Club Robusto is a 54 ring gauge by 4¾ inches long cigar, rolled with Brazilian and Nicaraguan filler. My sample sported a chocolate brown, Brazilian Maduro wrapper. (A version with a Connecticut Natural/Ecuadorian outer leaf is also offered.) The wrapper had a nice glimmer to it, with a few harmless veins present and a perfectly placed cap.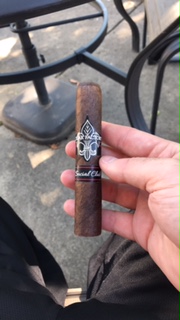 After cutting the Robusto, its pre-light draw didn't give me much flavor. However, I was able to pick up hints of cedar and bread. I also noted that the cigar had the perfect amount of draw resistance.
Once lit, it didn't give off much in terms of flavor, but had a very nice aroma. As I got through the first few puffs, the Social Club started to reveal some very pleasant creamy and earthy flavors.
Those creamy flavors that I perceived through the first third gave way to a rich earthiness as I hit the first band. The earthiness varied in intensity throughout the experience, allowing for a bit of the creamy flavor to peak through at times.
As I entered the last third, I began picking up some leather, which remained until the end.
While the cigar wouldn't win any longest ash contests, it still burned and drew very well. I had the stick ash on me twice, both times at about an inch.
Overall, I enjoyed the cigar. I liked that the cigar was complex. And the aroma was really pleasurable. I also loved how smooth the Robusto was from start to finish. Finally, I really enjoyed the size.
I tend to smoke a bit slower, and this particular Robusto lasted about 55 minutes. I would classify the Cigar Factory Social Club Robusto as a medium-bodied cigar that would be perfect in the morning or early afternoon. I would also advise not to smoke this one with a heavy beer, as such a pairing might risk obscuring some of the great flavor transitions this cigar can display.

I would definitely consider picking up a 5er or 10er of these.
Pre-light – 5
Light – 8
Draw – 9
Construction – 8
Flavor – 9
Power – 6
Average – 7.5/10