A Freyja Cigar with Rye Whisky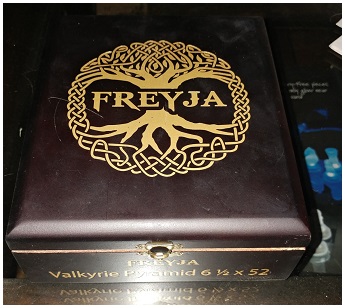 September 21st, 2017
"Great things come in small packages," the saying goes. Tabacleria Palma in the Dominican Republic is a smaller factory, and just happens to make the brainchild cigar of Emma Victorson (wife of our good friend, Jose Blanco) - the Freyja.
The Freyja is not what you'd call a 'girly' cigar - not by any strech of the imagination. Rather, it's more like a Viking goddess - strong, smooth, comforting and fierce, all at the same time. So for this review, I decided to pair it with some Dark Batch Rye Whisky from Alberta Distillers (get the name!).
Let's talk about the rye first. And when I begin to describe the cigar, you'll know why pairing the Freyja with this spirit represents a 'match made in Heaven'.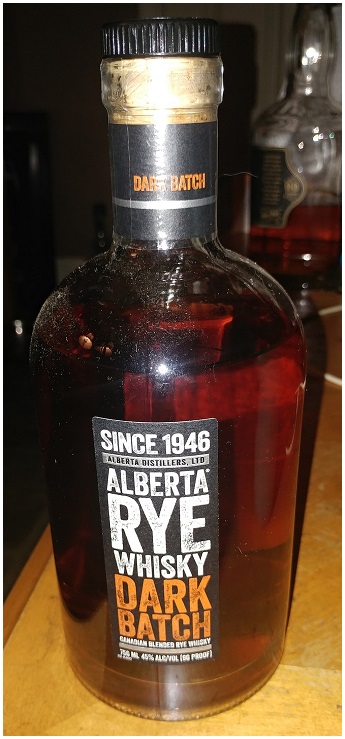 Coming from deep Bourbon roots, I've only in the past year evolved into liking rye. I'll never challenge my good friend Doug (jazznut) when it comes to writing on the depth of flavors and such in the world of spirits. So I keep my writings about these sorts of things in the context of pairing with cigars - cigars I know. And I like to think that after more than twelve years here at Cigar Weekly, my friends on the forums and in the industry have made me a bit more knowlegeable (and a bit more humble too!)
This rye is a perfect pairing for a bold and flavorful cigar like the Freyja. I'd drink it with a Padron, a Ditka or a Joya de Nicaragua - anything that has what I like to call a 'smoke me after dinner' sort of nicotine level.
Dark Batch Rye coats the mouth. There's a lingering sweetness, but a bit of spice as well - something to be expected with a rye. This rye, however, is dark - very dark, in fact, due to long barrel ageing.
The barrel ageing adds a light vanilla hit, smooths the spice and gives the whisky a nice blog.
(Editor's Note: Alberta Dark Batch Rye represents exactly the same whisky as Alberta Premium Dark Horse, except that its name has been changed for the American market. Incidentally, Alberta Distillers Ltd. is the largest producer of rye whiskies in the world, and comprises part of the Beam-Suntory portfolio.)
Onto the cigar...
Freyja is the first cigar blended by Emma (I'm going to guess that there might have been a little husbandly guidance from Jose - after all, he's been in the industry for a few decades!), and it's a solid smoke. (Edit: Emma states that Jose - while her mentor, to be sure - did not take part in this blending exercise. Rather she worked with with Geraldito the production manager at the factory!)

Pre-light
There's a smooth and even draw after a clean cut by my guillotine cutter. I think I'm detecting notes like toasted almonds along with the sweet, rich tobacco aroma. The wrapper is delicately veined, and the cigar bunch nice and even under the wrapper - firm but not hard.
First third
I toast the foot gently, then draw the first couple of puffs into my mouth. After ensuring the cigar's fully lit, I take a sip of water and began my hour-long journey with this cigar.
Up front, there are some light black pepper notes - a bit of spice up front for the first several draws. At this point, a sip of the rye enables the flavors in my mouth to bloom - the pepper being nicely offset by the sweet, light vanilla notes and gentle rye spice. A fine counterpoint.
Deeper into the first third (and possibly due to the rye as well), flavors of toasted almond and walnuts mix with the rich tobacco notes. This is definitely a full-flavored cigar, as notes of deep, dark cocoa hit the nose.
Those of you who know me understand that my sinuses just won't allow for retro-hale. So I'm reasonably sure I've missed a flavor note or two here.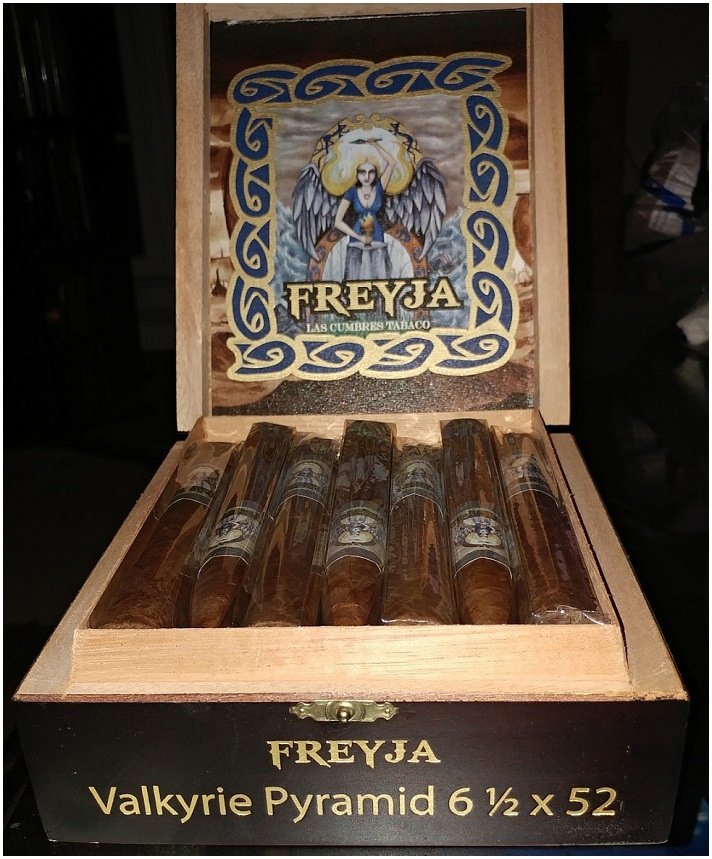 Second third
I've forgotten to mention up front the band - dang, it's a beauty, and painted by Emma herself for this project. Before I finish this third I'm going to have to gently remove it. It's going into my cigar journal.
The ash is holding well now (at just over two inches), and the cigar is mellowing as well - the spice fading as more creamy notes appear. The toasted nut theme carries on, and I have to drop the salt and pepper colored ash into the tray. The burn line on this cigar is razor sharp and even.
Final third
As the peppery spice fades into a notably background-based note, black coffee joins the toasted nuts and rich tobacco flavors. A hint of leather, too? Perhaps, or it could just be the effect of all of these flavors combining with the rye. I'm on my second pour of the rye at this moment, continuing to drink water along the way to keep my palate as clean as possible.
I'm loathe to use terms like 'toast with butter' or 'biscuits' when reviewing cigars - sounds odd to me. But in this case, I'll give some context. I home brew beer (or did - that's a long story too!), and there is a particular type of malt called 'biscuit'. The flavors in my mouth at this time are like having eaten some of that malt (something we home brewers do) and taken a draw off the cigar.
Nearing the last inch or so, my lips are getting a little tingly - evidence of the nicotine content. I stand up to get more water, and am feeling that this 'little lady' is one potent cigar - but in a sneaky-strong way. Remember earlier when I classed this as an 'after a good dinner' cigar? This is why. It WILL sneak up on you. As you sit, enjoying the flavor changes and complexities of the cigar, contemplating the universe or your favorite TV show or movie in the man cave, be advised: the strength level on this Freyja is UP THERE.
Final Note: After originally publishing this review I had a chat with Emma, and she surprised me by saying "I would not have let cigar out at all, but Jose and Jochy love it! They didn't know I was blending until Geraldito and me have them a few blends to try and that was a surprise!" I also realized that I had not published my scores!

Scores:
Pre-light: 9.5 (Great construction, beautiful pre-light draw)
Light: 9.0 (a bit more pepper in the first puffs than I care for)
Draw: 10 (very smooth draw)
Construction: 9.75 (razor sharp burn)
Flavor: 9.5 (Complex, compelling)
Power: 9.5 (not for the faint of heart!) (Not included in average)
Average: 9.55 (It's really a winner!)
Photo of the lady herself enjoying Freya!