Casa Cuevas Connecticut Robusto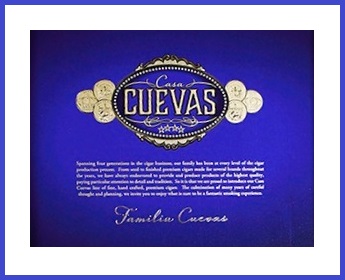 September 25th, 2017
Size of cigar: 5 inches by 52 ring gauge
Wrapper: Ecuadorian Connecticut
Binder: Nicaraguan
Filler: Dominican & Nicaraguan
This attractive cigar comes from Casa Cuevas Cigars, located in Miami, Florida. The blend consists of a golden Ecuadorian wrapper with Nicaraguan and Dominican long fillers.
I decided to pair this 'morning cigar' with Starbucks Sumatra black coffee. I typically smoke Connecticut cigars in the morning with coffee.
Appearance
The cigar was well-constructed with two prominent veins and a seamless wrapper. The head was delicate with perfect caps, and the foot was soft and pliable.

Cold draw
I noticed some wood and earth flavors.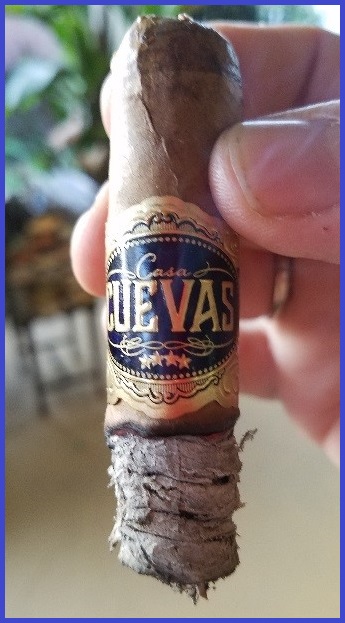 Initial toasting
There was a nutty and woody overtone, and a slight caramel fragrance.
Initial draw
I experienced an abundance of mild white pepper and a mineral taste (saltiness).
1st third
There was plenty of smoke along with a gray-white ash – a sign of the fertile soil in which the tobacco plants were grown. The loose ash barely held past the width of the cigar. The amount of smoke was surprising, as was the rapid rate of burn.
2nd third
A creamy profile developed, as well as some cedar tones. The burn was rapid yet even, and the draw perfect. At this stage, an abundance of white smoke became more prominent.
Last third
I picked up more wood, cream and leather now. This was proving to be a very enjoyable morning smoke with no harshness or any grassy aftertaste. Even the final third maintained hints of caramel, white pepper and wood.
Overall impressions
This was a mild-to-medium cigar that exemplified what makes a Connecticut flavor profile special. It was a very solid smoke that could be enjoyed well into the final third of its length.
Thanks to Cigar Weekly for allowing me to submit this review.