A.J. Fernandez New World Puro Especial Robusto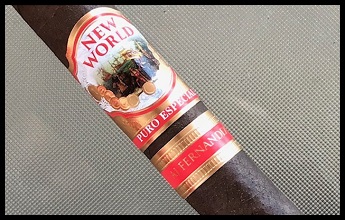 October 2nd, 2017
Size of cigar: 5.5 inches by 52 ring gauge
Wrapper: Nicaraguan Habano
Binder: Nicaraguan Habano
The New World Puro Especial is the third installment of the New World line by A.J. Fernandez. Like the New World and the New World Connecticut, the Puro Especial is a collaboration between AJ and his father, Ismael. The Puro Especial, a Nicaraguan Puro, is rolled in Esteli, Nicaragua.
The cigar features a very toothy and beautiful milk chocolate brown Nicaraguan Habano wrapper and a perfectly placed cap. The bunch is firm, yet has the appropriate amount of give. The pre-light draw is quite pleasant, revealing a bit of cedar, pepper and a subtle sweetness. I also can't help but notice the barnyard smell coming off of the foot. While not all that pleasant prior to lighting up, this scent typically means great things to come for the taste.
Immediately upon lighting, the cigar hits you right in the mouth with a burst of pepper. After several puffs, the pepper seems to settle down quite a bit, and the Robusto opens up to reveal some flavors of coffee and nuts.
As I approach the second third, I notice the spice has died down even more, and all that remains is a dull hint lingering in the aftertaste. Nevertheless, the nuttiness and coffee flavors intensify as the spice exits.
The last third of the session proves to be very similar to the second. However, I do pick up hints of leather after removing the band.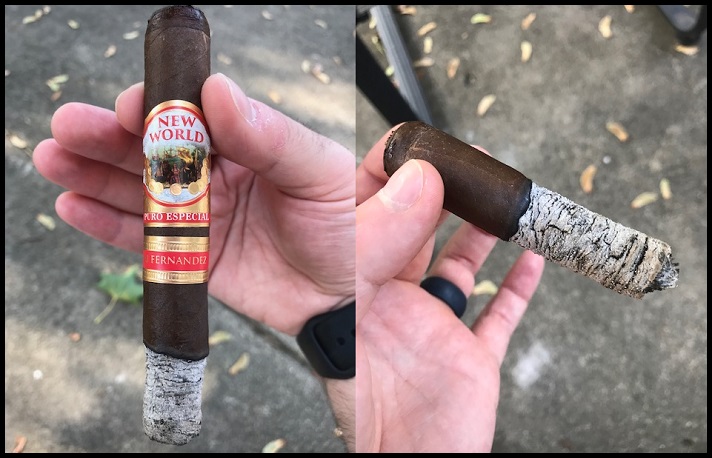 The construction of the Puro Especial is top-notch. The white and black checkered ash burns perfectly straight, and holds on almost until the second band before falling harmlessly to the ground. I never have to re-light the cigar or fix any burn problems.
The New World Puro Especial is a medium bodied cigar, and has a sneaky nicotine kick if you're not prepared for it. I find the entire experience to be highly enjoyable, and well worth the $8.50 price tag of the cigar.
Final score: 8.5/10
Total burn time: 1 hour & 8 minutes