AJ Fernandez Enclave Broadleaf Robusto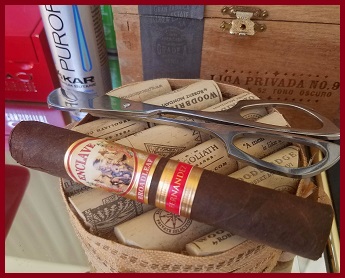 October 23rd, 2017
Vitola: Robusto (5 inches by 52 ring gauge)
MSRP: $9.00
Wrapper: Connecticut Broadleaf Maduro
Binder: Nicaraguan
Filler: Nicaraguan
Before I start my review, I must admit I am somewhat biased when it comes to the AJ Fernandez line. I am a big fan. Some of the first cigars I ever smoked were from this line. That being said, let's get to the review.
When I first heard about the Enclave Broadleaf, I was a little thrown off. I was not a huge fan of the original Enclave. I thought it had a little too much pepper/spice for my liking. (I am going to try it again to see if that assessment stays the same.) But Kyle (an AJ rep) told me that the newer Enclave Broadleaf was not like the original, and suggested I think of it as a totally different cigar.
As I held the cigar in my hand, it looked delicious. I could sense that I would be tasting earth and chocolate. And due to the fact that I knew what a Connecticut Broadleaf tastes like, I was getting even more excited.
I took a nice long sniff, and got the distinct smell of hay. It was so pronounced that I imagined myself being in the barn and field where this cigar was born. I took a cold draw, and it was exactly as I expected – earth and chocolate.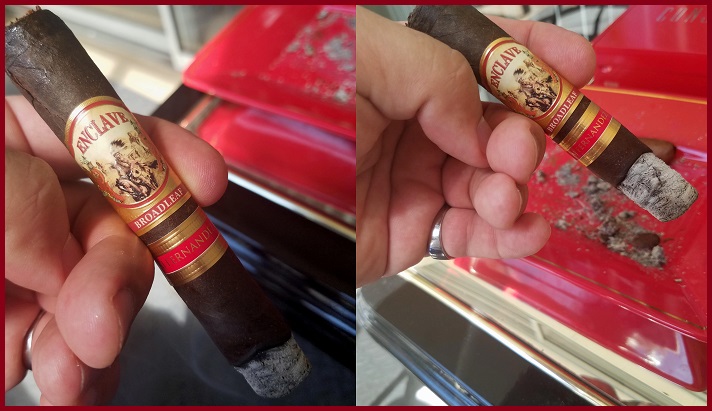 First third
I lit the cigar, and that earthiness comprised the major flavor, with semi-sweet chocolate a close second. There was also a slight hint of pepper, but not enough to throw me off. The draw was fantastic. I was already looking forward to finishing this cigar.
Second third
As the first third of the session headed into the second third, the pepper subsided and some more sweet notes came through. The earth was still there, but not as pronounced. And some chocolate notes were present as well. The burn was proceeding quite nicely. No re-lights or touchups were required.
Final third
Over the final third, the Enclave Broadleaf was still very tasty. However, the flavor profile was not very complex. I still tasted the same notes as I had during the second third. This cigar was very consistent, and I wished that it wouldn't come to an end.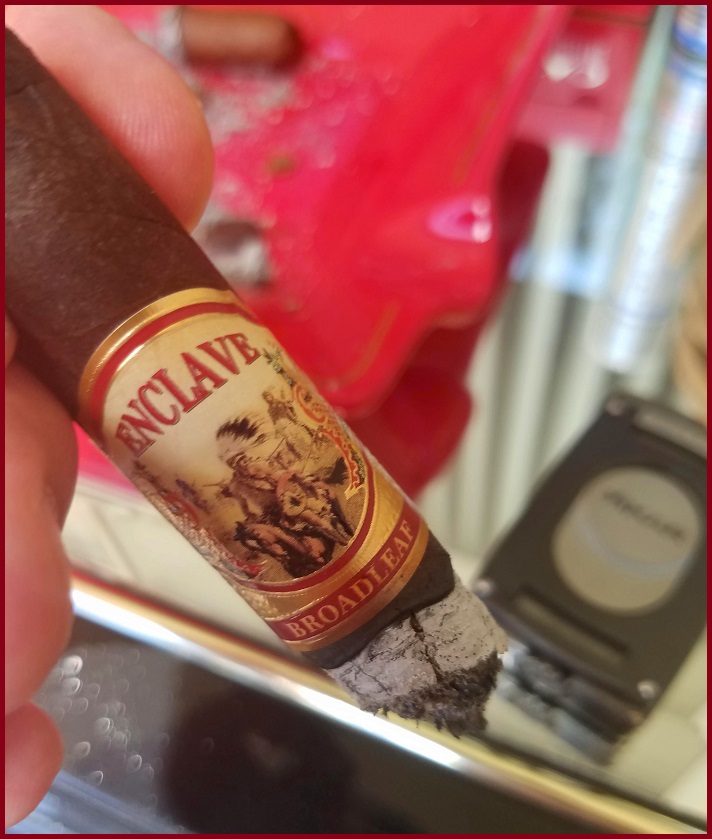 Conclusion
As a final thought regarding the AJ Fernandez Broadleaf, I really enjoyed it. I plan on loading up on these to add to my humidor. Apart from being an AJ fan, I do suggest going out to your local shop and trying one of these. You will thank me later.
Ratings
Pre-light – 9/10 (the smell of the hay and barn was nice)
Light – 9/10 (very easy light)
Draw – 9.5/10 (consistent draw throughout)
Construction – 9/10 (no touchups or re-lights)
Flavor – 9/10 (consistent flavor throughout)
Strength and body – 8.5/10 (the literature says full, but I say just a tad lower than full)
Average – 9/10 (a very good cigar at a fantastic price point)
Video Review: youtube link
(And here's a link to a prior Cigar Weekly review of the same cigar: link)
__________________________________________________
Michael D'Agostino (Stogiemike) resides in the Jacksonville, FL area.