Why You May Want to Complement Your Usual Cigar with Dokha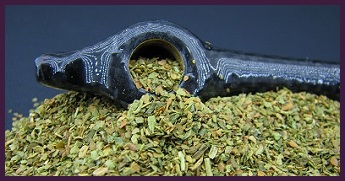 October 26th, 2017
As is the case with cigars, dokha comes from a rich and varied history. Dokha has been cultivated in the Arabian region for more than 500 years, making it one of the oldest types of tobacco in the Middle East. It first appeared during the 1400s in the northern region of what is now known as Iran. Dokha is a tobacco that is naturally grown in the Arabian region's arid desert climate.
Originally smoked by sailors out at sea, dokha subsequently became the widely preferred tobacco within the Ottoman Empire. Its popularity grew even more when the Ottoman Empire unsuccessfully attempted to ban and outlaw the smoking of all tobacco.
Dokha represents a traditional Arabian tobacco, and is blended with specific combinations of fruits, flowers, herbs and spices in order to enhance its flavors. These distinct blends typically fall into one of three categories – cold, warm or hot. Each blend imparts unique, complex flavors, with the 'hot' blend offering the most robust flavor of the three.
Unlike most tobacco products (such as cigars), dokha is not heat-cured and cut. Rather, it goes through a natural sun-drying drying process in the hot desert heat. This process requires a refined timetable for harvest, thereby preserving the tobacco's strength, freshness and flavor. The final product is presented as finely ground, sifted green flakes.
Much like cigars, there is an associated expressive art form in enjoying dokha. However, dokha differs from hand-rolled cigars in that it is best enjoyed through a medwakh, a handcrafted Arabic smoking pipe. The medwakh is structurally different from most modern Western pipes. Its design, structure and small pipe bowl make it the perfect vessel in which to enjoy dokha.
In contrast to cigarette tobacco, dokha is not treated with chemicals or additives. Rather, it is made from 100% Arabic tobacco. And its unique blends are all formulated from natural (and often indigenous) ingredients.
In a region where its presence is more common than standard tobacco or cigarettes, dokha provides a refined tobacco experience. Indeed, part of the appeal with smoking dokha is the ritual of smoking a pipe.
In places like the United Arab Emirates, dokha aficionados take pride in their pipes. Medwakhs can be made from various materials such as wood, metal, gold, silver, marble or even bone. Personalizing one's medwakh thus becomes an expression of one's personality.
Dokha is the preferred tobacco within the Arabian Gulf region. Like hookah (which has grown in popularity beyond its locale of origin), dokha is also gaining ground in many Western countries. The increasing exposure of dokha throughout Western countries like the United Kingdom and the United States has transformed (and continues to transform) this once-simple leisure activity into a social lubricant.
Dokha forms a base of conversation within social occasions for many tobacco enthusiasts. As dokha is still in its infancy throughout many Western countries, it provides unique conversations with interesting people. Many individuals join together at their local tobacconist to discuss different blends or various medwakh pipes. Whether through conversation or through similar social interests, dokha serves as a unifying avenue for a number of tobacco enthusiasts.
Any cigar aficionado will tell you that the true essence of smoking a cigar is to 'buy' time to relax. Depending on its size, a cigar can be enjoyed for hours at a time. For most, it's a reflective ritual from start to finish – a quiet, pleasurable refuge from outside disturbances.
Time-wise, the experience of smoking dokha may appear minute when compared to that of smoking a cigar. Filling the bowl of a medwakh pipe takes less than a minute, and gives only three to four puffs per session. Nevertheless, smoking dokha mimics the same reflective experience of smoking a cigar.
In today's time-impoverished society, dokha affords its user a moment to stop and reflect. The moment is diminutive. However, for cigar enthusiasts looking for a well-deserved and carved-out moment for themselves, dokha tobacco affords them that brief window.
Both cigar tobacco and dokha tobacco have their nuances. Like cigar aficionados, dokha users are spoiled for choice. There are many varietal dokha blends, much like cigars. Both will always have new emerging trends that connoisseurs must be aware of. Both will also require special accessories – medwakh pipes, cutters, lighters, draw pokers and so on.
But at the end of the day, both dokha and cigars offer some of life's simple pleasures. They are, above all else, simply meant to be smoked and enjoyed thoroughly.
__________________________________________________
Abdul Razzaq is the business manager of Red Rose Group. He holds a degree in business management and has over two decades of hands-on experience in strategic business management, in-house management problem solving, product/service sourcing, product development, and branding and marketing.