UK Supermarket Cigars - Part 1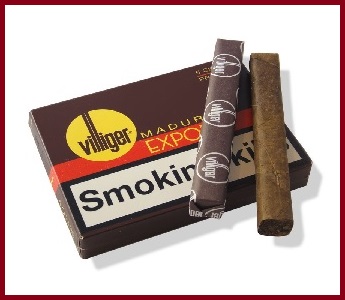 November 20th, 2017
With a continued decline in the number of tobacconist shops, I was recently asked by somebody what over the counter cigars in the UK were like.
I have been buying my cigars online for a while now. But I thought that it might be worth my while to try out some of those available over the counter in the UK.
It's worth pointing out that only budget cigars are available over the counter in the UK. And by law, they must be stored out of sight. So finding out what shops actually stock can be a problem at times. Your best chance of getting a decent cigar (other than from a dedicated tobacconist) is to search out some of the independent whisky shops, as these can offer up a surprising array of decent cigars (albeit in very limited quantities).
The golden rule is to ask. And if the staff say they don't know, ask another sales rep. This happened to me with the first of the two cigars profiled here. I purchased them in Asda (a UK branch of Wallmart). The assistant started by saying that they didn't have any Villiger Maduro Exports. When I pointed out that they were on the tobacco price list (not many shops have these), she was still adamant that they didn't stock such a cigar. So I asked for another assistant, who then went straight to the drawer and handed me a pack.
As I said, these Villigers were bought from Asda. At the time of purchasing, a pack of 5 cost me £12.40. Having read the tasting notes on these, with their promises of coffee, dark chocolate, nuttiness and wood, this choice seemed to be right up my street.
Upon opening, these were square-shaped, machine-rolled cigars. They measured about 4 inches in length, and the ring gauge at the widest parts was about 37 to 38.

My sample sported a lovely dark wrapper. But the cigar was a bit light on the pre-light nose, with no particular scent other than just a bit of tobacco. Even this wasn't strong.

The burn was even. And the ash held together well throughout the first third. However, I can't comment on the final two thirds, as I didn't get that far. This cigar tasted harsh. I got a bit of earthiness, but sadly, even this came across as simply harsh tobacco. None of the promised flavours came through, and I could feel the smoke affecting my throat after the first third. I decided not to persevere.

OK... I'm aware that this was never going to compare to a high priced hand rolled cigar. And if I'm being honest, I didn't believe I would get all of the tastes promised either. However, I did expect the cigar to at least be palatable and smokeable. It wasn't. This was a shame, as I really wanted to like the Villiger. But I simply had no desire to carry on or even to try another. I gave the remaining 4 away. So there will not be any follow up thoughts or another review.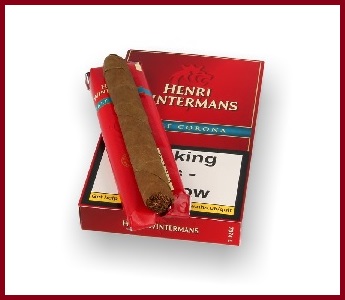 For my second review of over the counter cigars from UK supermarkets, I chose one that is widely available in both supermarkets and newsagents up and down the country - Henri Wintermans Half Corona.
This cigar measures around 4 inches in length and has a ring gauge of 34. In appearance, it has a light, very generic looking wrapper. Each cigar comes nicely presented in a red Henri Wintermans papery plastic cover.
These cost me £10.30 for a pack of 5 from a local newsagent. They are around the same price in the supermarkets.
There wasn't a lot in the pre-light fragrance. Upon lighting, the initial draw was very light and reminded me of a Hamlet. I noted a slight sweetness and a bit of a light leathery taste. As the first third continued, the taste became stronger and the sweetness levels reduced. By the end of the first third, the sweetness was gone and the taste had grown slightly bitter. The burn was good and even for the first third.
There were no surprises in the second third. That taste of leathery tobacco continued. The burn remained even. And for the size of the cigar, the ash held together well. One thing I noticed was that there wasn't a lot of smoke output from this small cigar.
Into the final third, this cigar displayed quite a strong leathery taste, and the bitter notes seemed a bit more prevalent. I decided to end this one in the final third. I think I could have gotten another 5 to 10 minutes from it had I persevered. But there just wasn't enough taste to make me want to burn my fingers.
Total smoking time was exactly 25 minutes for me.
Overall, this was an OK smoke. It was a bit bland on the flavours - a mild cigar that got slightly bitter towards the end. I'm not sure if I'd go out and buy more. But I certainly wouldn't refuse one if it was offered to me. The Henri Wintermans Half Corona was an average smoke with limited flavours. Then again, at £2 a stick, I wasn't expecting it to rival a premium cigar.
________________________________________________
Kevin Macphail (kevie49) has a wide variety of interests, ranging from biking and fishing to cigars, malt whisky and beer. Kevin resides with his family on the Isle of Lewis.