Review: Ave Maria Reconquista
I might have been a "sucker" for the hype on this cigar.
I had been reading good things in the press about this cigar and had recently tried the Knights of Templar from the same line and thoroughly enjoyed it. So, I "took the plunge" and purchased a "box" (of 3) of the Reconquista.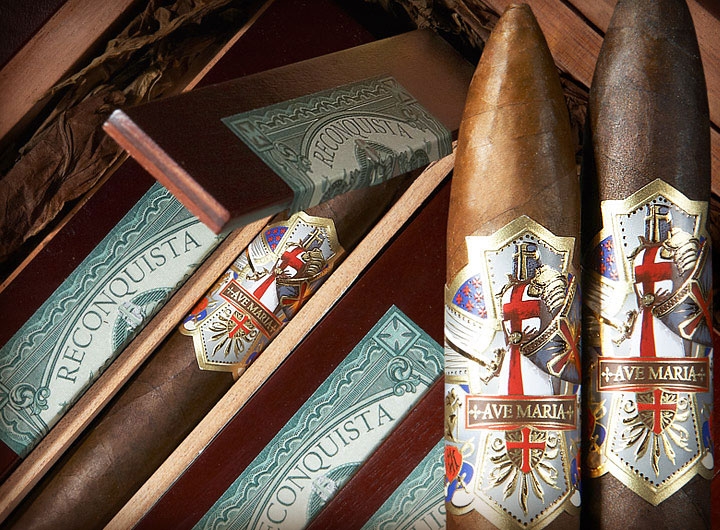 This cigar is supposedly the "flagship" of the Ave Maria line, which is blended by A.J. Fernandez. The Reconquista is a 7x54 torpedo.

My first impression of the cigar was its exceptional packaging, which I would characterize as "first class." Each cigar is encased in its own wooden "coffin," which in turn is enclosed in a larger wooden box. The coffins are packed/surrounded by a bed of dried tobacco leaves in the larger box. A classy presentation that shows how much pride this manufacturer has in its flagship product.

This cigar is classified as "full bodied" and "Super-Premium," which is reflected in its "premium" price, $49 for a box of three. At this price point--far above what I would normally pay for a cigar (or three)--my expectations were quite high.
On to the cigar itself. The wrapper is a dark Brazillian Habano Oscuro, which has a nice oily appearance with a couple of large veins running the length of the cigar. I also noticed that this wrapper was pretty toothy. Overall, an attractive looking cigar. The filler is Nicaraguan. The next thing I noticed was the deep aroma of this cigar's wrapper. I couldn't quite put my finger on what it reminded me of at first, but I came to the conclusion it was freshly baked bread.

Lighting up, I was welcomed with a lush amount of smoke, an easy draw, and a nice hint of spice right off the bat--I was liking this!

As I smoked it down to about the first third, I found the spice dying down a bit in the forefront, but remaining in the background, while a more cedar-y taste came into play. Very nice. As I approached the halfway point it took another turn in flavor and shifted to a distinct flavor of espresso. In fact, at this point I would actually compare the flavor to the chocolate-covered espresso beans that I like to chew on. The spice was still in the background. This espresso flavor lasted until about the last third of the cigar, which from there turned toward a more straightforward tobacco flavor with the spice coming through a little stronger once again, picking up strength as it burned.

Along the way through this cigar there were a few minor burn issues, but nothing major that a quick touch up with a torch lighter could not correct. The ash on this cigar was a little flaky and had a tendency to "mushroom" a bit, but again, not a major issue. All in all, a very enjoyable cigar.

My final impression is that it is a "medium-bodied" cigar rather than "full-bodied" as it was advertised. It certainly has the full flavor of a "full-bodied" cigar, but it lacks some of the strength that I typically feel is characteristic of a "full-bodied" cigar. It did have a good bit of complexity that I enjoyed. I'm glad I tried this cigar.
Now, for the most important question, will I buy more? Unfortunately, at the going retail price, probably not. If I could find them on sale, I'd definitely order more. While the presentation of these cigars is beautiful, I for one would much rather see them do away with the fancy packaging and offer these cigars at a more reasonable price.
For my impressions of just the cigar itself? I'd give it 4 out of 5 stars.