IPCPR 2015 Dispatches and Notes:
IPCPR 2015: Notes, Dispatches and Cigar Reviews
Taking a cigar vacation? What a wonderful concept, sounds great to me; taking a vacation FROM cigars? Bad idea, it is.
Not going to the IPCPR, except for every fifth year or so, severely impacts one's continuing involvement and overall 'in the know' about goings-on within the cigar business. TOO MUCH cigar content on social media will also overload one's brain and ability to truly understand just what is really happening.
Take as an example a cigar and company called Crux. Has anyone other than the Haugen family heard of them? Well, it seems many have, at least if you go by the company's sales! The Crux brand started out based in a family retail shop, Tobacco Grove in Maple Grove, Minnesota. Sarah Haugen told Cigar Weekly that they came to the IPCPR for the first time last year (2014) with five lines. Then, she turned me over to her brother Casey, who was willing to share the family secrets.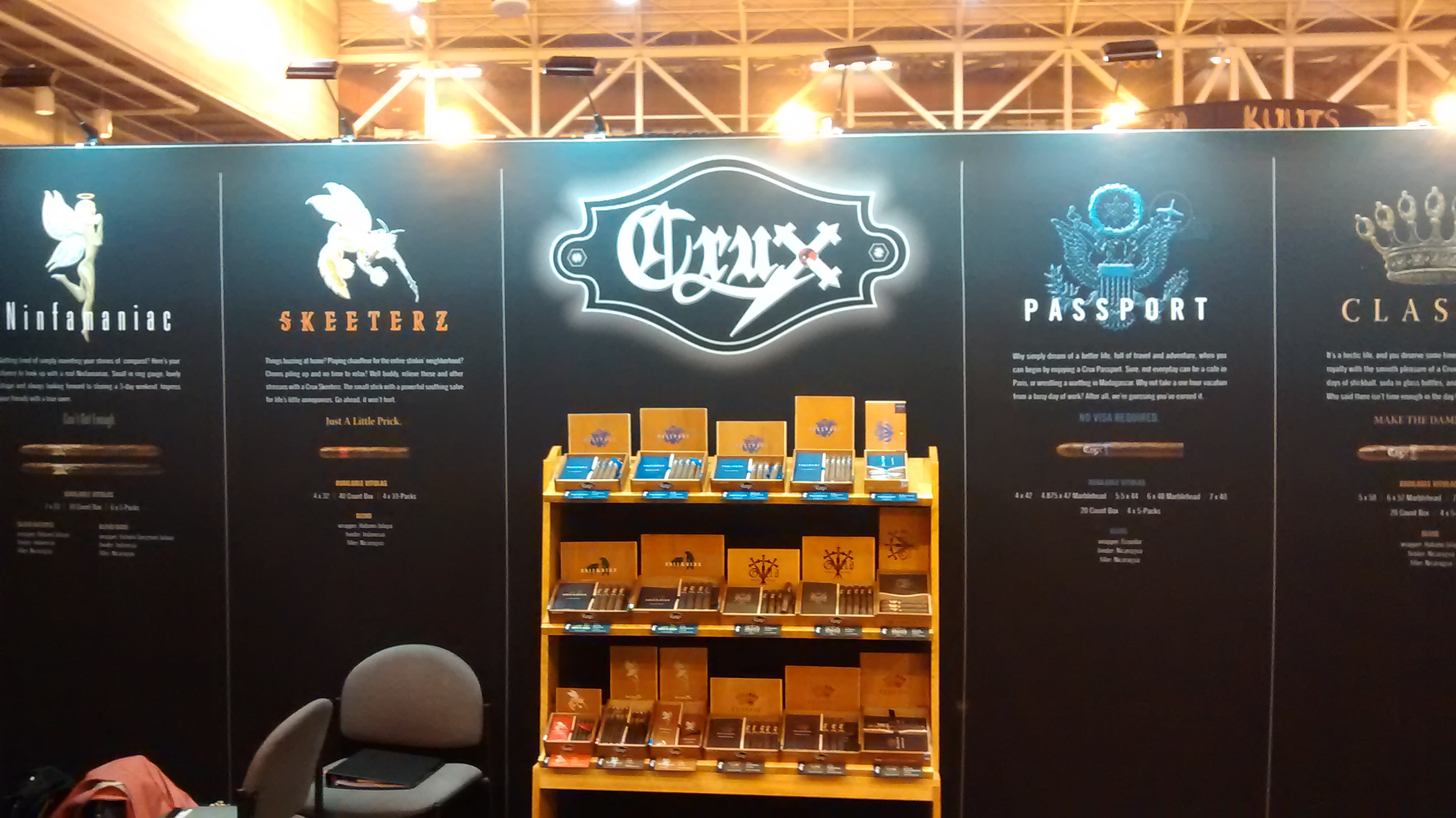 The first secret is hard work. And they have been at it a while. Their "process has been underway for four to five years, now," states Casey Haugen. They see this process as "a tribute to the cigar business." They have a good team, between brothers Casey and Jeff Haugen, collaborating with Joel Rogers. Even better, they have an ally who holds a great deal of cigar tobacco, one Nestor Plasencia. When these guys decided they were going to do this, they approached Plasencia, who invited them down to his factories in Estelí and Jalapa, Nicaragua. According to Casey Haugen, they were allowed to experiment with just about all the types of tobacco that Plasencia had available. "We were busy in Nicaragua, and partnered with Plasencia because they are consistent with a great inventory of tobacco."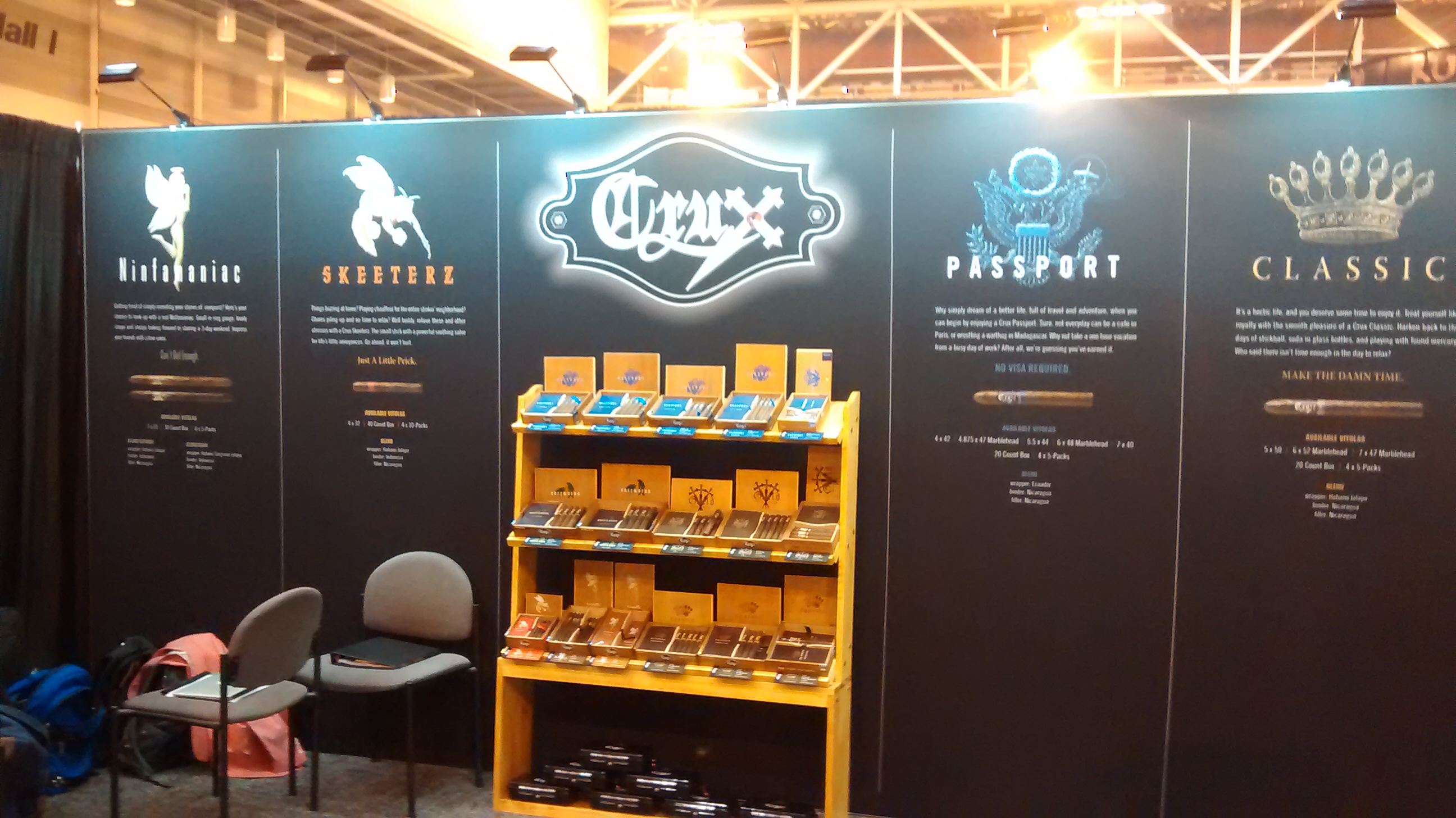 Crux started with five lines a short year ago. The main line was to be the Crux Classic, which is a Nicaraguan puro that the Crux folks tell me is to be on the stronger side of medium, available in three sizes. Of their cigars, the Classic was the one I smoked right there at the show. It's one of the things I enjoy most, lighting a cigar with the representative or manufacturer himself or herself. And the cigar was, to my palate, just as described - and smooth. For the first year, the Classic outpaced production due to strong sales, as the company had "success in social media, which pushed the brick-and-mortar stores (to sell these)."
The line that really 'kick-started' the brand, however, was the 'first release' - the Ninfamaniac and Ninfamaniac maduro. These are what one might expect, a ninfa (7" x 33 ring gauge) in the classic Cuban shape. In 2010, the 'buzzword' of the IPCPR conference was 'lancero', and one heard that word whispered on the rising clouds of fragrant smoke, as well as spoken by so many who were expecting this size to make a resurgence. It certainly sounded that way. Well, Crux has done one better with this size, which is long, thin and tapered at both head and foot. The company proclaims this to be a full-bodied cigar, end of story. The wrapper and filler blends are Nicaraguan tobacco, whilst the binders for both are Indonesian.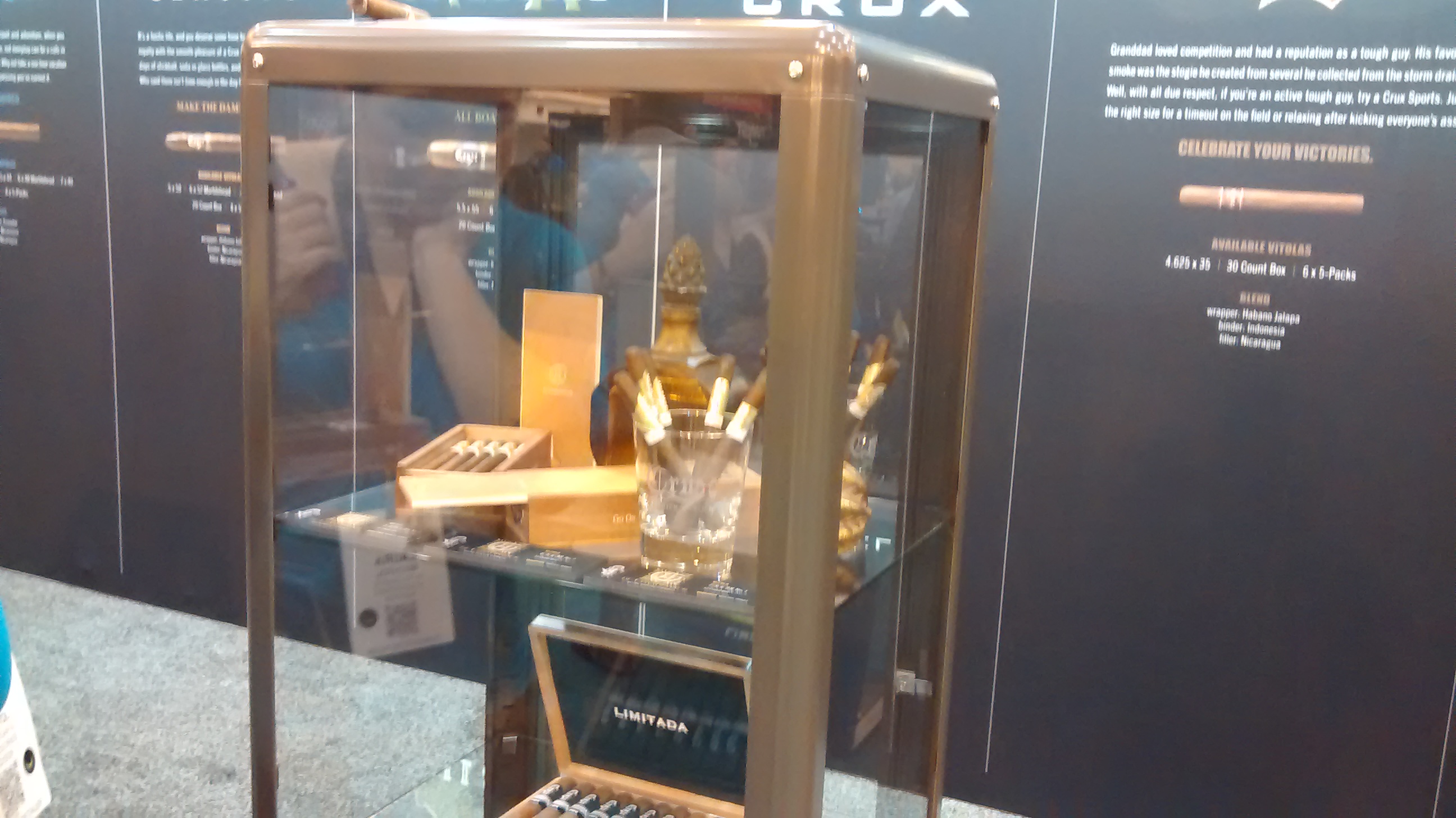 For 2015, four new names and lines have been added to Crux's portfolio, including the Sports, Guild, du Connoisseur and, finally, a Limitada. There will be no set blend to the Limitada, as it will be made of small batches of tobacco as available each year. There will be only one size when this is released in the fall of 2015 - a 5.75" x 54 ring gauge Cuban box-press with an Engañoso wrapper secured three years ago. "Nestor will continue to grow the leaf. This is a special blend, not a lot of them in production."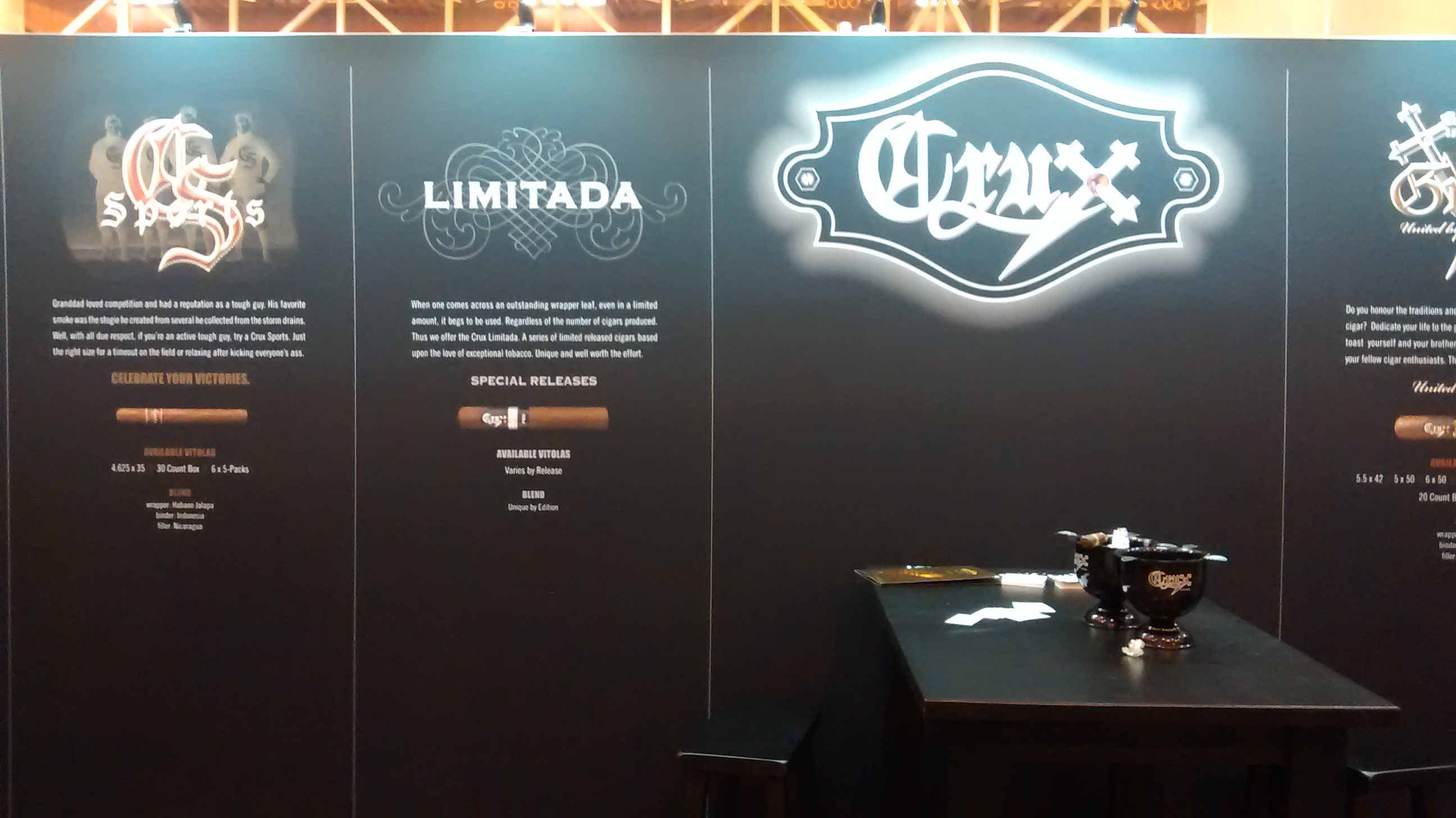 "We don't take the easy way", chimed Jeff Haugen, between customers.
Learn more at cruxcigars.com