IPCPR 2015 Dispatches and Notes:
Las Cumbres Tabaco
Señorial and the new Viking Invasion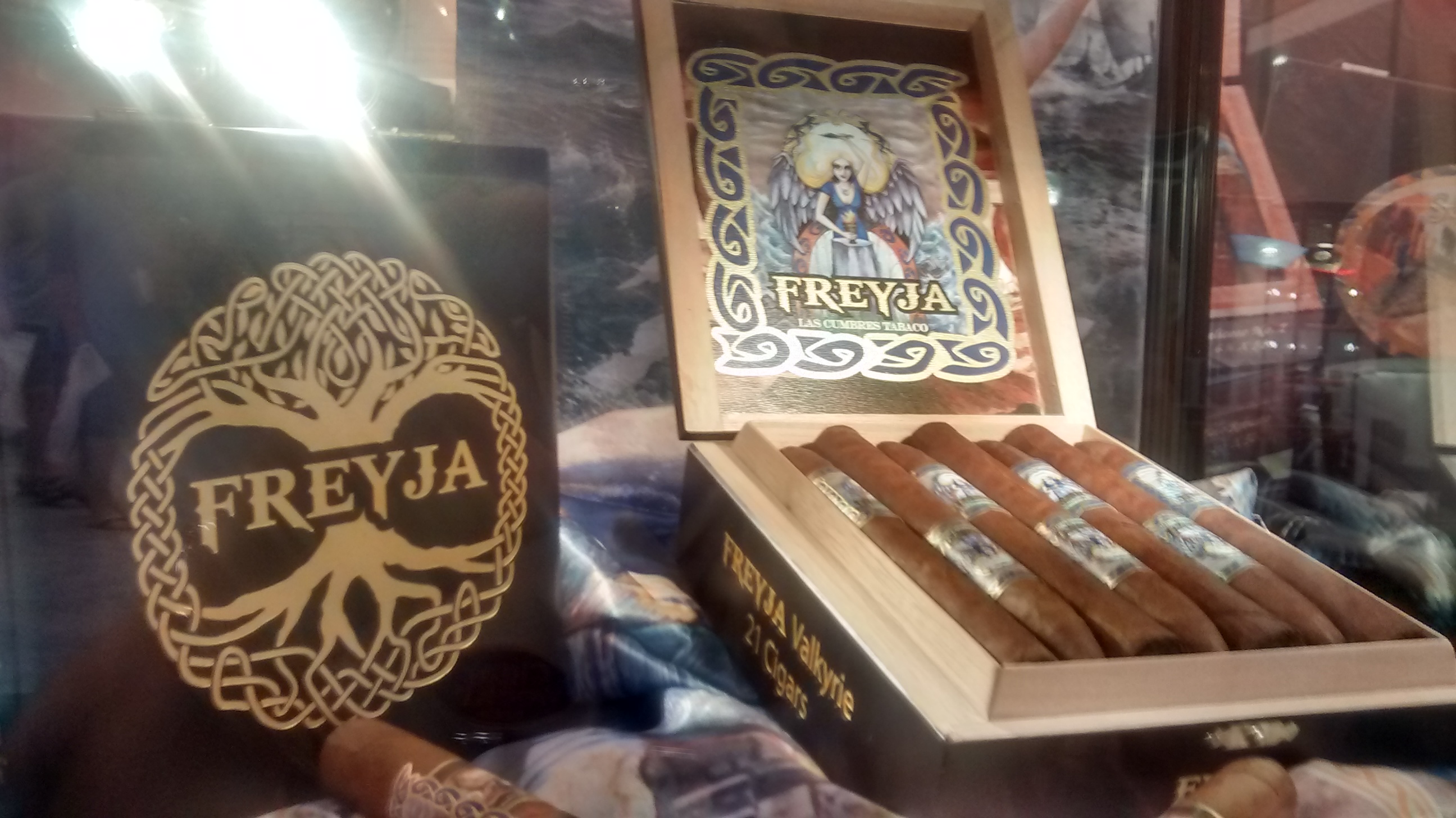 Understatement. Excellence. Consistency. Character. Quality. Craftsmanship. I admire these traits in people. Many in this world hope to aspire to these, and long to be honored by such compliments and admiration. A good friend of mine in the cigar business embodies these characteristics, and seeks to encourage them in his contemporaries as well. He has certainly instilled them in me as a cigar tyro. Sadly, my friend Mr. Frank Santos of Puros Indios no longer attends the IPCPR.
However, we have another similar friend in this business, one Mr. José Blanco. I realize that some of my few followers who read this will question my objectivity, because of my fawning. It has to be said, though. I apologize to Mr. Santos for using his name, and equally express some modicum of remorse to Mr. Blanco for using someone else's thoughts to express my own in a piece dedicated to him and his wife, Emma Viktorsson.
I want to make it abundantly clear, though, that what's written here is borne out through years of observation and correspondence, as well as enjoyment of the cigars he makes. The proof is in the total package. José's record is familiar to most who follow the industry of the cigars they love. But to remind us all, he was well-established at Guillermo Leon's La Aurora before taking a sabbatical, then went to Joya de Nicaragua before Dr. Martinez-Cuenca sold to Drew Estate. Together, Blanco and Martinez Cuenca collaborated on the Cuenca y Blanco brand. Leaving there and taking another sabbatical, Blanco subsequently established his own Las Cumbres company, and debuted his flagship brand, Señorial, a year ago with his bride Emma Viktorsson.
Once I found their exhibit, located well at the back of the hall and actually facing the back wall (see what I mean about humility, grace and character?), José told me that he was having a good show, indicating that the numbers overall were low, but they were buying up a storm! His new release is a Señorial Maduro.
This offering comes in four sizes in boxes of 21 cigars each:
Lonsdale Refinado (6½ x 44)

Robusto Digno (5½ x 50

Toro Coloso (6 x 54)

Opulento 6 x 60
These, have a filler blend of Dominican Piloto Cubano and Corojo, with a Dominican Corojo binder and Mexican San Andres capa. Las Cumbres' literature indicates that these will have a suggested retail price between $7.50 and $10.00 for the Opulento.
Ms. Viktorsson has a long history in the tobacco business as well, as she recounted to me in a nice, long conversation we had on the Monday morning of the trade show. Her father was an executive with European tobacco giant Swedish Match, so she rather grew up in that part of the business. But she was offered training at General Cigars (a subsidiary of Swedish Match), and ended up serving as a representative in nine countries. A very charismatic and cosmopolitan person, she speaks her native Swedish in addition to English, Spanish, French, fading Russian and Macedonian.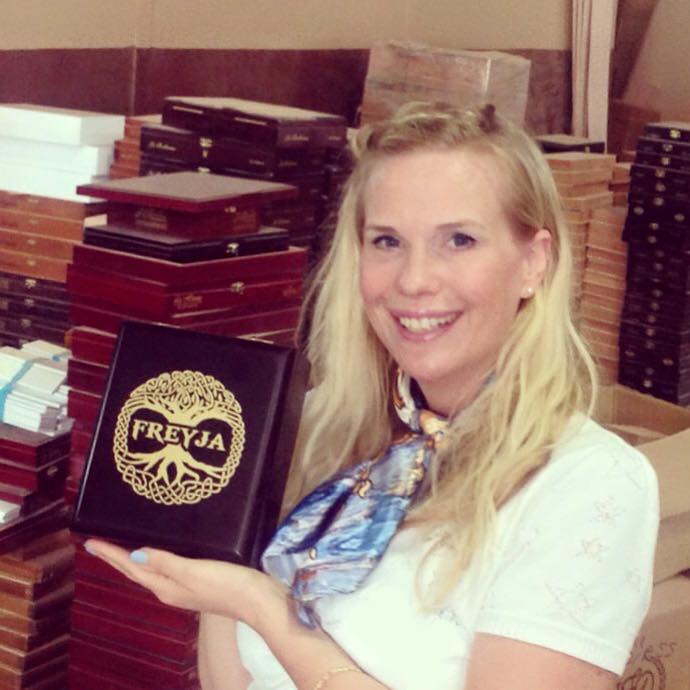 Located in the same factory as José, she also worked behind the scenes at Cuenca y Blanco. He left her to her own devices, and she made the most of it by creating a cigar of her own. Now, it gets interesting here. I have never heard of this (and she reminded me it IS unorthodox), but she began with the binder leaf. One of the 'popular' leaves mentioned often in my wanderings during the show is San Andres. Viktorsson believes it's a good start, as it has a flavor she likes, and draws well. From this point, she tested ten blends with the San Andres and the wrapper leaf she chose - a Dominican Criollo '98. Before finalizing, the cigar "was a HIT in the factory with the workers!" The final filler blend includes Dominican Piloto and Criollo '98 with Nicaraguan Estelí viso. From two primings, the Piloto leaves are 1 ligero and 1 seco. With the viso having almost the same flavor and better draw than Estelí ligero, she was pleased with the result.
As the lead shape, she chose to have a pyramid instead of a belicoso. She likes that the pyramid shape starts wide at the foot and narrows as it nears the head, and over the past few years, has been more rarely made.
Drawing on her heritage and an intense love of history in general (Swedish mythology in particular), she chose the queen of the Norse pantheon, Freyja, as her namesake. Freyja was renowned for her beauty. She taught me a great deal of Norse mythology, her eyes sparkling with delight as she did so. Did you know that the trademark horned Viking helmet is a historical error? That theme didn't come about from reality, but from French opera? The Vikings were made of sturdier stuff than that. "They didn't even wear helmets!" The art work, both inside the box and without, also reflects this with a stylized tree - the sign of the Norse pantheon. The inside artwork is nicely rendered by her friend, a Macedonian artist, whose work Viktorsson collects for her home as well.
Smoking the Freyja was enjoyable as well. The cigar is full of flavor with a touch of sweetness - a recurring theme this year. It isn't overly powerful, mostly due to the preponderance of Dominican Criollo in the filler blend. With so much leaf in the blend, this is a complex smoke - a very fine cigar.
Freyja cigars are available in four sizes, named as one might expect:
Sessrúmmir Corona Larga (5¾ x 42)

Valhalla Robusto (5½ x 50)

Thor's Toro (6 x 54)

Valkyrie Pyramid (6½ x 52)