IPCPR 2015 Dispatches and Notes
J. Fuego Cigar Co.Cigar Development by… EVERYONE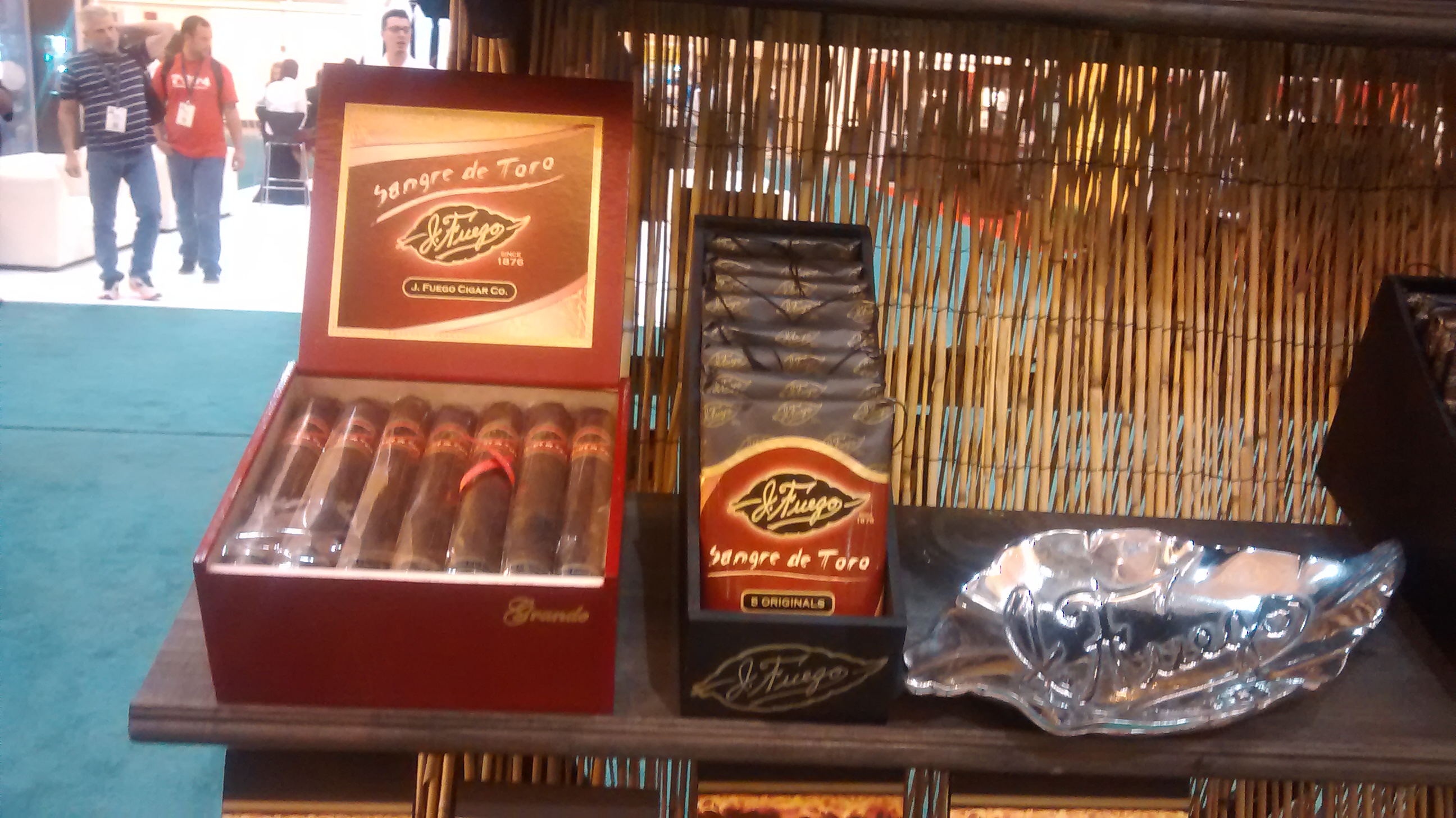 Aimlessly wandering the show floor with assignments yet to complete, I was beckoned by the 'beach shack' that was the J. Fuego Cigar Company booth. Upon my asking, "What do you have new this year?", the company's various representatives swelled about the beach/fishing shack motif that comprised their exhibit. "Jesus loves to fish…." And it did make for a slightly different setting than most of the others.
After decades of blending cigars and growing tobacco for others (since 1876, actually), Fuego opened Tabacos S.A. in 2006, and later rebranded as J. Fuego Cigar Co. His cigars have received acclaim in both the cigar press and among fans. Those brands (which include J. Fuego Americana, J. Fuego Sangre de Toro, J. Fuego Connoisseur, J. Fuego Origen, J. Fuego Origen Maduro, 777 Zero, Heat Corojo, Royal Nicaraguan Sumatra and Royal Nicaraguan Oscuro) have become familiar and excellent staples in many tobacconist shops. For the 2015-2016 sales year, Director of Marketing Olivia Alvares indicated that company personnel did not have any big news of new blends on their own. In fact, she suggested that they are changing some packaging and eliminating some sizes.
J. Fuego has had some success selling five-packs in solid, plastic packaging that the tobacconist can hang on the wall, thus freeing some precious real-estate on the humidor shelves. "Our core focus is with our established brands, their redesign and packaging."
However, there is a particularly fascinating joint venture, and Fuego is in at the very beginning (as well as being one of the initial blenders) of a cigar with Tobacconist University. For those not too familiar with this venture, T. U. is an entity that certifies tobacconists and smokers alike. There is a fairly detailed and exhaustive bit of study and coursework involved. There is also an 'R & D' component to the curriculum. And in order to participate, retailers must complete Tobacconist University, founded by Jorge Armentaros, in order to receive a certification.
R&D Cigars is also a brand and, again, a joint venture with Tobacconist University. Like other blending seminars, the tobacconist can hold a similar event in the shop. There is an initial cigar, and five or six small rolled fillers that the customer gets to smoke as the seminar unfolds. One thus learns how to spot flavors, and to discern which tobaccos produce those flavors.
I was given one to try (the initial offering had a Brazilian Corojo wrapper). As with many of the cigars of this year's show, the cigar started rather sweet and then strengthened, leading the smoker to a coffee/expresso and earthy character as it progressed. This proved a satisfying little cigar, and it makes me hope there's a T.U./Fuego blending night here in my area.