CigarWeekly's First Webcast - Jose Blanco's Blending Seminar
Exclusive! Cigarweekly.com is proud to present our very first (hopefully the first of MANY) OnDemand webcast, featuring Jose Blanco.
UPDATE! Registration is still open. Qualification for prizes ended November 23, 2014 at midnight EST. Prize drawing will occur this week. See forums for prize details! If you join the forums, introduce yourself here! We want to meet you!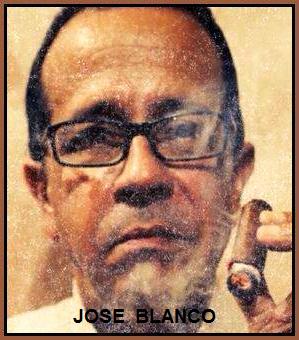 This event was recorded live at the BlueHavana II cigar shop and lounge in Alpharetta, GA. Many thanks to owner Jim Luftman and, of course, to Mr. Blanco himself.
Jose has presented some 600 of these events - sharing his knowledge of tobacco, blends and the impact of various wrappers on the flavor profile of a cigar - for the benefit of participants world wide. It is with great pleasure that we provide this exclusive presentation to members and visitors of Cigarweekly.com!
Attendees of the live event were given a special cigar, featuring 4 different wrappers, to smoke and contemplate during the session. Because this cigar and the enjoyment of the variations experienced is part of the event, we're happy to announce that there are PRIZES!
3 randomly selected viewers will be chosen to win the cigar smoked during the live presentation, and they can then replay the event while enjoying the very same cigar!
Other prizes include:
From BlueHavana II, a logo'd hat, a golf towel and a "Mark Mender" (cigar rest and divot tool).
From Jose Blanco / Senorial cigars:
- Shirts, scarves, cigar samplers.
There will be one winner drawn for each prize, and the names of the winners will be posted on the Cigarweekly forums.
Requirements to win:
During the registration process, you'll see that entering your physical address is optional... and it is. But it's NOT OPTIONAL if you want to be entered to win. So please, if you want to have a chance to win a prize, enter your physical address and then choose the 'yes!' option for entry in the contest.
You must also be over the age of 18, and certify this fact.
You must reside in the US.
By selecting to enter the contest, you agree to have your first name, last initial and state of residence posted as a winner. (i.e. Prize - John P, Maine).
By selecting to get the news letter, you're allowing our partners (BlueHavana II and Senorial cigars) to contact you. Cigarweekly has an active forum, so we really don't need a newsletter.
(CW Members - if you've already registered and viewed, let me know, and I'll update those fields for you in the database).
Registering and viewing entitles you to 1 entry. Being a Cigarweekly.com forums member in good standing, with 20 or more 'real' posts before November 21st, 2014, gets you another entry.
What's a 'real' post? Information or comments that are not just a simple "me too".
Cigarweekly members are friendly and generous people, so do join us. Cigarweekly really is a great place to talk about cigars, spirits and whatever else interests you!
And now, the part you're reading through all this for:
REGISTER NOW to see the event! << click!
The platform used to deliver this event is a demonstration of iMeetLive.
If you or your organization would like more information about this platform, a service of PGI, please join the Cigarweekly forums and send a PM to Bigjohn. Thanks!