Six minutes with Nish Patel
Sunday August 24, 2014
The story you're about to read is real.
For a little background on how this interview occurred, we first have to step back a few weeks to the re-launch of our little CigarWeekly magazine. Some of you may know (others may not) that I'm the person behind the @cigarweekly twitter handle. That's right – I'm the official twitter tweeter for our little community. And since a few weeks before the relaunch, I've been quite active in the twittersphere.
I'm also on the email lists for several of the local cigar shops. Over a week ago, I received an email from Maxwell's Cigar Bar in Woodstock about the Rocky Patel cigar event, featuring Nish Patel and the area sales manager for Rocky Patel Cigars, Stacy Cross. So I started tweeting about it: "Wednesday August 20 at 5pm." From that point on, the tweets took off.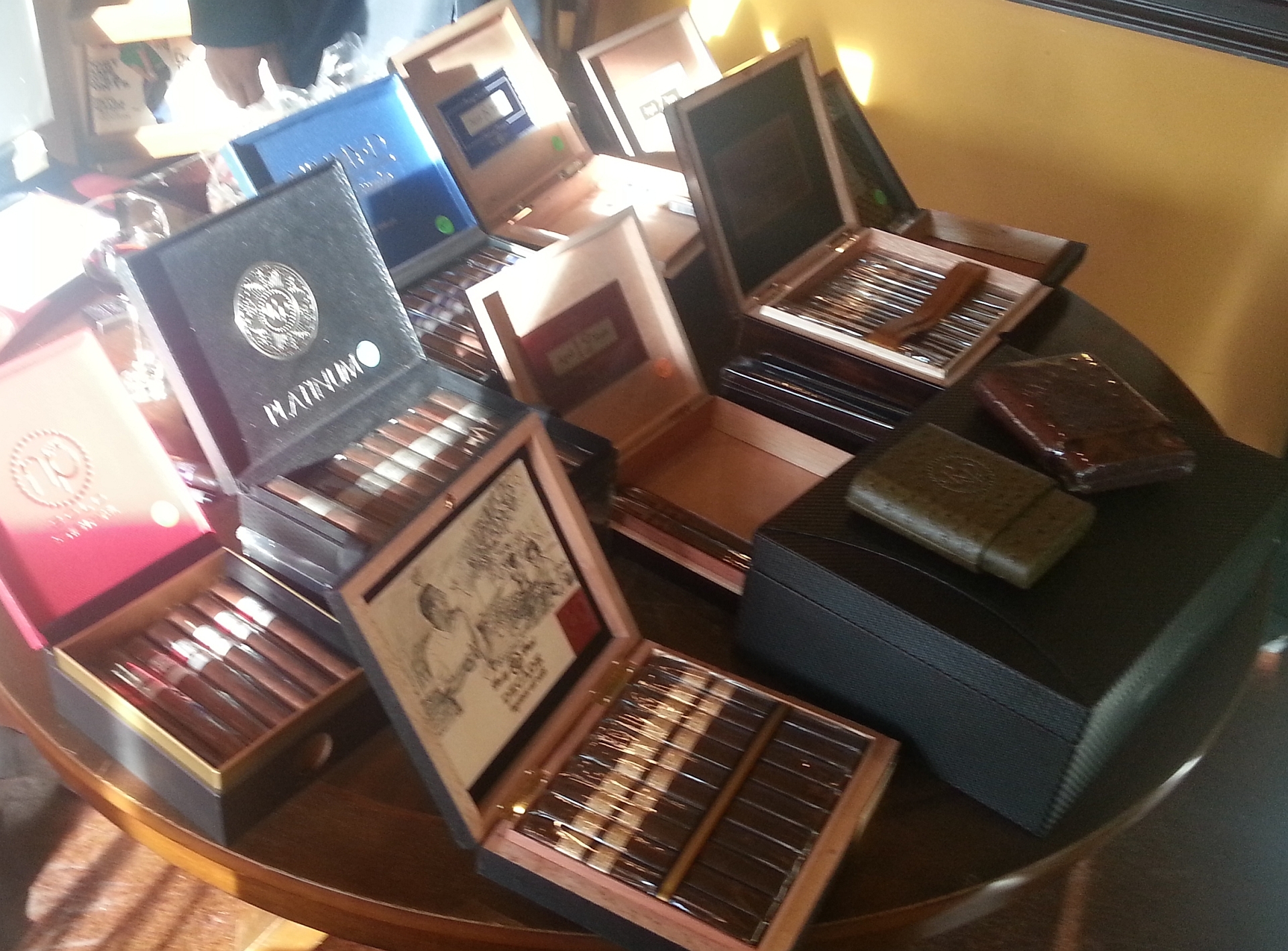 But I'm so used to such 'cigar events' happening on weekends that, in the middle of the work week, it entirely slipped my mind… Until Wednesday morning, that is, when another email from Maxwell's landed in my inbox, jerking me back to the reality that the event was taking place 'tonight'! I hurried down from my office and checked with the boss.
"Hon? Uh, you mind if I go to the cigar bar tonight? They're having a special event…"
"Sure babe, but you don't need any more cigars, do you?" she replied, subtly reminding me that 4 Coleman coolers full of cigars, plus a dozen various humidors scattered about the house, were probably enough for any one man.
Permission obtained, I raced back up the stairs to the office so I could make sure to get my real job done in time for me get make the event. If you know Maxwell's, you know that it's in the revitalized 'Down Town Woodstock' area. About 30 shops, 6 restaurants and a coffee shop… and about 2 parking spaces for each. So it's important to get yourself there early if you expect to be at your appointment at anywhere near the right time.
Fortunately, the cigar gods were with me. Nothing but green lights on the way. And as I made my 2nd lap around the parking lot, a woman walked out of the coffee shop and proceeded to get into her car, 4 shops down, right in front of Maxwell's. (Did I mention they don't have enough parking there?)
As I entered Maxwell's, customers surrounded the table at the front. Nish and Stacy were helping clients buying boxes and collecting the swag typical of these events. Harvey, the owner of Maxwell's, really had some good deals. I had arrived at 5:30pm, and the boxes of Rocky Patel Robustos Harvey was carrying were already sold out.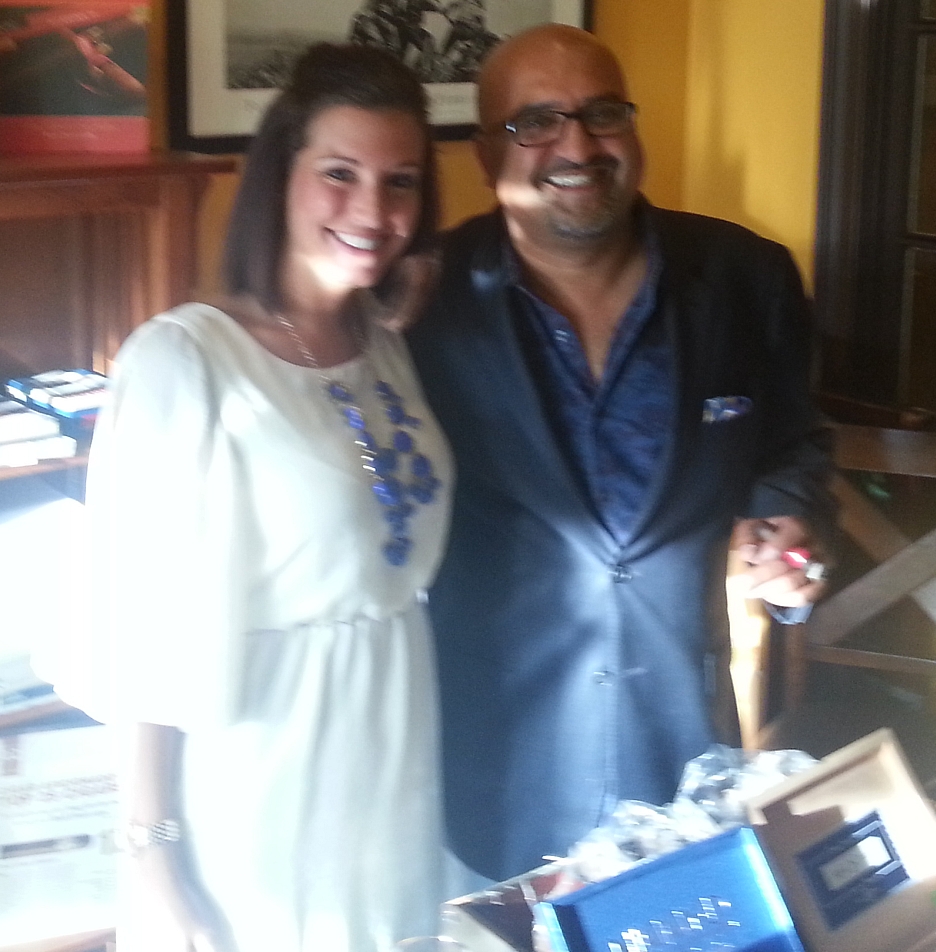 I worked my way past the seating areas (all fully occupied) to the back and the bar, where I saw Harvey working the register. I ordered myself a beer, then asked Harvey the question that had been lingering in my mind since morning: "Why Wednesday night?" His response was expected – due to heavy traffic in the area on weekends, it would not be a great for first timers at the shop. And, given Harvey has entertainment on weekends, those days are already busy enough. After a couple sips of my beer and some more small talk with a few guys at the bar (all seats there full as well... in fact, I don't think there was a single open seat in the entire building), I looked back and saw that there was a lull in the crowd around the event table. So I worked my way back to the front of the shop.
Introductions and conversation ensued between Nish and myself. I wish I could say that I remembered all we spoke about. But I do recall Nish telling me that he was originally in heavy equipment sales (or something like that), and that it was after the Vintage 1990 and 1992 cigars took off when brother Rocky came to visit, and emphatically asked him to join the company. As we chatted a bit more about our cigar experiences, it came to me that this was all great information. And why in the hell was I not recording it?! So I politely paused the conversation, right as Nish began mentioning the upcoming 'Super Ligero' cigar, and asked his permission to record a bit of our conversation. The transcription of my interview with Nish begins now.

JS: So you were telling me about the Super Ligero.
NP: The Super Ligero is a straight-up ligero we cross-pollinated with Nestor Plascencia and Rocky that contains four or five ligeros to come up with this straight-up ligero (tobacco leaf) we call super ligero, which is grown in Costa Rica. So, this particular cigar has got a Habano wrapper on it. It's got a binder from Honduras. Then it's got two ligeros from Nicaragua, one from Esteli, one from Condega. And then it's got the super ligero in there. And you'd think three ligeros would be, like, in your face, but it's not. It's got a little spice, but it's so well-balanced.
JS: A lot of ligero usually makes me queasy.
NP: (Nodding and grinning) The Lancero knocks me out.
JS: Yep.
NP: But in this, it's fantastic.
JS: My first experience with ligero was the Montecristo Afrique.
NP: Oh Yeah.
JS: And that sucker...
NP: That's a ways back.
JS: Yeah. It put me down.
NP: Well, this one's well-balanced at the same time. So, this is one I want to give to you.
At this point, my eyes went wide. It's been a while since I was handed a pre-production cigar. But my heart sank at the same time, knowing that it was so outside my wheelhouse of preferences that it would be wasted on me. But never fear! Stay tuned to CIgarWeekly for the review!
JS: Well, I appreciate that. What I'm going to do, Nish, is I'm going to give that to somebody who's going to smoke it.
NP: You got it.
We're shaking hands and I'm thanking him for the cigar, nodding.
JS: Somebody who knows, who can handle the nicotine in there, because that's not going to do very well for me.
NP: (Smiling and nodding, Nish continues) The price point on that is going to be between seven and eight bucks. $8 for the 6x60, $7 to $7.50 for the other sizes.
JS: That's a very, very good price.
NP: And the packaging is off the hook.
With that my 'pro' interviewer skills kick in – as you can see from this very smooth (not?!) transition…
JS: Yeah. What do you think about the trend in cigars today towards these fat ring gauges that make you feel like you have a golf ball in your mouth?
NP: Listen, I'm not a big ring gauge kind of guy. I told you I like Lanceros...
JS: Right.
NP: Coronas, petit coronas, robustos. But, you know what? People like these big ring gauges, you know the 70s, 80s. We just came out with a seventy, but I'm beginning to see that slow down in some places. So, I don't know if it's going to just be a fad. There's some people that love them. And cigars are so personal. If you like them, enjoy them.
JS: Well, they're not for me. Perdomo had that one, ten years ago...
NP: Right.
JS: El Gigante, or something, it was called.
NP: Right. That thing was frickin' huge!
JS:Yeah, it was like a foot long and like a golf ball.
NP: Then, after that, it was the Dinger by Litto (referring to LItto Gomez). In fact, Litto actually called up Rocky, and he said, "Listen, that Dinger, we're selling it like crazy." That's why we came out with one that was like the Dinger size too.
JS: OK
NP: That's what's great about this industry. We all help each other out, for the most part. It's a great industry.
JS: Yeah, I have to agree. There's not a lot of [expletive] in the industry, if you will.
NP: And you know what? We all smoke each other's cigars, because there are so many great cigars out there. There really is.
JS: Right.
NP: I don't smoke some of our stuff because it just isn't right for my palate.
JS: Right, exactly. So, are there any plans to come out with a lancero with any of the other blends?
NP: You know, we are thinking about it. We used to have lanceros in the Sun-grown and the Decade and the Edge and the Home-grown Reserve, and then the lancero market just went. Now, lanceros are picking up again.
JS: Right. I've started to notice that myself
NP: I think what we'll probably do is a sampler pack. You, know, that will have the Royale, the Fifteen ,the Deacade, something like that. That will be our next challenge. Some of the new stuff has the lancero size in it.
JS: That's a nice idea too.
NP: Yeah, just to see how it's going.
JS: Another question for you. The trend in some of the manufacturers is to have, like, seventy different cigars.
NP: I'll tell you why we do that. We're one of them.
JS: You don't have seventy.
NP: No.
JS: There's a couple of them out there. Let's just say that there are some of the folks in our community at CigarWeekly that are starting to gig them a little.
NP: Yeah.
JS: It's like: "OK, how many ways can you make tobacco?"
NP: No, actually, there is a lot. And the reason we do it is we take stuff off the market, not really because it's not selling. We run out of that tobacco. We took Old World out of the market because it wasn't up to the quality we felt it should be. Because when Old World first came out, it was really good. But we just didn't have that tobacco and it changed. So that's why we pull them off. You know, maybe we'll re-introduce them sometime in the future. So here's my best analogy: If I'm drinking a beer, I'm drinking a Guinness. If someone gives me a Miller Lite, I'm not going to like it. Now, if she's a Miller Lite drinker, and I give her a Guinness, she's not going to like it. That doesn't mean each one is bad. It's a different flavor profile. So what we try and do... you know most cigar smokers, it's either mild or medium. That's what it is. I'm talking the average Joe.
JS: Right.
NP: You know, the connoisseurs are going medium, medium-full, all of that. That's what sells. So we're trying to come up within every type of flavor profile there is. The reason we're coming out with new stuff is because most of our stuff was out of Honduras. That's where the Rocky smoker grew up on was the Honduran cigars, more medium-bodied, not really full-bodied, but well-balanced. Then we opened up a boutique factory in Nicaragua, so we started using a lot of Nicaraguan tobacco which put us more towards where the Pepin's are, that Tatuaje, you know, the fuller-bodied stuff.
JS: Right.
NP: So that's where we went with some new releases, not to make that factory busy, but to come out with some new stuff that we were smoking that we liked. Our palates had changed too. More to that stuff. We said, "Wow, this stuff is good. We've got to come out with that cigar." That's where it comes out.
JS: Yeah, I'm a big flavor fan, not a strength fan.
NP: Exactly. That's why I don't like telling people how strong it is.
JS: No.
NP: We always say it's full-flavor or medium-flavor, because it's got to be flavor.
JS: Right.
NP: I don't like bitter.
JS: If I was smoking just for smoking, I'd have a cigarette.
NP: Exactly.
JS: So that's it. Thank you very much.
NP: Oh, you're welcome. Thank you.
And that, dear readers, is my six minutes with Nish Patel.
Stay Tuned for a 'semi blind' review of the Super Ligero! We only had ONE!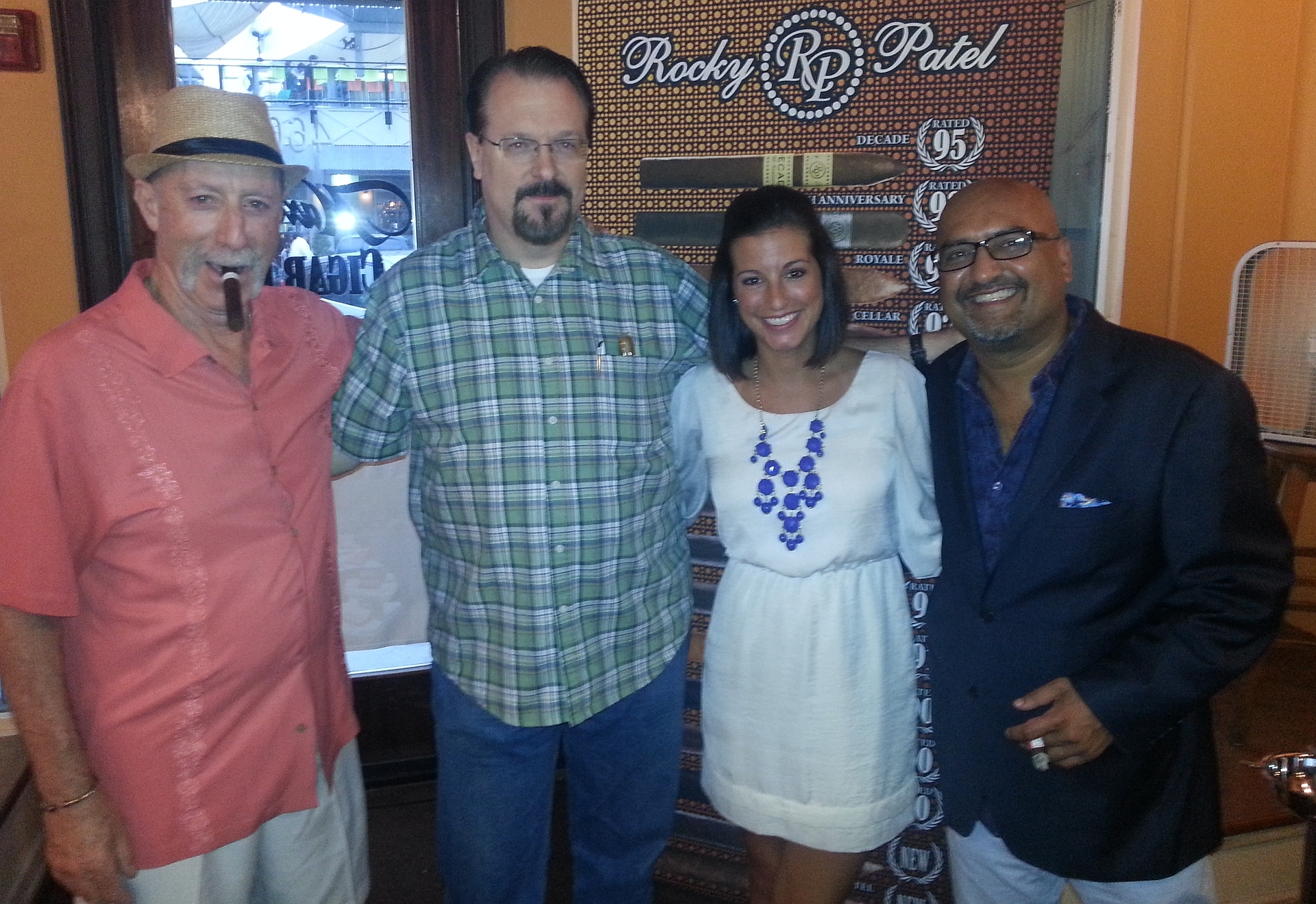 Maxwell's owner Harvey, CW's BigJohn, Stacy Cross and Nish Patel from RockyPatel Cigars