World's first cigar themed phone - The COHIBA iPhone XS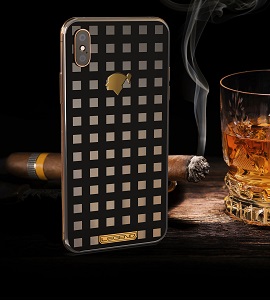 Legend has launched the world's first cigar themed phone as part of their new iPhone XS collection.
The company that pioneered the bespoke phone and smartwatch concept has collaborated with Finnish cigar accessories company Conocedor to create this Cohiba tribute iPhone for the Cohiba fans worldwide.
Like the rest of the products from these companies, the phone is handcrafted by experienced artisans with high attention to detail. Each phone is made to order and additional bespoke features can be requested as with other phones from Legend Helsinki: Hand engraved gift inscription plate, custom logo, alternative precious metal plating and more, although the customization options on this model are more limited than for their other models.
The Cohiba model is Legend's tribute to the finest cigar brand in the world. The iconic Taino Indian head logo is made of solid 18 karat gold to emphasize the gold theme found in Cohiba's premium quality Behike cigars. The squares are machined into a mirror polished solid silver plate and the spaces are filled with black enamel to give a unique inlaid appearance.
The Cohiba model comes with a luxury presentation box, certificate of authenticity, custom leather pouch and 24 karat gold plated earpods.
iPhone XS Max version is also available. Memory is 512GB as a standard.