Rock-A-Feller to Showcase the Dominican Blue
Vintage Rock-A-Feller Cigars Group to Showcase the Dominican Blue at 2019 IPCPR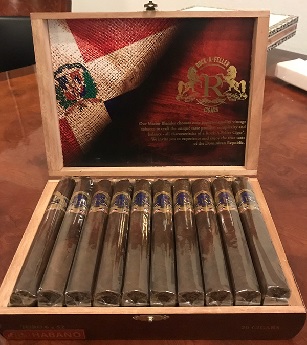 New York, NY – Vintage Rock-A-Feller Cigars Group (VRCG) is pleased to announce that their latest cigar, the Dominican Blue will be showcased at this 2019 IPCPR Trade Show, being held in Las Vegas, NV - June 29-July 2, 2019.
The VRCG Dominican Blue is the creation of legendary cigar maker, Victor De La Cruz in collaboration with Rock-A-Feller Cigars owner, Kevin Schweitzer.
Kevin Schweitzer stated:
"Vintage Rock-A-Feller Cigars Group is very excited to work with Victor de la Cruz and his Tabacalera L&V S.R.L factory to add the Dominican Blue to the successful Rock-A-Feller Cigars portfolio of premium cigars. Victor is a legend in the industry and a master blender going back decades in the business."
Savor the taste of Tamboril
The Dominican Blue offers a delicious and complex flavor profile that highlights the aged leaf and masterful construction of the masterful skills of Victor De La Cruz and his Tabacalera L&V S.R.L factory:
Wrapper - Ecuador Habano
Binder - Sumatra
Filler - Dominican Piloto, Seco HVA
The Dominican Blue is expressed in two vitolas and comes packaged in 20-count boxes:
Short Pyramid (5 x 50) - MSRP $8.00
Pigtail Finished Toro (6 x 52) - MSRP $9.00
If you are attending the 2019 IPCPR, Vintage Rock-A-Feller Cigars Group invites you to experience the Dominican Blue at booth 2371, along with the rest of the VRCG line.
The Dominican Blue will be a VRCG core line and will be shipping to retailers directly after the IPCPR.
About Victor De La Cruz

Victor began working in the cigar industry when he was just 7 years old. He started by preparing the materials for the rollers at Tabacalera La V De La Victoria. In 1963, when he was 12 years old, Victor started working as a roller for the company.
By 1979, Victor had become a master cigar roller for Compania Anonima Tabacalera. Here he was chosen as a supervisor to found Tabacos Dominicanos (Tabadom), which was selected to lead the production efforts for Davidoff. De La Cruz eventually reached the position of Quality Audits National and International at Tabadom.
In 2004, Victor partnered with Leandro Compres to open his own factory under the name Tabacalera L&V S.R.L.
For more information or to schedule time at the IPCPR, contact Rock-A-Feller Cigars at This email address is being protected from spambots. You need JavaScript enabled to view it."">//stogiepress.com/wp-admin/This email address is being protected from spambots. You need JavaScript enabled to view it.";>This email address is being protected from spambots. You need JavaScript enabled to view it.