Alec Bradley Blind Faith at the Tobacco Plus Expo (TPE) in Las Vegas,January 29-31.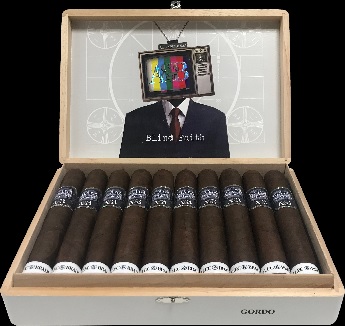 Fort Lauderdale, FL (January 8, 2020) – Second Generation Cigar Makers, Alec and Bradley Rubin announced today that they will be expanding distribution of their inaugural release: Alec & Bradley Blind Faith at the Tobacco Plus Expo (TPE) in Las Vegas, NV- January 29-31.
Under the tutelage of their father, Alec Bradley Cigar Co. founder Alan Rubin, the brothers began planning their own brand in 2017. At the time, Alec and Bradley were only able to procure three pair of rollers at the famed Raices Cubanas factory in Danli, Honduras. Since they were both untested in the cigar business, they decided to name their cigar Blind Faith. Both enthusiasts and tobacconists alike needed to trust that the young men could create a winning blend on their own. Blind Faith was released to appointed merchants during the International Premium Cigar & Pipe Retailers Association (IPCPR) in 2018.
"Alec & Bradley Cigars has grown leaps and bounds since our first introduction," said Bradley Rubin. "Since the early success of Blind Faith, we had the opportunity to team up with the legendary Ernie Perez-Carrillo for our second release, Gatekeeper. As well, Alec and I are about to release Uru Doshi with Cigar Dojo. Alec and I both feel like we have gained the trust of tobacconists and enthusiasts. We asked for more capacity at Raices Cubanas to increase production of Blind Faith and we got it. Now we have the ability to get Blind Faith in the hands of more cigar lovers."
The Blind Faith blend features a silky smooth wrapper from Alec Bradley's proprietary farm in Trojes, Honduras. Three different fillers from Esteli are held together by a double binder combination from Honduras and Nicaragua. Unlike the Alec Bradley tradition of blending for flavor first and strength levels later- Alec and Bradley focused on taking bolder tobaccos and blending them for strength with great flavor and balance.
"Bradley and I are very excited to expand the availability of Blind Faith," said Alec Rubin. "This is the first time Alec & Bradley and Alec Bradley will be exhibiting at TPE; we thought that the show was a great opportunity to share this very special moment in our careers."
Alec & Bradley Cigars is an offshoot of the Alec Bradley Cigar Co. Alec and Bradley Rubin have full control over their brands and blends. The vision for the Alec & Bradley brand is to create lines not normally seen in the Alec Bradley Cigar Co. portfolio. Their mission is to have the creative freedom to put out products that represent them. They have decided that there will be no guidelines for the brand, with a goal of bringing 'disruptive' products to market.
Blind Faith is presented in 20-count boxes and is available in three sizes:5" X 52 Ring, Robusto (MSRP: $8.95), 6" X 52 Ring, Toro (MSRP: $10.00) and 6" X 60 Ring, Gordo (MSRP: $10.95). All MSRP's are US, per cigar, before any applicable taxes. Global sales will begin on January 29, the first day of TPE.

For media inquiries please contact Director of Sales and Marketing, Jonathan Lipson- This email address is being protected from spambots. You need JavaScript enabled to view it.
Summary: Alec Bradley announced today that Alec & Bradley 'Blind Faith' production has increased and will become available to all tobacconists globally at the beginning of the Tobacco Plus Expo (TPE) in Las Vegas, January 29-31. A brand and blend created by Alec and Bradley Rubin, sons of Alan Rubin, founder of Alec Bradley Cigar Co. The brand is an offshoot of Alec Bradley Cigar Co. Alec and Bradley Rubin have full control of Alec & Bradley. 'Blind Faith' is rolled at the critically acclaimed Raices Cubanas Factory in Danli, Honduras. The line is available in three sizes:5" X 52 Ring, Robusto (MSRP: $8.95), 6" X 52 Ring, Toro (MSRP: $10.00) and 6" X 60 Ring, Gordo (MSRP: $10.95). All MSRP's are US, per cigar, before any applicable taxes.
ALEC BRADLEY
phone: 954.321.5991 - 888.426.4397 / fax: 954.321.9968 - 800.648.8876
This email address is being protected from spambots. You need JavaScript enabled to view it. | www.alecbradley.com