WITH A NEW LOOK, "LA MANDARRIA" BY CASA CUEVAS CIGARS ADDED AS PART OF CORE LINE
WITH A NEW LOOK, "LA MANDARRIA" BY CASA CUEVAS CIGARS ADDED AS PART OF CORE LINE
Originally a limited-edition brand, LA Mandarria now part of regular production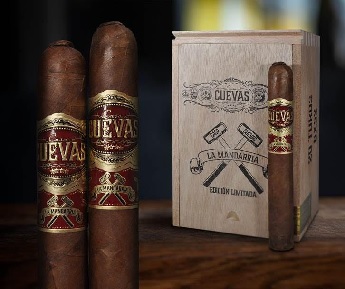 (Miami, Florida) January 24, 2020— Casa Cuevas Cigars, makers of handmade premium cigars to add the "La Mandarria" (translates to the sledgehammer brand) to their core line up of cigars. La Mandarria was initially a limited Edition 500 count box run. The brand was born out of the unfortunate burglary which occurred in February 2019 at the Casa Cuevas Cigars distribution center in Miami. Burglars used sledgehammers to break in and steal over 25,000 units of the Casa Cuevas brands, which included the Casa Cuevas Limited Edition Flaco, and Casa Cuevas core line of cigars. The Cuevas family made the decision to forge ahead and create a cigar, that will mark the era where they faced and overcame adversity.
La Mandarria will also sport a secondary band which elegantly highlights the "La Mandarria" logo.
President of Casa Cuevas Cigars, Luis Cuevas Jr. said;" We were completely overwhelmed by the response for La Mandarria. This brand was a smash hit at the 2019 IPCPR and sales have remained strong. We are grateful to the public for accepting the product with open arms."
In the original communication, President of Casa Cuevas Cigars, Luis Cuevas Jr. said:" La Mandarria is a testament to the values that my father taught me as a child. He was a fighter who optimized the American dream. As a small cigar company, the robbery was an obstacle, but nothing he hasn't been able to deal with in his storied past. The Mandarria represents the principal tool used against us, but also represents the strength and will of my father."
The Mandarria is a full-bodied cigar that is offered in only one vitola. The 6X52 Toro was chosen as Master Blender Luis Cuevas Sr. felt this vitola was a perfect balance between its strength, which is a representation of the "Mandarria" name, and the cigar's nuanced flavors.
Wrapped in beautiful Ecuadorean Habano wrapper and featuring a pig tail and shaggy foot, these cigars were the first full-body and full-strength cigars in the Casa Cuevas line-up. MSRP is $12.00 per cigar.
ABOUT Casa Cuevas Cigars:
Casa Cuevas Cigars was established in 2016 but has decades old history behind it. Cuban born Master Blender Luis Cuevas Sr. has been blending cigars from his factory in the Dominican Republic for many popular cigar brands. Now, together with son Luis Cuevas Jr., the Casa Cuevas Cigar brands were created to honor their four-generation cigar heritage. Currently the Casa Cuevas Cigars line of brands include the Casa Cuevas core line, the Casa Cuevas Limited Edition Flaco, the Cuevas Reserva, and the Limited Edition Mandarria.
For more information please visit http: www.casacuevascigars.com
Follow Casa Cuevas Cigars on social @CasaCuevasCigars