FRATELLO FUCO DEBUTS AT PCA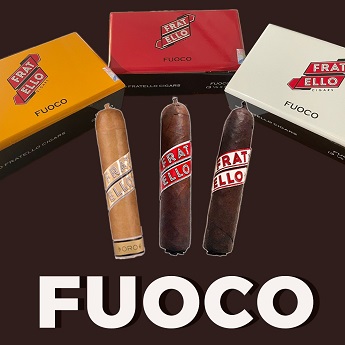 Springfield, VA (July 6, 2021) – Fratello Cigars is pleased to announce the Fratello Fuoco, that means Fire in Italian. This new release will be made using the three Fratello Core blend, the Classico, Bianco and Oro.
"We released the Fratello Fuoco in Europe in 2019 as it is very popular size in the European Market. Following its success, we are now bringing this special size to the consumer in the US." – Said the Frias.
The Fratello plans to ship the Fuoco August 15th, 2021. The Fuoco Oro is produced by La Aurora in Santiago, Dominican Republic and the Fuoco Classico and Bianco by Joya de Nicaragua. The Fratello Fuoco will be released in a 3 ½ x 50 and will retail $7.50.
Fuoco Classico Blend: Nicaragua Wrapper, Ecuador Binder, Nicaragua and Peruvian Filler.
Fuoco Bianco Blend: Mexican Wrapper, Dominican Republic Binder, USA, Nicaragua, and Peruvian Filler.
Fuoco Oro: Ecuador Wrapper, African Binder, Colombia, Dominican Republic and Nicargua Filler