The Virtual Gourmand #22: Easy and Tasty Quickbreads
The word 'heirloom' has overtaken 'organic' as THE trendy term in food circles. It originally applied to fruits and vegetables whose seeds were collected, preserved and passed down through generations. Personally, I thought of it as a synonym for 'charge even more money for ugly fruits'. But the term did capture some of my interest. (When the seed companies start selling 'heirloom' plants, you know the trend is on its way out.)
Instead, the trend shifted to recipes. Jams, jellies, pickles - virtually any recipe you could get from your mom or grandma - were labelled as 'heirloom' recipes. Well, if the Virtual Gourmand is nothing else, it is authentic. And I'm going to share 3 true heirloom recipes that have been passed down to, and enjoyed by, five generations of my family (maybe six, if my distant cousins have started families of their own).
Let me give you some background on the origin of these recipes. My paternal Great-Grandmother, Elsie Iola Zook Workman, was a fantastic cook. Her parents moved on covered wagons to Illinois, following the railroad west after the Civil War. There is a picture in my father's study of her as an infant in front of a sod house built by her parents. She supported six children as a single, divorced mother through the Great Depression and beyond - initially, as a cook in a popular local diner. And once she stepped down from that position, she became the cook in residence at the Theta Xi Fraternity Chapter at the University of Illinois. When Elsie finally retired, she took up running a boarding house near the college campus until her health began to fail (while she was living with her youngest daughter - my grandmother - until her death at the age of 94).
Grandma Workman never used a recipe for much more than inspiration. But if you called her on the phone, she'd dictate the recipe to you. After her death, my mother found a box of newspaper and magazine clippings. Given the size of Elsie's family, you can imagine how many recipes she'd dictated over the phone during all those years. My mother took it upon herself to write to as many relatives as she could to ask them to contribute their pictures, recipes and blog. The response was tremendous, and resulted in a self-published book, entitled Love Elsie, in 1998. The book was distributed to all relatives who wanted it. Believe it or not, we also received pictures of Elsie's mother and grandmother - the latter having been born well before the Civil War. Three of the recipes I am about to share with you were dictated to my mother over the phone. I have been using them for more than 25 years myself with repeated success.
All of them are known as 'quickbreads', a term that basically uses rising methods other than those that involve yeast. Quickbreads tend to be denser than yeast breads, but are still quite tasty. The best part about quickbreads is that they take little to no skill to make successfully. You mix the ingredients in order, pour them into a pan and, in about an hour, you are done. The only real trick is knowing when the loaves (or muffins) are done. I'll share that secret with you as we go.
_______________________________________________
'Heirloom' Recipe #1: Banana-Nut Bread
This recipe began as a way to use up bananas that were nearly spoiled. They would be peeled and frozen until enough were collected to make a batch. As it turns out, freezing the bananas is one of the keys to the success of the recipe. Freezing the ripe bananas (and believe me, unless they are beginning to mold, they are not too ripe) forces the walls of the fruit's cells to burst, releasing all of their sugars to the bread. The other key to this recipe's success is allowing the butter to come up to room temperature before it is creamed together with the sugar. Doing so produces a lighter crumb. But if you don't have the time to wait for it to soften (or don't have a softening setting on your microwave), it still produces a tender loaf. I have never had a dry loaf of bread made from this recipe in more than 25 years. I suspect you will enjoy success with it as well. Multiplying the batches does no harm to the recipe, and the finished loaves freeze well if wrapped in foil and placed in a zipper bag.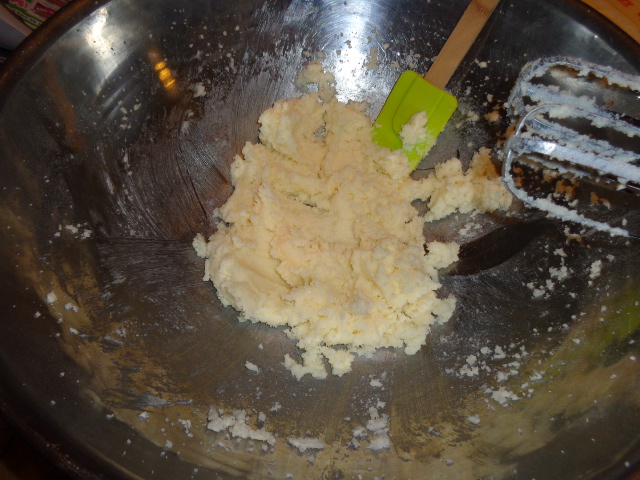 Cream together:
1/2 C. butter
Add and beat well:
2 eggs
3 ripe bananas
Stir in:
1 3/4 C All-purpose flour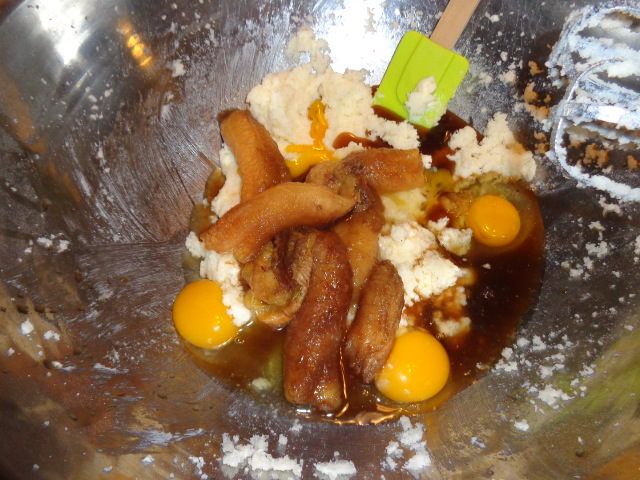 1 t. baking powder
2/3 C. black or English walnuts or pecans (this part is optional)
Grease and flour a loaf pan. Bake at 325 degrees for 45-50 minutes. This recipe will make one loaf or two smaller loaves, so varying the baking time is appropriate to the size of the loaf. Breads such as these are usually said to be done when a toothpick inserted into the center of the loaf comes out clean. That may work for some, but an instant read thermometer is a more precise tool for measuring doneness. When it reads approximately 200 degrees in the center, it is done. Set on a wire rack until cool to the touch, then return to the rack to cool completely. We love this quickbread for breakfast on a brisk fall morning, toasted under the broiler with some butter until it is just crispy around the edges.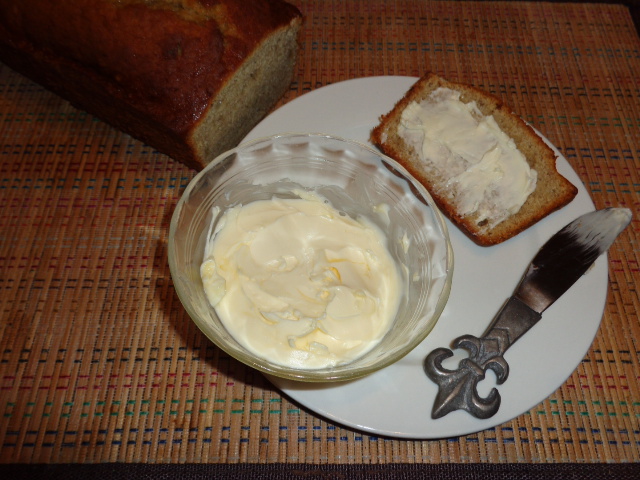 __________________________________________________
'Heirloom' Recipe #2: Pumpkin-Spice Bread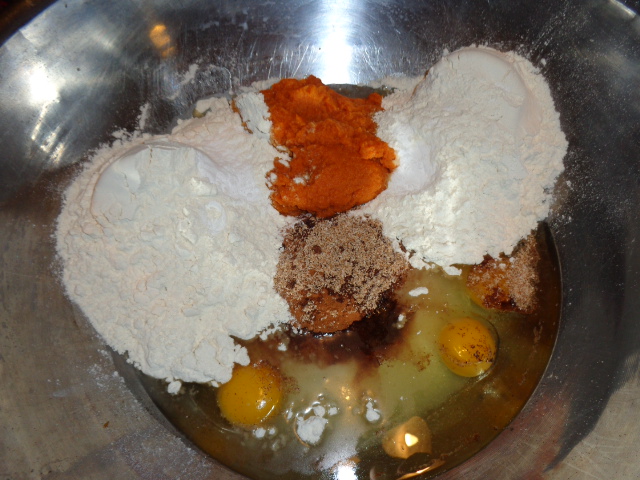 This is likely the easiest of all of the heirloom recipes I am sharing with you. You put all of the ingredients in a bowl, mix them with a hand mixer, and bake the mixture in a greased and floured pan. I will note two things: 1) commercial pumpkin comes in 15 ounce cans and larger. Doubling the recipe to use an entire can of pumpkin matters not, even though a cup of pumpkin is generally 8 ounces; 2) One of the most useful little tools I have in my kitchen is a nutmeg grater. Microplane make one that is inexpensive ($15), handy and has a storage container for both grated and ungrated nutmeg kernels. The difference between freshly ground nutmeg in a recipe and the store-bought pre-ground is as apparent as night and day - a worthy investment, then. If you have a Microplane zester, you can use that too, although it won't grate the nutmeg as finely. Either way, watch your knuckles, as these implements will grind flesh even easier than nutmeg!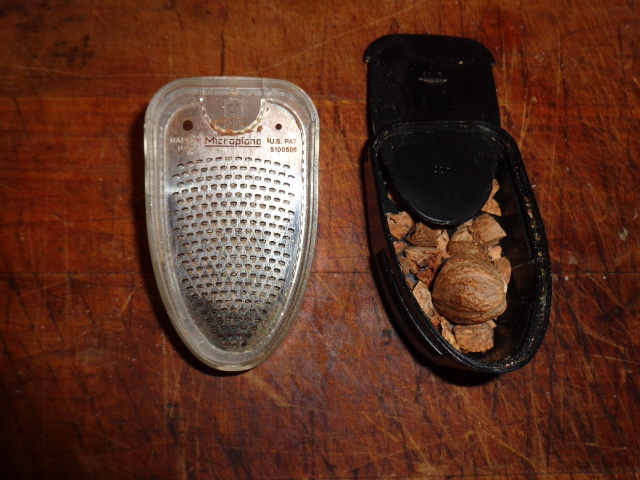 1 1/2C. sugar
1 t. salt
2 eggs
3/4 t. each cinnamon, nutmeg, ground cloves
1/2 C. vegetable oil
1 C. pumpkin
1 3/4 C. Flour
1 t. baking soda
1/4 t. baking powder
3/4 C. raisins or dates (optional)
1/2 C. nuts (optional)
Again, you put all of the ingredients in the bowl, whirl everything up with your hand mixer, and bake it at 350 degree for about an hour (or until it reaches 200º on your thermometer). Once again, it will make one large or two small loaves, and is wonderful run under the broiler with butter just until it is crispy around the edges.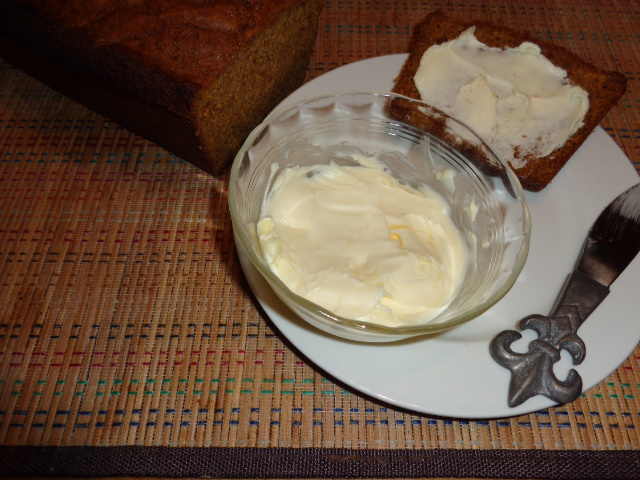 __________________________________________________
'Heirloom' Recipe #3: Applesauce Puffs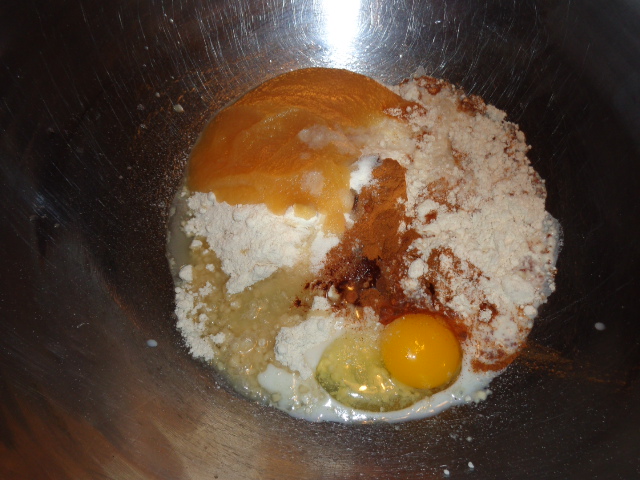 The third heirloom recipe is one that came from a newspaper clipping - I am sure. It has Betty Crocker written all over it. It's only slightly more difficult than the other two, but simply because you have to add a cinnamon sugar topping to the cooled muffins. Again, this recipe is of the 'dump the ingredients into the bowl and mix them together' sort.
2 C. biscuit mix (this has all of your leavening minus the egg)
1 egg
1 t. cinnamon
2 T. vegetable oil
1/4 C. sugar
1/2 C. applesauce
1/4 C. milk
Mix all ingredients fully for thirty seconds. Spray a muffin tin and line each cup with a cupcake liner. Using an ice cream scoop, portion the batter into the cups about 2/3 full. Bake at 400 degrees for about 12 minutes or until golden brown. Cool to the touch and remove from the pan. In a soup bowl, melt 2T. butter. In another bowl, mix 1/4 C. sugar and 1/4 t. cinnamon. Dip each muffin top in the butter and then coat it with the cinnamon sugar mix. The recipe yields about 10 muffins.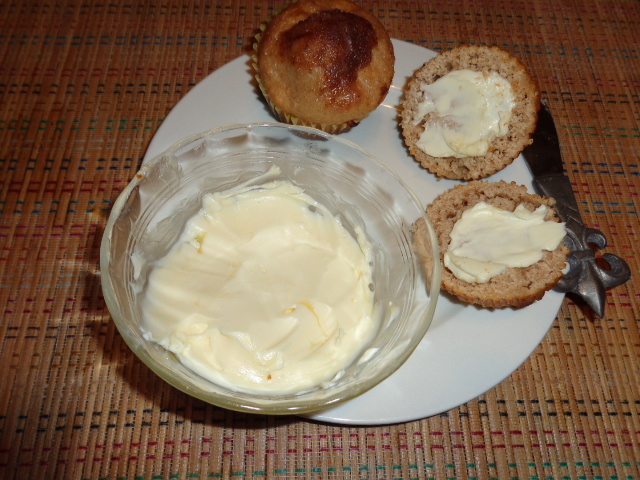 __________________________________________________
Recipe #4: Easy Blueberry Muffins
This isn't an heirloom recipe at all. In fact, I got it from Alton Brown on his show Good Eats. It is a quickbread, however, and it is so easy and versatile (meaning you can use seasonal fruits in it other than blueberries) that I wanted to share it with you. The recipe uses cake flour instead of all-purpose because it is more finely ground and contains less gluten. It also measures the ingredients by weight rather than volume. This approach is a common part of baking, so get your home scales out. The only trick to this recipe is to not over-stir. The mixture may not seem fully combined after the thirteen strokes you are going to stir it with a spatula, but that is the trick to the loose crumb texture of this recipe.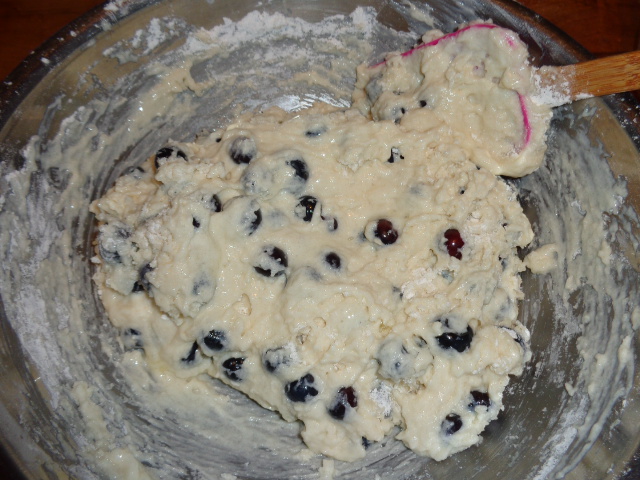 In a mixing bowl, add:
12.5 oz cake flour (Swan's Down is the most widely available brand)
1 t. baking soda
2 t. baking powder
A generous pinch of salt
1 C. sugar
Whisk these together. In a liquid measuring cup, add:
1/2 C. vegetable oil
1 C plain or vanilla yogurt (you can substitute sour cream if you're out of yogurt)
1 egg
Whisk your liquid ingredients together, and pour them into your mixed dry ingredients along with a pint of rinsed and stemmed blueberries. Stir no more than thirteen strokes. With an ice cream scoop, divvy up the batter between twelve muffin cups that have been sprayed with vegetable spray. Bake at 380 degrees for 20-25 minutes. One additional variation I like is to sprinkle a little sugar on the top of each muffin before baking. The topping doesn't caramelize in the oven, but it does deliver a satisfying crunch.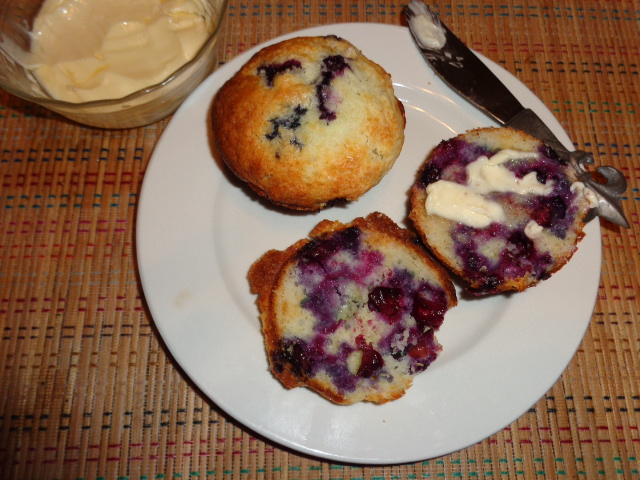 ______________________________________________
CW Publisher, Editor-at-large and Executive Chef Jason Clabaugh (BigO) hails from a suburb of north Atlanta.