A Rich Pour 27: Oban – An Ancient Place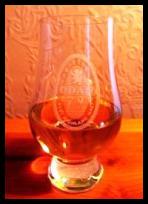 Join Cigar Weekly Managing Editor Doug Kuebler (jazznut) as he profiles one of Scotland's quaintest malt whisky sites – the Oban Distillery.
Monday January 19, 2015
Oban (which is Gaelic for "little bay of caves") is an attractive western Scotland community boasting a degree of frenzied activity, and a number of places of interest, that belie its relatively modest population. The town, known as the Gateway to the Isles, also plays a prominent role as a ferry terminus owing to its central coastal location and naturally sheltered bay.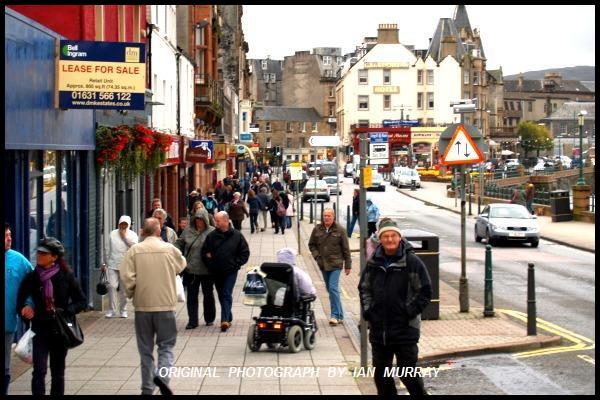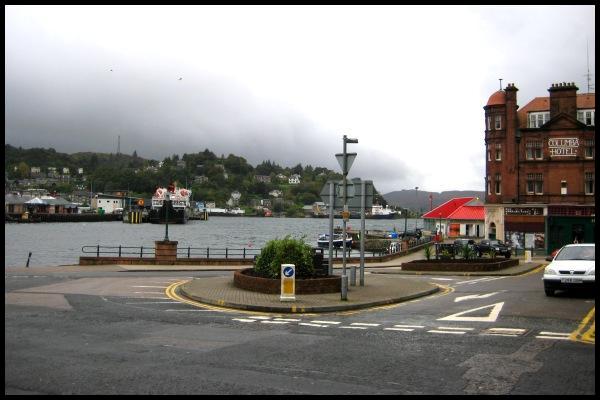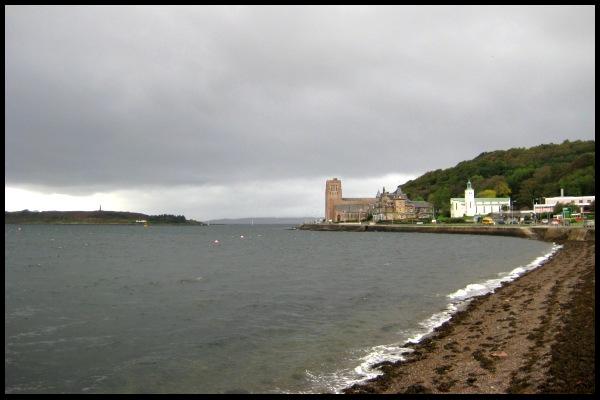 One feature that grabs just about every first-time visitor's attention is a large, coliseum-like structure perched atop a hill overlooking the town. A Roman ruin, perhaps? Alas, not. Rather, a never completed edifice erected between 1897 and 1902 by wealthy banker John Stuart McCaig, and variously entitled McCaig's Tower or McCaig's Folly. So much for the illusion of blog.

More important for whisky lovers, though, is what stands on Stafford Street seventy odd feet beneath McCaig's circular creation – namely Oban Distillery.
Five millennia have come and gone since humans first sought shelter along Oban's craggy shoreline. Whisky making and the town of Oban itself are far more recent phenomena. Nevertheless, the area surrounding this coastal community boasts a fairly long history of illicit spirits distillation.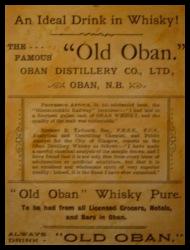 John Stevenson surely smelled both salt and malt in the air upon his arrival at Oban in 1778. He alerted his siblings, Hugh and James, to the potential business opportunities. The Stevenson brothers soon agreed to pool their resources toward establishing interests in quarrying, construction and shipbuilding, as well as for the cause of alcohol production. They erected a brewery in the early 1790s, fermented ale for three odd years, converted their site to making spirits in 1794, received a whisky license in 1797, and hired an experienced Lowland pot-stiller as manager. Oban Distillery remained in the Stevenson family's hands until 1866.
J. Walter Higgin acquired Oban Distillery in 1883, and enlarged the premises over the next four years, adding substantial warehousing space in the process. Most of the site's present-day structures, with their attractive charcoal-grey stone facades, date from Higgin's period of expansion. Alexander Edward, owner of the Aultmore Distillery in Speyside, purchased Oban from Higgin in 1898.
Over the course of the 20th-Century, Oban's ownership followed the path of so many other Scottish malt whisky enterprises. The distillery became a subsidiary of John Dewar & Sons in 1923, passed to Distillers Company Limited in 1925, and eventually ended up in the hands of United Distillers and Vintners, part of the Diageo spirits empire. Closures at Oban were, thankfully, two and far between – 1931 until 1937 and 1969 to 1972.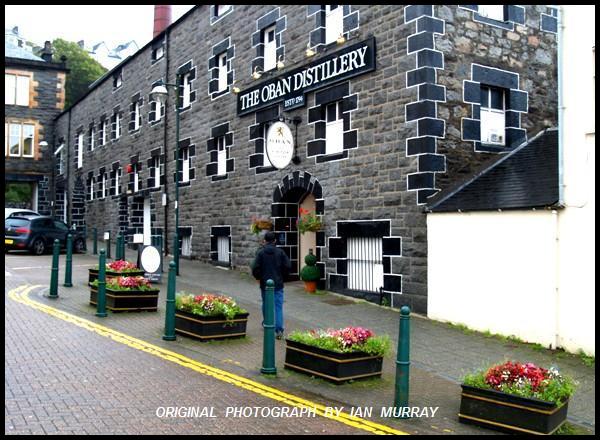 A tour of the distillery wends from the warmth of the stainless steel mash tun through the pungent, yeast-imbued fragrance emitted by brew bubbling away within the European larch washbacks to the tiny yet tidy still-house. Visiting entourages often bring together individuals from around the globe. When I was last there, people from Scotland, Wales, England, Belgium, South Africa, the United States of America and Canada were present.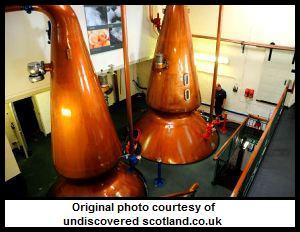 Oban Distillery draws its water supply from Lochs Gleann a' Bhearraidh in the Ardconnel area of the peaty uplands a mile outside of town. Lightly peat-reeked malt (of the Troon variety of barley, when I inquired) has been brought in since 1968, when the on-site floor malting facilities were shut down. The still-site is very constricted, hemmed in as it is between a steep hill and storefronts facing the water. The distillery continues, despite major renovations carried out during the early 1970s and 1990s, to produce its malt whisky through a single pair of copper pot-stills. As Oban's annual production of spirit is limited, its make is exclusively targeted toward malt whisky releases. (Even Chivas Brothers' astounding Century of Malts, which comprised a melding of one hundred individual malts and was released during the mid-1990s, contained not one drop of Oban in the mix.)
The distillery's single malt was, for many years, aged primarily in well-used ex-Bourbon barrels. The match between coastal whisky and neutral wood worked well enough. Then, former manager Ian Williams sought to enhance the character of the malt by introducing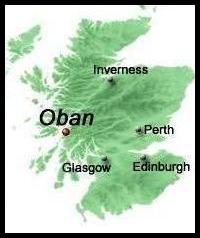 sherry casks into the warehouse. This taste for Spanish oak was highlighted with the release, under the Distillers Edition banner, of a vintage-dated Oban Scotch exposed to Montilla Fino casks. Nevertheless, refill American oak still rules the roost here. Williams has been succeeded as manager by Steve Blake, Kenny Gray and then Brendan McCarron.
Oban is a very charming place to visit in and of itself. And the fact that the town also boasts one of Scotland's quaintest distilleries represents a true bonus for lovers of malt whisky. Furthermore, this locality offers a perfect point of departure for anyone wishing to venture to the outlying islands off the west coast.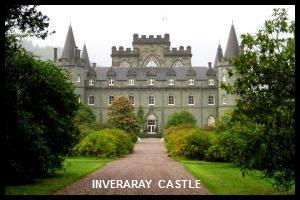 Oban is easily accessed (within a few hours) from Glasgow by either train or bus. However, for anyone having some time to spare and willing to drive, I'd recommend taking the less direct route around Loch Fyne and through Inveraray, home to Inveraray Castle (the residence of the Duke of Argyll) as well as the George Hotel (a great place to stop for food, beer and – of course – a dram of whisky) and Loch Fyne Whiskies (now owned by The Whisky Shop chain, but still retaining its floor to ceiling array of spirituous delights). Afterward, head on over to the tiny hamlet of Kilmartin to visit the old parish church graveyard, the ancient Nether Largie Stones, and Carnasserie Castle a little further up the road. This itinerary may add a day to your travels, but it's definitely worth the detour.
Here are my tasting notes on a few malt whiskies produced at the Oban Distillery: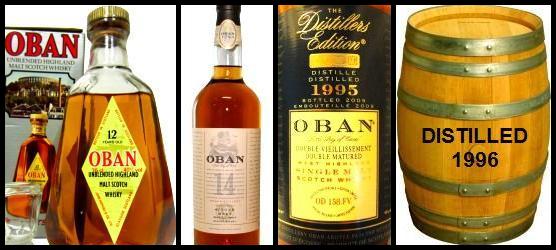 12 Year Old – 40% (discontinued)
Very much midway between the malts of the islands and those of the central Highlands. A medium platinum-gold colour. Clean, fresh, tangy and slightly medicinal, with a good dose of not-too-sweet pears and peaches on the palate. Lightly textured. The peat smoke is there, but just barely. Tends to fade a little on the finish, even as it has faded from the marketplace. Nice decanter-style bottle, though.
14 Year Old – 43%
Much deeper in colour than the preceding, with a rich orange-gold hue. The flavours possess greater roundness. Yet I can't help feeling as though there is a certain disjointed aspect lurking in the background, as though the various elements haven't quite managed to integrate. Quite a unique dram for sure, what with its demure combination of orange-tinged malt sweetness and seashore brine. I suspect earlier editions incorporated some sherry cask matured Oban, even though current releases are purportedly drawn solely from refill American oak aged stocks.
Distillers Edition – 43%
Finished in Montilla Fino oak. Full amber in the glass with a faint green cast toward the rim. A wet straw and dry smoke aroma enlivened by faint fruit and warm honey scents along with saltiness. Corn syrup sweetness to start on the palate. Then the fruit aspect oscillates between ripe pears and pear-skin. High-toned in demeanour, with subtle coastal sea showers and beach fire embers adding to the fun. A definite step up from the standard bottling.
Cask Strength, distilled 1996 – Approximately 54%
Tasted at the distillery in the autumn of 2009, having been drawn straight from a refill cask. A noticeably lighter golden hue than the 14-year old release. Saltiness very much to the fore, both on the nose and the palate. This pronounced seaside characteristic played off the underlying honeyed sweetness of the malt to great effect. Scintillating whisky caught just at the right degree of maturity. Would that one could bottle this one.
Special official distillery editions of Oban, sometimes issued at cask strength and ranging anywhere from nine to thirty-two years of age, have periodically been made available in very limited quantities. These whiskies might be worth searching out provided your pockets are deep.
Slàinte!
__________________________________________________
Referenced articles and books
Buxton, Ian, Small but perfectly formed, Whisky Magazine, Isuue 52, February 2006, Paragraph Publishing, Norwich, Norfolk, United Kingdom, pp. 24-27
Kuebler, Doug, The Tumbler's Guide to Single Malt Scotch Whisky: Armchair Reference Manual, Topeda Hill Publishing, Baldwin Mills, Québec, Canada, ©2003 Doug Kuebler & Topeda Hill Publishing, pp. 122-123
Kuebler, Doug, The Tumbler's Guide to Single Malt Scotch Whisky: Field Guide, Topeda Hill Publishing, Baldwin Mills, Québec, Canada, ©2003 Doug Kuebler & Topeda Hill Publishing, pp. 75-76
MacLean, Charles, Whiskypedia: A Compendium of Scottish Whisky, Skyhorse Publishing, New York, N.Y. 2010, pp. 269-270
__________________________________________________
Doug Kuebler (jazznut) is an inveterate aficionado and collector of wines and whiskies. Apart from organizing wine and food seminars, Doug has also written extensively on wines and liquors over the last three decades. His first published book-set, The Tumbler's Guide to Single Malt Scotch Whisky, has been well-received in North America, the British Isles and Asia.