Holiday Spirit Whiskies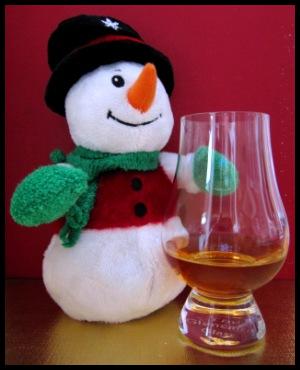 Monday December 8, 2014
Whiskies provide tasty treats at any time of the year. But when the Holiday Season arrives, the temptation is always there to sample some of the 'really good stuff'. And while such libations can cost an arm and a leg, they don't necessarily have to. Here's a personal selection of delectable whiskies, most of them fairly widely available, ranging from the admittedly expensive to the – thankfully – more affordable. The selection covers a broad range of styles. Of course, you're not restricted to enjoying these whiskies only during the Holiday Season!
Scotch single malt: A trio of golden 'smokies'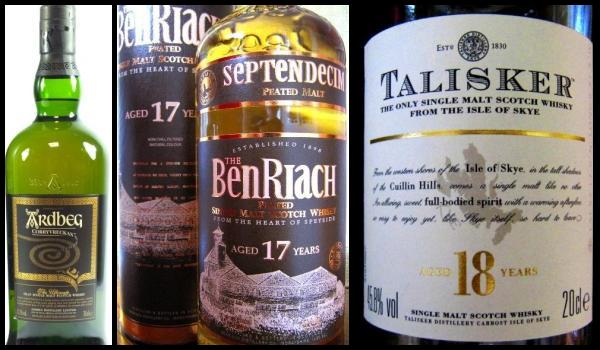 Ardbeg Corryvreckan – 57.1%
This Islay whisky is, quite simply, a monster of a malt. The inimitable Ardbeg citrus-tinged bittersweet trait, perhaps a tad sweeter here than is the distillery norm, takes an elevator ride to each ascending floor of peat. The sheer intensity of aroma and flavour is awe inspiring. (Pricey)
BenRiach 17 Year Old Septendecim – 46%
Here's a Highland malt that's deliciously mature, beautifully peat-laden and – above all – balanced. It's nothing less than superb in terms of its measured intensity and layered complexity, and represents a worthy competitor to many an older island malt whisky, while retaining a style all its own. (Pricey)
Talisker 18 Year Old – 45.8%
Get ready for Talisker that's succulent to the point of being disarming. Nevertheless, small shoreline fires do continue to flicker amidst the whisky's sweeter notes. Was Skye's famous malt ever meant to be civilized? This one rides the razor's edge between brawn and beauty with considerable panache. (Pricey)
Scotch single malt: Sherry cask, bourbon barrel and a wonder from the village of Wick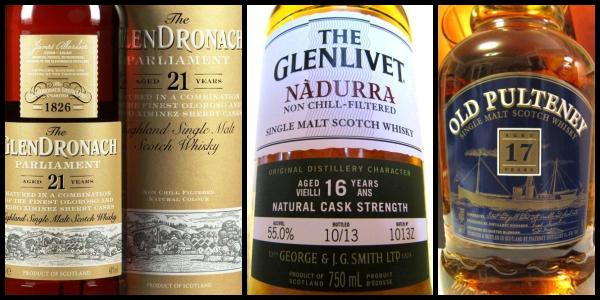 GlenDronach 21 Year Old Parliament – 48%
Caramelized sugars with subtle, clove-like burnt overtones and simmering heat from the alcohol, à la Knob Creek Bourbon, are on display here. Cherries in syrup and a complex bounty of sherry cask propelled dried fruits and spices then rumble across the palate in succession. The balance between richness and litheness is gauged perfectly. (Pricey)
Glenlivet Nàdurra Natural Cask Strength 16 Year Old – Generally low to high 50s%
It's matured in first-fill American oak casks, and not chill filtered. It exhibits a deceptive textural delicacy and light viscosity married to tremendous palate penetration and clarity. In short, Nàdurra is nothing less than Glenlivet unleashed. Grab it before it's gone. (A no-age-statement replacement is already being marketed.) (Good value)
Old Pulteney 17 Year Old – 46%
That inimitable salty seaside tang of Old Pulteney's make comes rounded off by an addictive butterscotch imbued richness. The additional years of ageing bring a perfect degree of maturity, perfect balance and simply delicious flavour development. Forget the cost and treat yourself. (Pricey)
Irish whiskey: Upping the ante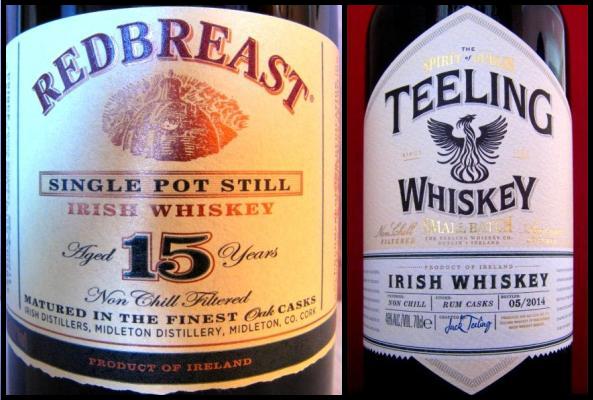 Redbreast Single Pot Still 15 Year Old – 46%
This 15-year old, higher proof incarnation takes the complexity and richness of its 12-year old sibling to the next level. It's not to be missed. Take your time to appreciate the full depth of flavour as you sip the whiskey. There's a lot there to savour. (Pricey)
Teeling Small Batch – 46%
Though lighter on the palate than Redbreast, this charming Irish whiskey still manages to deliver a multitude of flavour sensations. The rum cask finishing isn't obtrusive, and merely adds a subtle sweet and spicy embellishment to the spirit. Even better, the whiskey's not chill filtered. I can see a lot of people falling for this one. (Good value)
Bourbon: You won't sing the blues with these two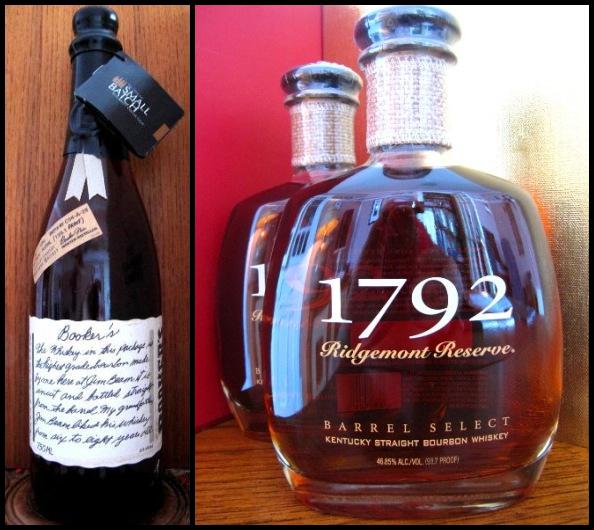 Booker's – Generally low to mid 60s%
Frederick Booker Noe II knew a thing or two about Bourbon. So it stands to reason that a spirit bearing his name won't disappoint. Still, I have to wonder how such a huge whiskey can also be both so complex and composed. Although the weightiness does gradually dissipate, kernels of concentrated flavour continue to pop on the palate. There's little more to say except, "Mount Rushmore in a bottle." (Good value)
Ridgemont Reserve 1792 Barrel Select Bourbon – 46.85%
I love the way this whiskey flings from banana-like sweetness to spicier bittersweetness before the oak grips big time. Here's a spirit that really hits the dance floor! The fact that it's offered at a decent price point is an added bonus. (Good value)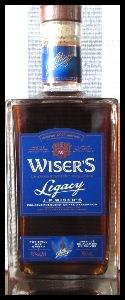 Canadian: A real rye kick
Wiser's Legacy Pot Still Rye Whisky – 45%
Legacy quite simply represents one of the boldest and best Canadian whiskies I've experienced over the last couple of years. The rye snaps on the palate, as it should. And there's wave upon wave of full bodied richness to help caress the palate and carry it from one surprising moment to the next. (Good value)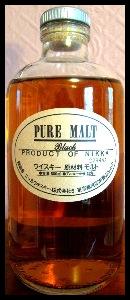 Japanese: Oriental expressiveness
Nikka Black Pure Malt – 43%
This gem is velvety rich as well as complex, and constantly evolves on the palate, right through to the extended finish. Strands of smoke and spices do lurk in the background. But malt sweetness, in various guises, finally steals the show. Nikka Black is perfectly pitched, dangerously drinkable and a personal favourite. (Pricey – 500ml bottle format)
_______________________________________________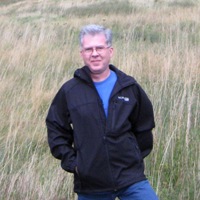 Doug Kuebler (jazznut) is an inveterate aficionado and collector of wines and whiskies. Apart from organizing wine and food seminars, Doug has also written extensively on wines and liquors over the last three decades. His first published book-set, The Tumbler's Guide to Single Malt Scotch Whisky, has been well-received in North America, the British Isles and Asia.