Nostalgia - Gramps' Bar
I was born on Long Island, but my family moved to the Syracuse area in 1977 when I was seven years old. Because most of our relatives still lived on Long Island, my family would make several return trips a year, and we always stayed at Grams' and Gramps' house.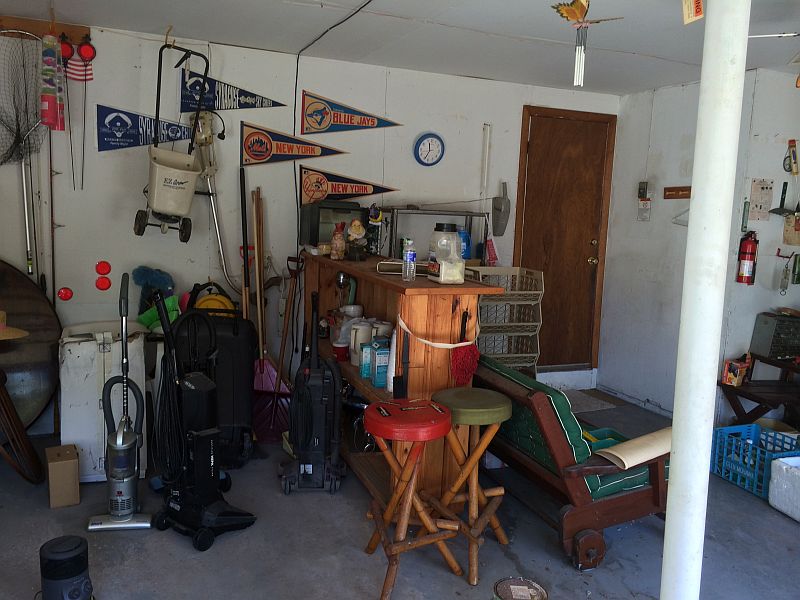 Grams and Gramps, my father's parents, owned a small Cape Cod that was worth way more than it should have been. Although the house was small, everything was always kept in immaculate condition - especially the landscaping.
There wasn't a lot for us kids to do there, except to watch movies on Gramps' new Beta machine, which was followed by a VHS player. Gramps loved movies, a trait that certainly rubbed off on me.
The only other option for keeping ourselves entertained was to play in the basement, half of which was finished, and happened to be the home of Gramps' Bar. There was the bar itself, bar stools and, of course, a huge selection of spirits. I'm not sure how large the liquor selection really was. But to a 10-year old kid, anything more than a few bottles seemed like a lot.
In 1990, Grams and Gramps decided they wanted to relocate and be closer to family. So they moved to the Syracuse area, about a half-mile away on the same street as my parents. They left a lot of stuff behind when they moved, as the transport truck was not able to hold it all.
Even when the movers unpacked the truck, a lot of the boxes and items ended up simply being stacked in the garage or basement. There they have remained for almost a quarter of a century.
Gramps passed away in 2010 at the age of 90, and Grams now lives in a nursing home. My Dad has slowly been getting their house ready for sale.
It was a Saturday when I received a text message from my mother. She informed me that Gramps' Bar had been found while the garage was being cleaned. I was shocked, as were my parents. Everyone assumed that the bar had been one of the many items left behind in the home on Long Island. But, apparently Gramps didn't want to leave it behind.
We assume he had left the bar in the garage because it would not fit down the basement stairs of his new home, and because there was no other ideal place to put it in the house. As Grams and Gramps only had one car, the two-car garage provided ample space to keep a lot of stuff - mostly junk.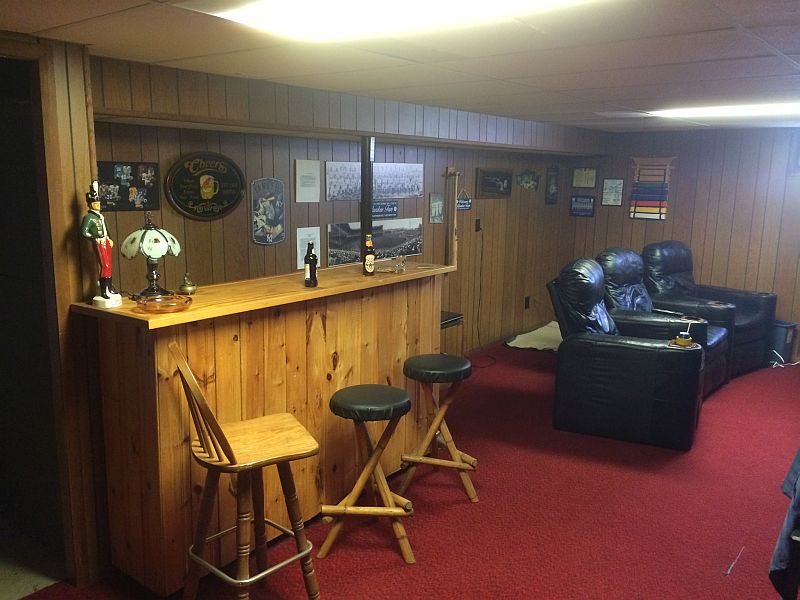 Not only did we find the bar, but also two of the stools as well as another stool-like chair, which I believe may have been used at the bar or behind it.
My parents asked me whether or not I wanted the bar. Without the smallest of pauses, I said, "Definitely."
Although the bar and stools were in pretty good shape given their ages, I obviously needed to clean them up. Additionally, the faux-leather seat covers on the bar stools required replacing. The cleaning was fairly easy. And once I managed to get over to Hobby Lobby and pick up some more faux-leather, a friend of mine was able to reupholster the bar stools. With those tasks done, I just needed to arrange everything in my Man Cave.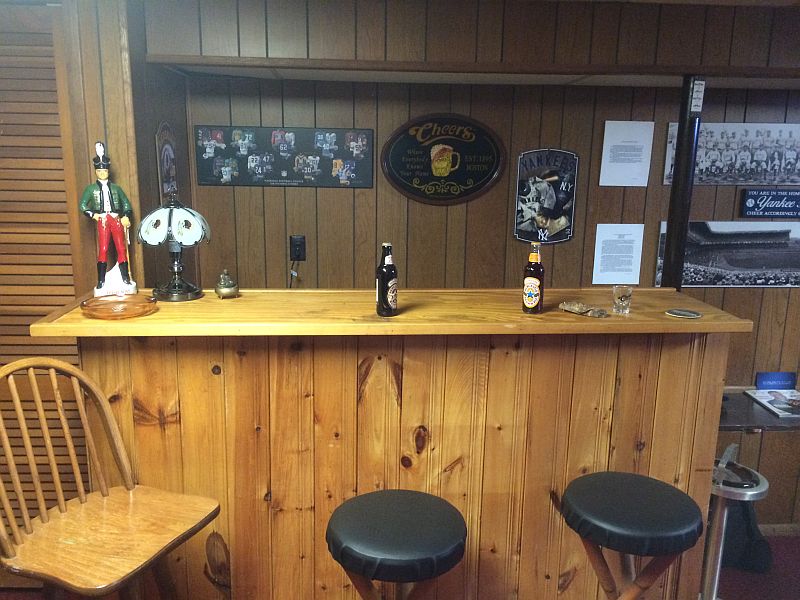 The bar is now set up, and I am one happy camper. I'm not a big drinker, but my wife and I have already sat at the bar and shared some drinks. It was great to be able to hit on a woman in a bar and not have to worry about rejection or expectations. But, in all seriousness, it was just pure fun.
Admittedly, the bar itself will probably not get a lot of use. But that's not why I have it. I have it because it was Gramps', was part of my childhood, and is now part of my family's home.
Although Gramps is gone, I can still imagine him sitting next to me at the bar, smoking a cigarette while I smoke a cigar, having some drinks and talking about life. The bar, which was almost certainly hand made, maybe even by my grandfather, has very little monetary value and is not the most attractive piece of furniture. But to me, it's worth all the money in the world, and I'll never part with it.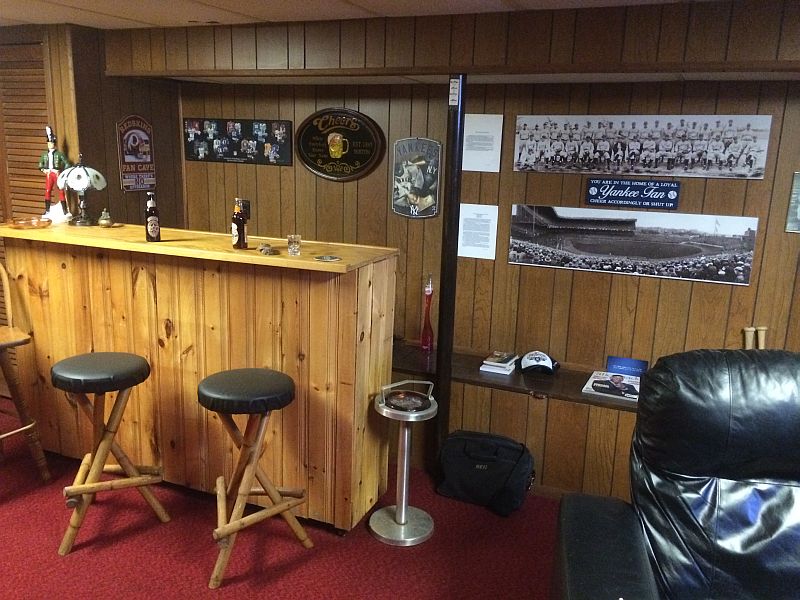 _______________________________________________
Rob Geyer (Rob G) resides with his family (and hangs out in his Man Cave) in Syracuse, NY.