A Rich Pour 28: Something To Mull Over – Discovering Tobermory Distillery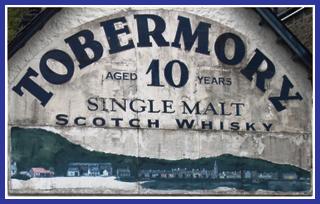 Join Cigar Weekly Managing Editor Doug Kuebler (jazznut) as he recounts highlights of a visit to the Isle of Mull in Scotland, and profiles the island's sole malt whisky site, Tobermory Distillery.
March 16, 2015
The Isle of Mull lies off the western coast of the Scottish mainland, midway between its fellow Inner Hebridean islands of Jura and Islay to the south, and Skye to the north.
Although a commercial seaplane service provides direct flights from Glasgow to Mull, most visitors and locals avail themselves of the ferries operated by Caledonian MacBrayne.
CM's most popular (and heavily utilized) route to the island departs from Oban and docks at Craignure, on the eastern shores of Mull. The trip takes approximately 45 minutes. Two shorter crossings traverse the Sound of Mull – one from Lochaline to Fishnish, and the other from the desolate kelp and rock strewn shoreline at Kilchoan, on the remote Ardnamurchan Peninsula, to the town of Tobermory.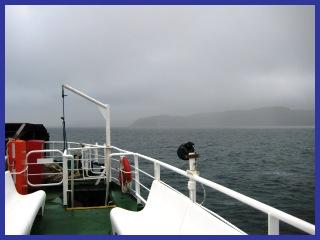 On our last trip there, a close friend and I braved the somewhat harrowing, largely single lane drive from the Glencoe region of the Highlands to the ferry terminus at Kilchoan.
Only two other automobiles accompanied ours on the ferry's mid-morning passage over to the Isle of Mull. I played sentinel on the upper deck during the entire crossing, braving the mist-laden breeze and relishing it. Slowly, the coastline of the Isle of Mull came into view. The ferry shifted starboard, passed the lighthouse and rounded a bluff. Tobermory's docking ramp lay directly ahead.
The town of Tobermory
Tobermory, which dates from 1788, is a picturesque little seaport on the northeast coast of the Isle of Mull. The town sits shadowed by a steep hillside, hugging the shoreline of its bay.

Apart from the geographical constraints of its setting, one would never guess that Tobermory is home to less than a thousand inhabitants. Over the years, this picturesque little fishing community has broadened to encompass a museum and an art centre, as well numerous shops and eateries. Needless to say, there is also a distillery. When tour buses begin pulling into the civic parking lot, the population swells unimaginably.
A brief history of Tobermory Distillery
Tobermory was barely ten years old when it saw its first distillery erected. An enterprising kelp merchant, named John Sinclair, requested and received a brewery permit from the British Society for Promoting the Fisheries, then clandestinely set up a pot-still. Though he produced a mere 292 gallons of spirit in 1798, Sinclair eventually profited mightily from his copper pot operation. He retired from his post twenty-eight years later, having accumulated a small fortune through illegal whisky distillation. So much for the beer license!
Historical records indicate that Ledaig (the original name for Tobermory) Distillery's legal establishment occurred sometime between 1823 and 1831, quite possibly under a limited partnership formed between Sinclair and a Mr. McLachlan in 1827. The site struggled through much of the 19th Century, closing in 1837 and starting up again in 1878. It was taken over by John Hopkins & Company in 1890.

The early 20th Century was no kinder to Ledaig. Despite coming into Distillers Company's fold in 1916, the enterprise had difficulty making a go of it. The distillery finally shut down in 1924. Workmen removed the pot-stills and washbacks six years later.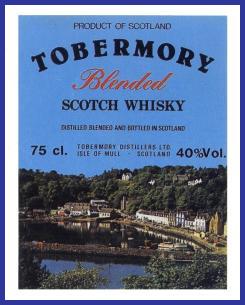 Ledaig lay fallow for more than four decades, until fresh investment allowed the premises to reopen in 1972 under the Tobermory banner. The site ran intermittently for three years and then sputtered. By 1983, it was silent once more.
Throughout the troubled years of the 1970s and 1980s, Mull's lone still-site marketed a confusing array of spirits. The Tobermory label adorned blends, blended malts and single malts. All of these distillates generally utilized unpeated barley. In complete contrast, heavily smoked grain – often peat-reeked to thirty-five parts per million of phenols, enough to make an Islay resident take notice – was used to produce the rarer Ledaig whiskies. But the distillery could never hope to achieve a consistent product as it groaned along at half of its operational capacity.
Fortunately, Burn Stewart, owners of Deanston Distillery in the southern Highlands, saw the abandoned Tobermory as a potential asset rather than a liability. The firm realized the site possessed a plentiful supply of natural water. And Burn Stewart viewed Tobermory's ability to produce two distinct styles of island malt as an ideal complement to their Highland distillery's make. The company therefore decided to rescue the island distillery from oblivion, and purchased the property during the early 1990s for a modest £800,000.
Whisky production at Tobermory Distillery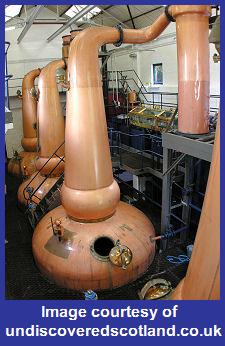 These days, Tobermory seems to have recaptured some of its late 18th and early 19th Century magic. Close-by, the peaty Mishnish Lochs feed into a couple of springs. These burns then run over basalt rock before emptying into a small holding pond. This private reservoir can provide for all of the distillery's water needs.
Toberymory's walls shelter four copper distillation vessels. A pair of 16,000 litre spirit-stills stands next to two slightly larger wash-stills. The spirit-stills were fabricated by Grants of Dufftown back in 1972. Drastic kinks near the tops of their necks influence the purity of the emerging distillate.
Isle of Mull's fresh whisky, whether of the milder, accessible Tobermory style or the smokier, oilier and more challenging Ledaig variety, is placed into barrels and then transported to Burn Stewart's vaulted warehouses at Deanston, in Perthshire.
Ian MacMillan has acted as Master Blender at Tobermory ever since Burn Stewart's takeover of the site. MacMillan has also been instrumental in the distillery's decision to abandon chill-filtration in the production process.
A small and convivial visitor centre sits adjacent the distillery offices. Here, one can procure many of the whiskies marketed under the Ledaig and Tobermory labels.
Two of many other sites worth seeing on the Isle of Mull

Sited on a headland overlooking Tobermory Bay and the Sound of Mull, the town's undulating golf course harks back to a David Adams design, circa 1935. However, the original Tobermory Golf Club was founded in 1896, its layout reputedly the work of the famous golf pioneer Old Tom Morris. Whatever the precise history, the nine-hole course definitely possesses an Old-World feel. Tom Watson has played here, and remarked on the challenging nature and excellence of the layout.


Duart Castle, renowned as the seat of Clan MacLean, is located at the end of a long, curving road just south of Craignure. It sits atop a promontory overlooking the juncture of the Sound of Mull, the Firth of Lorne and Loch Linnhe, and presents a stunning sight. Portions of the castle date from the 1300s. The forbidding stone walls of the exterior, not to mention the cannons seemingly still poised for firing, make it easy to imagine the ruthlessness and glory of past battles fought here. Oh yes, the gift shop at Duart Castle also offers an eponymously labeled, no-age-statement Highland single malt. I'm not sure which distillery the spirit actually comes from. But the whisky is a smooth one!
The whiskies of Tobermory Distillery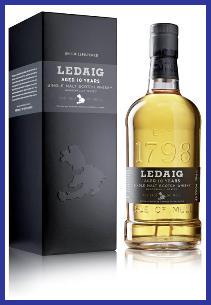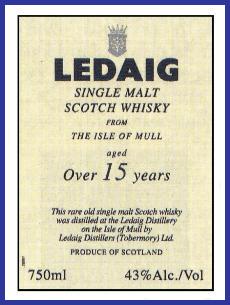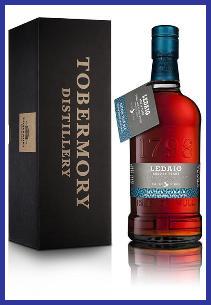 Ledaig 10 Year Old – 46.3%
With its appetizing, salty, smoky, in-your-face lemon concentrate demeanour, this whisky grows pour by pour. True, it is a little on the wild side. But I like it a lot. Where are the fresh oysters?
Ledaig Aged Over 15 Years – 43%
This itineration was released prior to the Burn Stewart takeover, and is no longer marketed. Lots of peat smoke and a whiff of the wharf greet the nostrils. On the palate, dense barley meal meets saltiness and, once again, there's that pervasive peat smoke. A round and a touch oily texture leads to sultry, simmering warmth. And the long, oaky finish nips the lips with a distinctly peppery note.
Ledaig 16 Year Old – 57.2%
Not tasted by me. This relatively new issue is finished in Spanish Sherry oak. The distillery's web-page describes the whisky as exhibiting

warm, full-bodied complexity, intense peat with seaweed, and a light peppery quality tempered by the sweetness of Sherry. On the finish, the pungency is permeated with smoky sweet Sherry.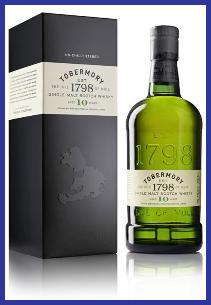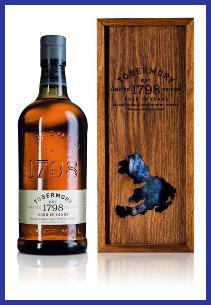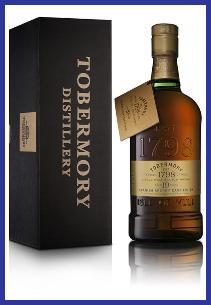 Tobermory 10 Year Old – 46.3%
This one comes across as a bit of a bread and butter pickle salt bomb – especially on the finish. Those who like the flavour profile of Clynelish might also gravitate towards this highly invigorating one with some enthusiasm.
Tobermory 15 Year Old Limited Edition – 46.3%
This version is finished on-site for one year in hand selected Spanish Oloroso Sherry butts sourced from Gonzalez Byass. Quite coastal in style, it offers an inimitable salt'n'Sherry combination with significantly greater depth and richness than the 10-year old.
Tobermory 19 Year Old – 58.2%
Not tasted by me. Here's another relatively new issue that's finished in Spanish Sherry oak. The distillery's web-page describes this whisky as displaying

sweetness and spiciness along with fruit and chocolate fudge notes, all enveloped within a mouth-coating, smooth texture. The finish is rich and creamy.
By the way, Ledaig is Gaelic for "the small slope", though it could also possibly be Norse for "a bay difficult to enter" or "safe haven". And Tobermory is Gaelic for "Mary's well".
Slàinte!
Referenced books & websites
Jackson, Michael, Michael Jackson's Malt Whisky Companion, Fourth Edition, élan press, General Publishing Company Limited, Toronto, Canada, © 1999 Dorling Kindersley Limited
Jackson, Michael, The World Guide To Whisky, Dorling Kindersley Limited, London, Great Britain, © 1987
Kuebler, Doug. The Tumbler's Guide to Single Malt Scotch Whisky: Armchair Reference Manual & Field Guide, Topeda Hill Publishing, Baldwin Mills, Québec, Canada, © 2003
Scotland Distillery Names & Pronunciations, whiskycast.com, originally compiled by Jeroen Kloppenburg & contributors to his peatfreak.com site
The Tobermory Distillery web-site, tobermorydistillery.com
Photographs of Mull and Tobermory by Doug Kuebler & Ian Murray (except as noted)
Pictorial formatting by Doug Kuebler
__________________________________________________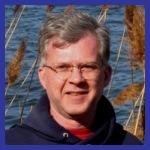 Doug Kuebler (jazznut) is an inveterate aficionado and collector of wines and whiskies. Apart from organizing wine and food seminars, Doug has also written extensively on wines and liquors over the last three decades. His first published book-set, The Tumbler's Guide to Single Malt Scotch Whisky, has been well-received in North America, the British Isles and Asia.