From The CW Vault – Bourbon & Canadian Whisky Come of Age
A Rich Pour 16: Measuring Up – Bourbon & Canadian Whisky Come of Age
PUBLISHER'S NOTE: This article was originally published January 26, 2009 in the Cigar Weekly Magazine. It has been revised and updated.
One of the positive legacies of the period from Prohibition to the present day has to be the fascination of Americans and Canadians with each other's whiskies. Canadian Club and Crown Royal owe much of their success to an incredibly receptive drinking clientele in the United States, its desires rooted in an era of efficacious smuggling channels and speakeasies. And although the Canadian market for Bourbon may not match its more southerly counterpart, countless measures of the American spirit have still been served in homes and watering holes from Vancouver to Saint John's to White Horse, never mind occasionally incorporated into domestic liquors. The cachet of a beverage made elsewhere seems destined to please eager palates and blenders alike.

I can well remember my brother, during his visits home to Montréal from a professional stint in Windsor, Ontario, exposing my rather tender (at that time) taste buds to the delights of Jim Beam Green Label, poured neat from a bottle he'd brought from Detroit. That 26-ouncer represented the first of many. He loved the stuff! And if I wasn't quite so sure, I still trusted his judgement and continued to sip.
It took me a while to come back to Bourbon. But when I did, Jim Beam Black Label and Maker's Mark made up for lost time in very able fashion. From that point on, there was no stopping the Kentucky Express, be the pour of the moment as pedestrian as Rebel Yell or as uncompromising as George T. Stagg.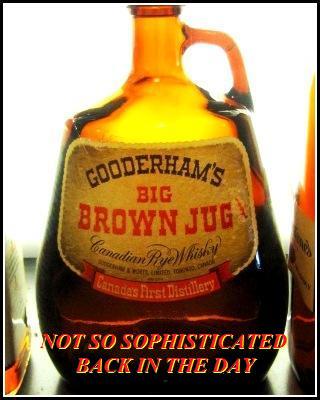 Oddly enough, my taste for Canadian whisky took even longer to develop – something to do with an inferiority complex many Canadians harbour when it comes to comparing their native brew with spirits from the other side of the border or ocean, I suppose. Plus the fact that my dad was an inveterate Scotch drinker, and darned if the liquor cupboard at our house wasn't going to be my pot of gold! Scotch it was, then, until I rediscovered the subtle, lively complexities that lie just beneath that all too familiar smooth sheen most Canadian whiskies display.
Nowadays, my palate is all over the place. And, the plethora of single malt Scotch stockpiled in my cabinet notwithstanding, I often find myself reaching for an American or Canadian whisky. "There's nothing quite like a change of pace to awaken one's senses," I say.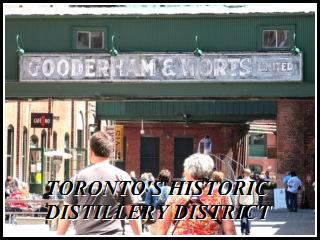 The approaches most Canadian whisky and American Bourbon producers take in crafting their respective spirits reflect consensus and divergence. Distillers on each side of the border love to work with corn, rye, wheat and barley. And the ubiquitous patent (or continuous) still as yet handily outnumbers the more traditional pot still (or alembic) in both countries. But when it comes to oak barrel maturation, Bourbon makers opt for the fresh and charred route while Canadians take the anything goes turnoff. Not only that. Where American producers seem increasingly smitten with the marketing of small batch and single barrel issues, Canadian distillers persist – by and large – in extolling the virtues of blending, blending and more blending. Individuality and variability versus recognisability and consistency, it would appear.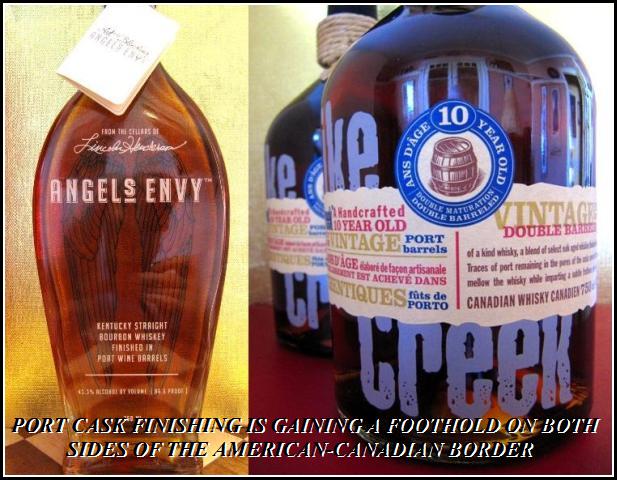 Despite this generalization as to how much of the North American spirits industry works, many changes are afoot. Innovators such as Harlen Wheatley at Buffalo Trace and John K. Hall at Forty Creek (Kittling Ridge) are actively expanding the boundaries of whisky-making, especially as regards barrel management. And then there's the back-to-the-future renaissance of true rye whiskies, which has grabbed the attention of many a distiller and consumer. San Francisco's Old Potrero and Calgary's Alberta Distillers have lots of company in the rye brigade these days.
Excellent examples of a wide variety of styles abound from both nations. For this reason, Americans and Canadians owe it to themselves to keep the cross-border traffic moving, and to promote the virtues of their whiskies throughout the rest of the world. After all, variety is the spice of life. And from Bardstown to Gimli, good things are happening!
Now, it's high time we had a peek at what's actually in some of those bottles of Bourbon and Canadian whisky I've been referring to.
Six for your consideration… These whiskies may not be the most expensive or ultra-chic around. But they all, as Tony the Tiger once said, "Taste great!"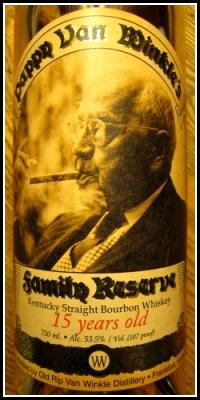 Booker's (This sample from Batch No. B96-L-23, 7 Years & 11 Months – 63.4%)
What can I say about the finest whiskey in Beam's Small Batch range? It's a meat-on-the-bones spirit – to be sure – that offers up an entire shopping list of fruits, baked goods, spices and condiment-like tastes. And although the weightiness gradually dissipates, kernels of concentrated flavour continue to pop on the palate. What can I say? "Mount Rushmore in a bottle."
Pappy Van Winkle's 15 Years Old Family Reserve (53.5%)
It's a crying shame that this Bourbon has recently joined the almost impossible to procure group of American spirits, because PVW 15 represents just about everything a Bourbon should be. The age is just right. The flavours are multifaceted, to say the least, and are framed within a substantial – yet never overbearing – impact from the oak. Finish? It doesn't want to! If you do happen to see it…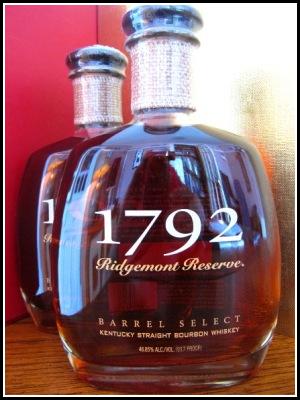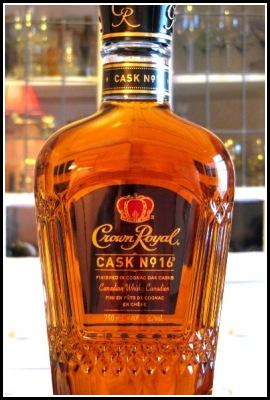 Ridgemont Reserve 1792 Barrel Select (46.85%)
I love the way this whiskey flings from banana-like sweetness to spicier bittersweetness. Then the oak grips big time. Everything comes together at the finish line, though, as the closing moments offer a warming and satiating, yet not at all overblown, taste sensation. This is a spirit that really hits the dance floor! The fact that it's offered at a decent price point is an added bonus.
Crown Royal Cask No. 16 (40%)
Poor Crown Royal – possibly the most taken for granted Canadian whisky on the planet. And then the folks at Gimli surprise us all with this edition. OK… It's not exactly cheap. But then, Cask No. 16 isn't your typical Crown Royal by any stretch of the imagination. That enhanced degree of ageing and extra finishing in select Cognac casks really works wonders, and results in a crisp, clean attack that leads to pure succulence. The spicy oak influence effortlessly intertwines with the bittersweet nature of the spirit, creating tiny ripples of rapier-like intensity that spread across the glossy textural surface. And the finish is long and calm. Winner!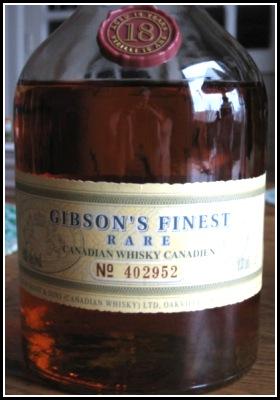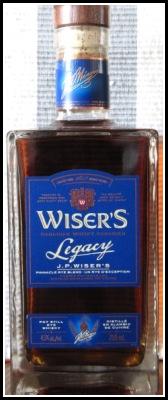 Gibson's Finest Rare 18 Year Old (40%)
This one brings us full circle, back to what a traditionally styled Canadian whisky should be. For a brief moment, it's deceptively light. Suddenly, full-throttled spices from the rye and oak begin to underpin the increasingly lush, sweet grains. Then, a plethora of nut, fruit, citrus zest, chocolate and biscuit notes chime in. The finish is suitably long and fulfilling as the oak increasingly weighs in. Any way you slice it, this is an excellent example of a sophisticated and mature Canadian.
Wiser's Legacy Pot Still Rye (45%)
Legacy is, quite simply, one of the boldest and best Canadian whiskies I've experienced of late. The rye snaps on the palate, as it should. And there's wave upon wave of full bodied richness to help caress the palate and carry it from one surprising moment to the next. If you're really crazy, you can plunk down considerably more cash and go for the snappily packaged, limited edition Red Letter bottling.
Until next time, happy sipping!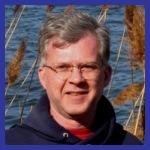 __________________________________________________
Doug Kuebler (jazznut) is an inveterate aficionado and collector of wines and whiskies. Apart from organizing wine and food seminars, Doug has also written extensively on wines and liquors over the last three decades. His first published book-set, The Tumbler's Guide to Single Malt Scotch Whisky, has been well-received in North America, the British Isles and Asia.