A Rich Pour 31: Heavy Hitters
Monday November 2, 2015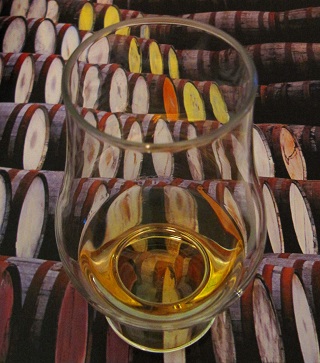 Join Cigar Weekly Managing Editor Doug Kuebler (jazznut) as he showcases a personal selection of high-proof malt whiskies from seven renowned distilleries in Scotland.
This time around, I'm passing right by the mass of many excellent standard-strength malt Scotch whiskies available in the marketplace, and heading directly for a few exceptional, straight-from-the-cask (or as close to it as makes no difference) 'beasties'.
It's perhaps not surprising that six of the malts profiled here emanate from the Isle of Islay, which is not exactly known for holding back when it comes to the intense style of its whiskies. Add one more from the Isle of Skye and another from the Highlands, and we're ready to dive into eight truly exciting drams.
Be forewarned, however. While these Scotches will fill every corner of your palate and bring considerable warmth in the process, some may also lighten your finances a tad. But never mind that. Bite the bullet and sip the nectar!
* * * * * * * * * *
You have to love Ardbeg – never mind the hyper-marketing slant the distillery has taken since its resurrection from those 'doldrums decades' it experienced during the late 20th-Century.
Uigeadail (named after a loch that feeds water to the distillery) and Corryvreckan (its name derived from that of a notorious whirlpool) represent Ardbeg's most readily obtainable high-proof whiskies. And while neither one reveals just how long it's been matured in cask, both can justifiably claim a considerable degree of consistency from batch to batch.
Ardbeg Uigeadail
High proof Ardbeg incorporating some Sherry matured reserves in the mix. Rich golden hue with bronze highlights. More than fragrant. An assaultive, room filling aroma, as though wild animals were leaping out of the glass. Primarily evocative of pungent smoke wafting upward from fruit wood embers and scorched soil, though kelp, machine oil and saddlery scents do come along for the ride. Sweet and earthy on the palate, with a solid malt core and considerable input from the Sherry casks. Honey drizzled Scottish oatcakes saturated with peat sod. Cardamom. Almonds. Fantastically intense, layered and ultimately alluring stuff. A huge whisky, this one.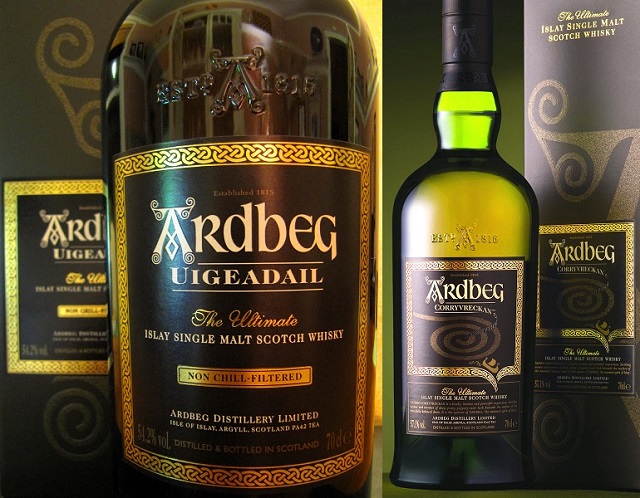 Ardbeg Corryvreckan
Quite simply a monster of a malt. That inimitable Ardbeg citrus-tinged bittersweet trait, perhaps sweeter here than is the blog, takes an elevator ride to each ascending floor of peat. The sheer intensity of aroma and flavour is awe inspiring. Uigeadail's alter ego?
* * * * * * * * * *
Bowmore is Islay's oldest licensed spirits producer, having been officially founded in 1779. And its on-site malting facilities, which cover three floors, contribute a vital stylistic 'curve ball' to the otherwise moderately peat-infused (by Islay standards, at any rate) whisky of the distillery.
I've tasted outstanding vintage-dated Bowmores aged in Bordeaux, Port and Sherry casks. But for a relatively modest entry fee, you can track down Laimrig instead, and be more than satisfied with the choice.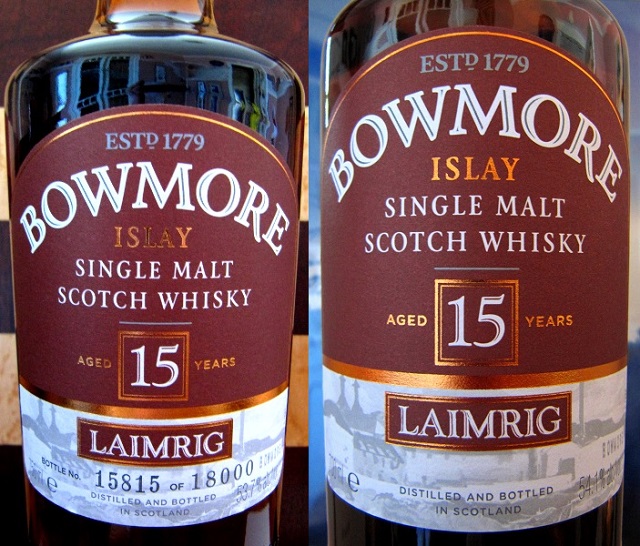 Bowmore 15 Year Old Laimrig
This version bottled at 53.7% (a more recent release at 54.1%)
Essentially a cask strength version of the Darkest. An inviting nose encompassing scents of charred sultanas, pear compote and corn syrup with a hint of brine. Sweet, dense and warming on the palate, yet not abrasive in the least. Caramelized apple and raisin within a Bourbon-like textural framework followed by barbecue spices. Almost meaty. The peat aspect remains subdued, and is overshadowed by late surges of coffee, citrus and salt. Tails off gradually as the tannins of the Sherry-saturated European oak take greater hold. Exceptionally likeable.
* * * * * * * * * *
I don't believe anyone would describe either Caol Ila Distillery, or the whisky it produces, as 'pretty'. No matter. Lagavulin (Diageo's other, and much better known, Islay outpost) may receive all the accolades. But Caol Ila's paradoxical combination of multifaceted maltiness and briny brusqueness shouldn't be overlooked.
As is the case with the two Ardbegs described above, my pick is a no-age-statement itineration.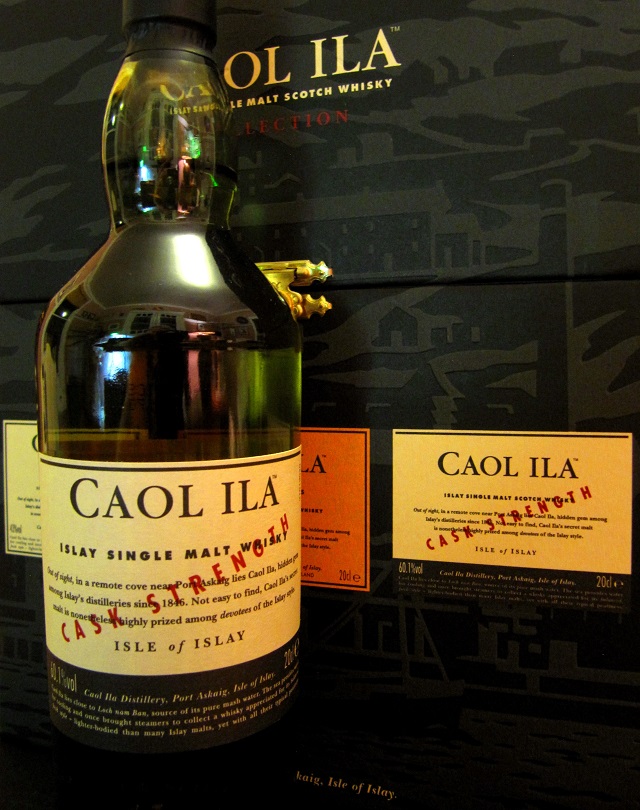 Caol Ila Cask Strength
This version bottled at 60.1% (a more recent release at 61.6%)
Notably pale gold. A big maritime hit to the nose. Poached cod. Banana peels in brine. Wet cement and wharf planks. Dune grass. Smoky and evocative. The addition of water adds a very subtle creaminess. Momentary sweetness from the high alcohol inundates the palate. Then drying considerably, and hot. Under-ripe bananas. Winter melon. Preserved lemons. Peppermint. Forest after the fire. Balances out beautifully on the finish. That initial textural lightness hides a real switchblade of a whisky. Islay laid bare. Appetizing to the point of being addictive. Wicked when imbibed full strength, and at its best as such.
* * * * * * * * * *
I wonder how many individuals have begun their malt whisky journeys with a pour of Glenlivet? More than a few – that's for certain. And as gentle as this Highland distillery's make can seem at times, it really shines when bottled at cask strength. Good on Glenlivet, then, for deciding to offer consumers that opportunity at a reasonable cost.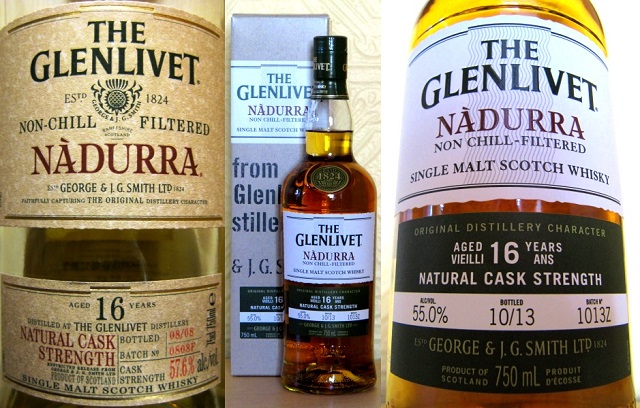 Glenlivet 16 Year Old Nàdurra
This version bottled in August of 2008 at 57.6% (other releases range from the mid-50s upward)
Matured in first-fill American oak casks, and not chill filtered. Bright, polished brass gold in appearance. Sharply etched scents at the outset. Mulched grass and dandelion greens. Lightly smoked pears. A touch of vanilla. The fragrance becomes sweeter, plumper, and that much more alluring with aeration. Golden raisins. Galaktoboureko. Walnut flesh. On the palate, edible flowers leading to Japanese green tea infused with ginger root and a hint of citrus. Quite oak driven as it pours. A splash of water releases the full honey and herb flavour spectrum of the distillate along with those trademark subtle notes of Highland smoke. Deceptive textural delicacy and light viscosity married to tremendous palate penetration and clarity. Very taut, clean and long. A true toss-up as to whether or not to add any water to this one. Why not try it both ways? The Nàdurra is nothing less than Glenlivet unleashed. A deliciously dry and uniquely invigorating whisky.
Note: Glenlivet has recently revised its marketing of Nàdurra by dispensing with a designated age and offering two distinct versions – one aged in Oloroso Sherry casks and the other in ex-Bourbon barrels. My advice… Track down any bottles of the 16-year old (matured exclusively in ex-first-fill Bourbon oak) remaining on the shelves before they disappear.
* * * * * * * * * *
Lagavulin – the name rolls off the lips with Gaelic grandeur, and says it all. The distillery's whisky is intensely smoky in a medieval sort of fashion, and the 16-year old has attained a stature befitting its excellence. We're going to knock 4 years off and up the alcoholic ante, however.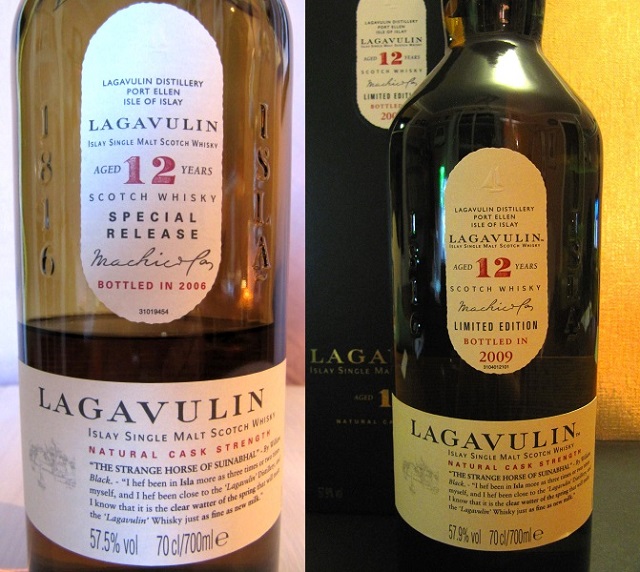 Lagavulin 12 Year Old Cask Strength
This version bottled in 2005 at 57.7% (other releases range from the mid-50s upward)
Pale, iridescent lemon-gold tone with marginal evidence of pewter-tinged sap green towards the rim of the glass. Far lighter than the standard issue 16 Year Old. A delicate bouquet of flowers, vanilla pods and peat ash dexterously laid atop fresh winter melon and barley grist. Makes one want to dive into the pool below. Caressingly succulent to start, with grain and oak sweetly gliding across the tip of the tongue. Lightly textured, yet increasingly focused and substantial as a fantastically profound brine and peat duo grabs hold of everything. Even this drying, just cut ginger root and freshly harvested kelp tone encases the odd morsel of pineapple, however. And that sensation of standing on the wharf simply refuses to subside. Magnificent! One of life's essentials.
* * * * * * * * * *
Laphroaig completes (in concert with Ardbeg and Lagavulin) what is commonly referred to as the 'Kildalton trio' of distilleries lying along the southeastern coast of Islay. Yet it is the only one of the three to retain on-site malting facilities.
If there's one word that comes to mind when attempting to describe the whisky of Laphroaig, it's 'medicinal'. Yet this 'medicine' also displays a more amiable nature, largely derived from a savvy cask maturation regimen.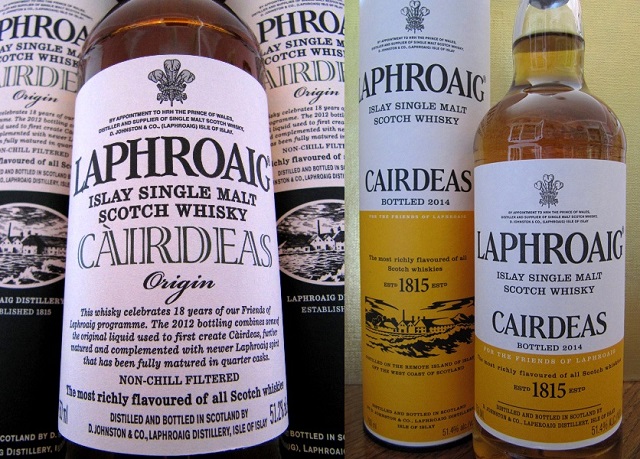 Laphroaig Càirdeas
The 2012 'Origin' release bottled at 51.2% (other releases of similar strength)
Multilayered, marine imbued peat smoke bonded to excellent input from the oak. A relatively high-octane expression of Laphroaig that charms more than it threatens. In short, a real treat for any Islay aficionado's taste buds. Annual releases can differ in flavour owing to variations in maturation protocol. For instance, the 2013 version was finished in Port casks and the 2014 in Amontillado casks. For the 2015 release, Laphroaig opted to utilize only barley malted on-site.
* * * * * * * * * *
Talisker, the Isle of Skye's fabled whisky, is born beneath the razor-tipped Cuillin Mountains on the seaweed-strewn shores of Loch Harport. And the distillery's spirit really does reflect its 'rough-and-tumble' surroundings, bringing together scents and flavours that evoke thoughts of land and sea. Spirited indeed.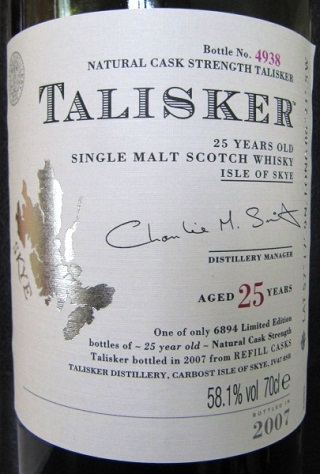 Talisker 25 Year Old Cask Strength
This version bottled in 2007 at 58.1%
Drawn from refill casks. Ochre-tinged gold with the vaguest hint of sap green. A most distinctive aroma. The initial fragrance of spiced olives leads almost immediately to a curiously restrained sweetness akin to porridge with a dollop of honey. Dried russet apples, saltwater saturated beach sand and driftwood are present as well. A drop of water releases scents of citrus, parsnips, burlap sacks and tilled earth. There's no reticence or lack of uniqueness on the palate either. Fresh cod hot off the griddle, garnished with green peppercorns. The bitter astringency is followed by very subdued malt sweetness. And while oak plays a big role, its impact is well integrated into the overall flavour profile. A smidgen of water brings out nuances of lemon, deep fried onion rings and Wasabi, while the finish is long and laced with citrus zest. Medium bodied, but with strong bones. In short, this whisky makes for a strangely palatable form of medicine. Give it a chance. It will grow on you.
Note: Talisker has revised the 25-year old, and now bottles it at the standard distillery strength of 45.8% alcohol by volume. The previous cask strength releases are destined to become rarer and, unfortunately, likely much more expensive.
* * * * * * * * * *
There you have it – eight malt whiskies guaranteed to ward off any chill in the air and provide wondrous taste experiences. I hope you get to try at least a few of them. And go easy with the water!

__________________________________________________
Doug Kuebler (jazznut) is an inveterate aficionado and collector of wines and whiskies. Apart from organizing wine and food seminars, Doug has also written extensively on wines and liquors over the last three decades. His first published book-set, The Tumbler's Guide to Single Malt Scotch Whisky, has been well received in North America, the British Isles and Asia.
__________________________________________________
Discuss this article in the I'll Drink To That! room on the Cigar Weekly forums. Not yet a member? Then join other like-minded aficionados by registering HERE. You won't regret it!