A Rich Pour 39: Whiskies and Port Casks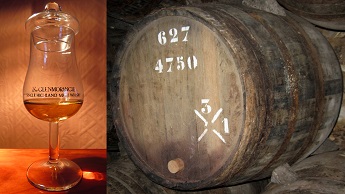 January 19th, 2017
In this edition of A Rich Pour, Cigar Weekly's Managing Editor Doug Kuebler (jazznut) explores how whiskies interact with Port casks to create some very interesting, and oftentimes very tasty, results.
The bond between wood and whisky (or whiskey) stretches back in time and encompasses many regions of the globe. Scotland, Ireland, Canada and the United States of America – to name but a few countries – boast strong traditions in the ageing of the noble liquor in wooden containers. Wood provides a perfect medium for mellowing the rather aggressive spirit that condenses off a typical whisky still.
Oak (more specifically North American white oak, which includes the Quercus alba species, and European oak, be it Quercus robur or Quercus petraea) reigns as the pre-eminent wood in which to age spirits. Its dense structure and durability, as well as its ability to impart positive aromatic and flavour traits, count as valuable attributes.
Wood ageing of whisky changes the chemical composition of a spirit, particularly during the early stages of maturation when many of the less attractive aspects of the fresh distillate diminish dramatically. This phenomenon is often referred to as subtractive maturation. Concurrently, intermingling of oak and liquid infuses the whisky with desirable elements. This process is known as additive maturation. Interactive maturation, which entails gradual melding of age-acquired aspects as well as diminution of very pronounced distillate characteristics, becomes more important following the first three to five years.
After a certain amount of time, the whisky will begin to display a harmonious integration of its different scents and tastes. From this point on, distillery or company personnel will keep a watchful eye on the slumbering spirit with a view to deciding when to bottle.
Given the above-mentioned benefits of oak ageing, the concept of placing whisky into a used fortified wine cask may, at first, seem slightly incongruous. Why not simply allow wood alone (whether fresh oak casks or barrels that have previously contained whisky) to have its say in enhancing flavour while the spirit rests and mellows through the years? Well, it's basically all down to further embellishing the additive and interactive maturation phases. Whiskies treated in this fashion acquire characteristics from both the inside layer of oak and from residual traces of whatever fortified wine those casks once held.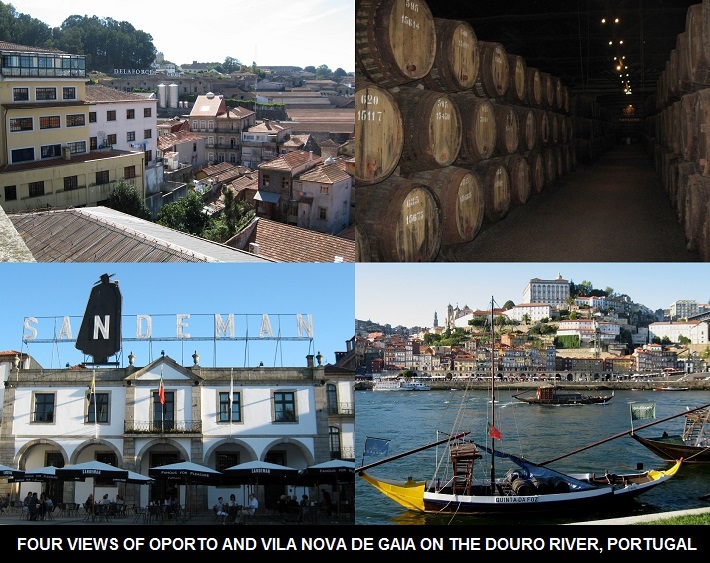 Port casks, sourced from the various Port lodges located in the vicinity of Oporto on the lower Douro River in Portugal, offer a unique way in which to achieve this embellishment. Add to this the distinctive characteristics of different Port casks (such as Ruby and Tawny), and you can begin to appreciate that the whisky producer has a wide range of potential 'recipes' at hand.
Official demarcation of the Douro region for the production of Port wine occurred in 1756. And historically, given the close commercial ties between Britain and Portugal as regards the production, shipping and sale of fortified wines, it's safe to assume that used Port casks from the Douro have been filled with whisky going back more than a century. Nevertheless, the increasing worldwide industry penchant for ageing spirits in casks from Oporto constitutes a relatively recent development.
Very often these days, Port cask matured whisky doesn't actually meet the wine wood until it has already spent a lengthy period ageing in more pedestrian barrels. Such a strategy permits a distillery to fine-tune the effects of cask finishing to its own make, especially as concerns the chosen time frame of exposure. Rarer are those whiskies that have been aged exclusively in used Port casks – a more costly procedure that requires vigilance but that can result in some phenomenal whiskies, provided those spirits have the 'guts' to stand up to the process.
I've observed that Port cask finishing can often introduce what I like to term a yin-yang effect (this dualistic trait also appears to apply to other sorts of wood finishing, such as when Sherry or Madeira casks are utilized), with the influence of the fortified wine casks seemingly disparate from that of the original casks and of the spirit itself. This characteristic can provide for a fun taste experience. But there is also the potential for a lack of harmony and stylistic consistency. Success varies significantly here, with some whiskies lending themselves to the process better than others.
Last but not least, there is always the question – for the consumer – as to whether or not wine cask matured or finished whiskies merit the premium prices they usually command. That's one issue only you can decide.
Now it's time to have a look at ten whiskies (some as yet available, and some not) that have been exposed to Port cask maturation, whether wholly or in part...
Balvenie 21 Year Old Port Wood – 40% alcohol
This classic Balvenie offers up scents of ripe cantaloupe along with a faint whiff of the fire pit. The round and succulent confectionery shop palate entry leads to a lively, intricate interplay of honeyed orange peel and malt sweetness bound to nutty oak dryness. I'd swear I taste baklava pastry. The lengthy finish then fades gently. This is one soft, sweet and beautifully integrated whisky, where intensity and delicacy intertwine in intoxicating fashion. It's also terribly expensive. But that seems to be 'par for the course' when it comes to purchasing most any older spirit these days.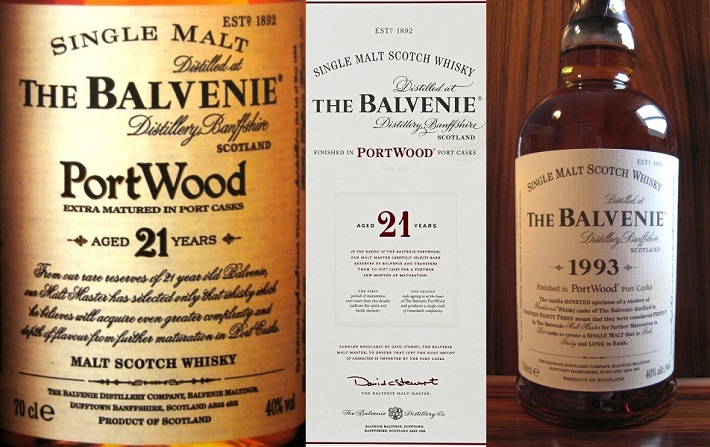 Balvenie 1993 Port Wood – 40% alcohol
Here's a somewhat nascent distillery issue that spends its final sojourn in Port casks. Vibrant and attractive on the nose, it emits quite a floral fragrance, with those trademark Balvenie honey and vanilla scents sporting additional wine cask-enhanced ripe fruit notions. However, it's a bit incongruous palate-wise, as mouth-watering fruit syrup and honey tones struggle to calm the youthful vigour of the spirit. Things do settle down toward the finish, though. As expected, this relative youngster can't match the degree of integration, subtlety and succulence exhibited by the pricier 21-year old Port Wood edition. Here, limited age and exclusive utilization of second-fill Port casks advantage resin derived spice over sweetness, as though raisins were waging a losing battle with the oak. The whisky is pleasurable enough for all that.
BenRiach Tawny Port Wood Finish 15 Year Old – 46% alcohol
This malt is matured in ex-Bourbon barrels, and then finished in Tawny Port hogsheads from the Douro. The plush, sweet aroma encompasses scents of honeycomb, beeswax, cereal grains and, finally, grapes. The whisky is light and bouncy at first on the palate, but rapidly fleshes out and gains in intensity as a round, succulent, glycerine-like texture takes hold. A subtle prickle from the alcohol adds an edge to the proceedings as the flavour spectrum veers toward dried apples, apricots and, strangely enough, fresh baguette. There's a captivating tug of war going on between the bite-size malt aspect and the more gripping oak overtones. And a starchy quality to the sweetness on the finish uncannily evokes the taste of Tibetan Goji berries. Here's a whisky just made to be poured alongside shortbread or fruit pie. It's very characteristic of the distillery style, but with added embellishments.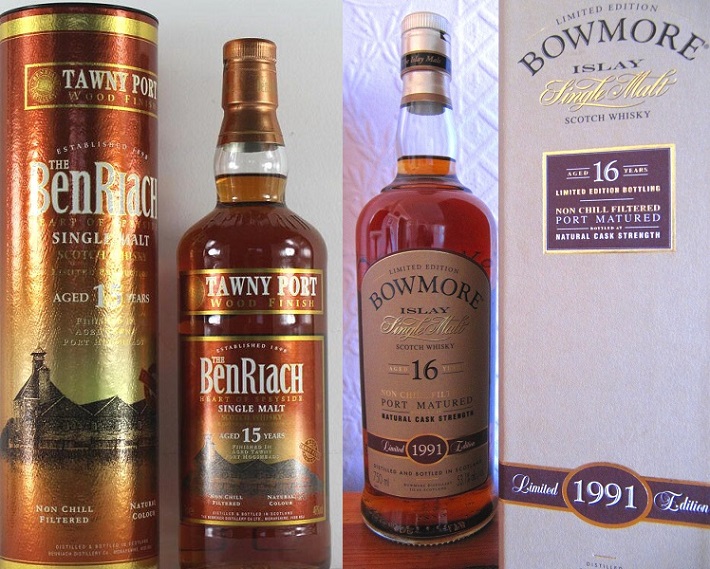 Bowmore Port Matured Natural Cask Strength 16 Year Old, Distilled 1991 – 53.1%
This limited edition release (aged exclusively in and drawn from a selection of twenty-four Port casks) is somewhat atypical in that all of the malting and maturation has been carried out on site. On the nose, there's oodles of bramble fruit – predominantly raspberries – as well as scents of wild cherry liqueur and cardamom infused herbal tea. The underlying Islay characteristics seem to percolate through in rather restrained fashion. Upon sipping, a veritable Niagara Falls overture of field berry sweetness reluctantly recedes, revealing earthier Islay aspects. Peat, Habanero heat and sea salt follow. Notions of Ruby Red grapefruit, liquorice and Cadbury Dairy Milk Fruit & Nut chocolate bars then meld and gently sooth as the glowing embers begin to fade. This whisky is a far cry from most Port wood finished varieties of single malt. Here, the wine cask hug seems all embracing, occupying center stage for the better part of the performance. Those Bowmore traits have a real battle on their hands. Yet when the smoke and brine do manage to peek through, they effortlessly complement the fruit-laden thrust. Water? I prefer to keep it on the side. This whisky comes as such a shock to the senses that I'm almost tempted to ask, "Is it Scotch?" No matter. Oporto meets Islay. And the result, if idiosyncratic, is still delicious!
Cragganmore Distillers Edition – 40% alcohol
Finished in Ruby Port casks, this version of one of the most highly regarded and complex Speyside malts offers beguiling scents of sweet-grass and hay bales on the nose, along with notions of ferns and herbs, sun-drenched sand and stone, and a very subtle smokiness. The initial burst of ripe fruit sweetness on the palate is quickly followed by a lively desert-dry tingle. A certain degree of austerity – a characteristic of this whisky – leads to a balanced and integrated finale, though a thread of sweetness continues to weave in and out of the proceedings. The Cragganmore Distillers Edition displays more enlivening bite and surly smoked spice than the Balvenie Port Wood. It's excellent, nonetheless.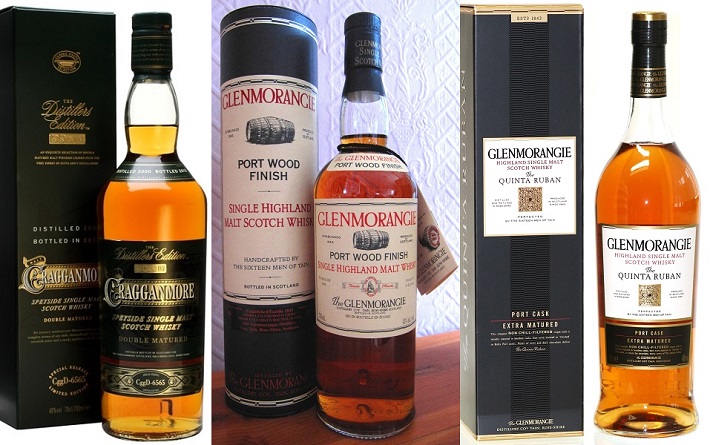 Glenmorangie Port Wood Finish – 43% alcohol
This discontinued edition predates the newer Glenmorangie release profiled below. Here, one encounters a most unusual ripe cheese and fruit tea aroma. Flavour-wise, the whisky's a merry-go-round of spirit and malt, charred oak woodiness, and wine-soaked cherries and grapes. It closes on a soft Turkish-Delight note that's, well, delightful. As one of the earliest Port cask matured malt Scotches released onto the market, this one remains a revelation in the glass for Port and Scotch lovers alike, provided you can track it down.
Glenmorangie The Quinta Ruban Port Cask Extra Matured – 46%
The successor to the distillery's popular Port Wood Finish edition (profiled above) is bottled at a higher strength and is not chill filtered. The apricot and Seville orange marmalade fragrance is rather liqueur-like until scents of almond paste, nutmeg and ground ginger appear. A confectionery-like, momentarily syrupy attack of candied orange peel and sugar-dusted breakfast scones caresses the palate. Matters then become firmer as an interjection of toasted oak brings on short-lived, slightly oxidative sensations of pepper and dried herbs. As the sharpness and warmth subside, chocolate and toffee nuances emerge within a softening custard-cream cloak. Notions of buttered pecans and cocoa tail off to a barely medium-length finish. The Quinta Ruban lacks some of the effortless quality of the original Port Wood Finish version, not to mention that lovely Turkish-Delight finale. On a positive note, the whisky's now more robust, assertive and, at times, challenging, with the signature Glenmorangie spiciness vividly conveyed at mid palate. This is a different beast from its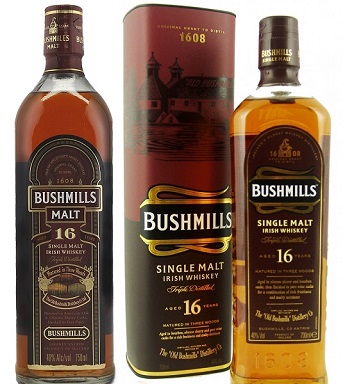 predecessor, to be sure. And as respectable as it seems, I still miss the older one.
Bushmills 16 Year Old – 40%
This Irish whiskey is matured in a combination of Bourbon barrels, Oloroso Sherry casks and Port pipes. Its demure yet alluring fragrance brings to mind stewed plums, sultanas, Seville orange marmalade, ginger candy and freshly harvested hay. The whiskey is as smooth as butter from the very first sip. Think of cereal grains, dried apples, blood oranges, Werther's Originals, peanut brittle and parsley, and you'll be close. This is a very tightly interwoven flavour spectrum in which the oak influence adds spicy warmth, yet never overpowers the malt core. Overall, a sweet delicacy leads to a drier underlying richness. The subtle complexities and superb balance of this spirit simply beg for another pour.
Pike Creek 10 Year Old – 40% alcohol
The Canadian whisky industry is presently experiencing a renaissance of sorts. And this ten year old represents but one more example of how 'North-of-the-49th' distillers are blazing new and exciting paths. There's oodles of ripe berry fruit and dried apricots atop loaf cake to be had here, along with dashes of rye-like white pepper and other spices derived from the wine-oak finishing. The finish is lengthy, clean and refreshing. And the spirit punches well above its 'weight-class'. What a solid whisky this one is!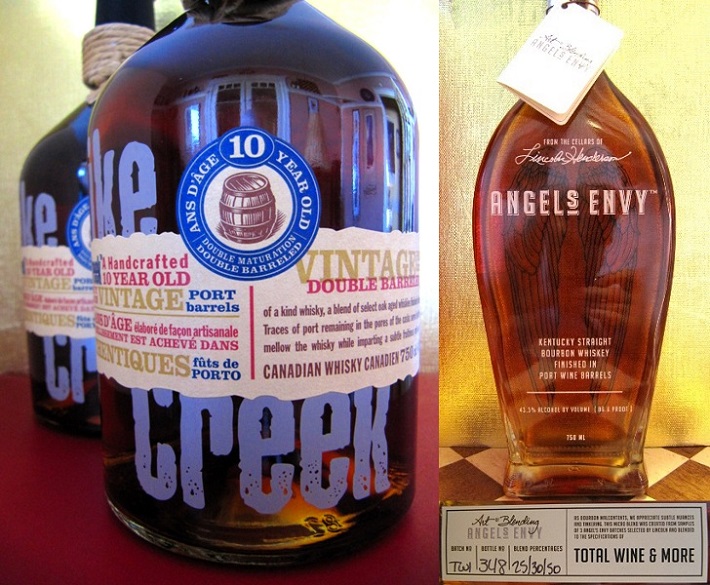 Angel's Envy – 43.3% alcohol
Angel's Envy has to be one of the most atypical Bourbons I've ever come across. It offers up fruits galore – predominantly ripe peaches and strawberries – and is uncommonly smooth. Hints of spice lurk in the background, and the finish is fairly lengthy. Stylistically, this whiskey seems to represent more of a crossover between a Tennessee-like and a Canadian whisky than a true Bourbon. Angel's Envy is civilized, and good to very good, but lacks a little in the 'thrust' department. That said, it's still worth investigating for anyone seeking something just a little bit different.
If forced to choose only one of the ten spirits described above, I'd pick two! – the Balvenie 21 Year Old and the 1991 Bowmore 16 Year Old. Both are absolutely stunning whiskies.
But that's not the end of the story, because you, as a savvy consumer, have another option that can be carried out at home. It involves 'doctoring' your dram with a smidgen of Port wine. This method of melding wine into whisky is most successful with Bourbon cask or plain oak matured spirits. Don't skimp on the wine. The tiniest drop of it in the bottom of your glass is all you need. Besides, you can always enjoy the rest of the Port 'as is'.
While this approach can't precisely replicate the full aromatic and flavour spectrum of a Port cask aged whisky (where the spirit has had a chance to interact with both wood and wine residues over a period of time), I'm sure you'll be pleasantly surprised at just how well it works.
I'd recommend trying a good quality Late Bottled Vintage, Ruby, Tawny or White Port from a reputable producer. Save your bottles of Vintage Port for enjoying on their own. Graham's (Six Grapes or Tawny), Offley (the Late Bottled Vintage or the Cachucha White Port, which mixes wonderfully well with Ardbeg 10 Year Old), Quinta do Infantado (their Late Bottled Vintage and Ruby Ports are uncommonly good) and Taylor-Fladgate (superb Tawny Ports) number among my personal picks for this task. Let your imagination run wild!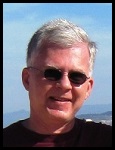 Cheers!
__________________________________________________
Doug Kuebler is an inveterate aficionado and collector of wines and whiskies. Apart from organizing wine and food seminars, Doug has also written extensively on wines and liquors over the last three decades. His first published book-set, The Tumbler's Guide to Single Malt Scotch Whisky, has been well received in North America, the British Isles and Asia.
Discuss this article in the I'll Drink To That! section of the Cigar Weekly forums HERE.