Bourbon Profile: Bulleit 10 Year Old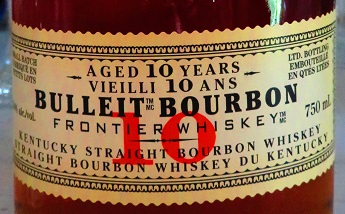 June 29th, 2017
The whiskey
Bulleit Bourbon Frontier Whiskey
Aged 10 Years
45.6% alcohol by volume (91.2 Proof)
Bulleit 10 Year Old comes in a retro-styled bottle. Perhaps this fact has something to do with the 'Frontier Whiskey' connotation on the label.
Tasting glass
Stemmed Cognac glass (my preferred choice for critically assessing most whiskies).
Appearance of whiskey
Amber gold with an ochre-khaki tinged cast near the rim. Fairly viscous teardrops in the glass.
Nose
Mildly aromatic at first. Oak dust, baked apple, vanilla and demure spice with a hint of orange zest. There's a 'dirty', ever so slightly metallic quality lurking in the background that's actually quite appealing. With a drop of water, the orange zest characteristic gains a marmalade-like sweetness.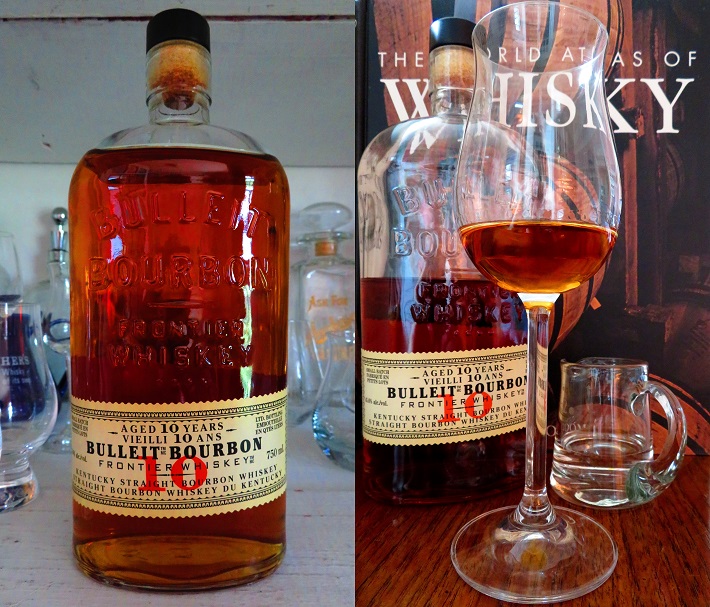 Palate
Sharp, a little peppery and biting to start as the rye influence springs forth. A notably oak driven profile. The textural backdrop leans more toward a mid-weight demeanour and crispness. Cereal grains, macerated fruits, tobacco, leather and charred spices vie for prominence. The flavours tend to concentrate on the upper palate before beginning to dissipate. This whiskey can easily handle a drop or two of water.
Finish
Medium length, as drying oak counterbalances ripe fruitiness.
Final analysis
Bulleit 10 Year Old comes across as a decent, tasty Bourbon. It works well in the glass, served neat or with the addition of a small quantity of water. I also have enjoyed it poured over a single ice cube, which tends to accentuate the fruitiness. All in all, a good if not sensational whiskey to add to the cabinet. Fans of Basil Hayden's 8 Year Old should be more than happy with this one.


__________________________________________________
Doug Kuebler is an inveterate aficionado and collector of wines and whiskies. Apart from organizing wine and food seminars, Doug has also written extensively on wines and liquors over the last three decades. His first published book-set, The Tumbler's Guide to Single Malt Scotch Whisky, has been well received in North America, the British Isles and Asia.