A Rich Pour 22: Golden Oldies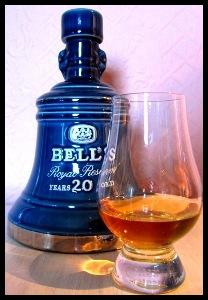 Why is it that many aficionados of Scotch whisky seem so drawn to older spirits? The prestige factor? The allure of the rare? Or could it actually be the taste of the liquor lying inside those expensive bottles? Join Cigar Weekly Managing Editor Doug Kuebler (jazznut) as he looks behind the cachet and cost of these venerable spirits.
Whiskies are, to an extent, like people. Some age quite gracefully and some, well… We'll leave that less than attractive scenario to the darker side of your imagination for the moment. All of which begs the question, "How is the consumer to know whether an older whisky is really worth its asking price?" The answer isn't a simple one.
Scotch whisky does 'breathe' as it matures in oak casks. And while that 'breathing' mellows and beneficially transforms the spirit, it can just as easily strip the liquor of its liveliness. Year by year, alcohol and water vapours escape from the barrels as outside air penetrates into the head spaces of the casks, rendering the resting whisky less potent.
Similarly, oak interacts with the slumbering spirit, infusing it with additional complexities of aroma and flavour even as the chemical composition and porosity of the wood slowly deplete the distillate of its youthful vigour and abrasiveness.
With every individual cask of Scotch whisky traveling its own unique path toward attaining greater age and character, the challenge of deciding when the golden liquid within each barrel has reached an optimum point of maturity can be a daunting one. Here, the art of compromising between the vitality of youth and the depth of age comes into play. It's not an easily discerned compromise.
Management and warehouse personnel have their hands full, not only monitoring and assessing the contents of the casks, but also figuring out how the blending together of variously aged casks of whiskies can ensure consistency of style and still provide for sufficient stocks to maintain availability in the marketplace over time.
In a very few instances, distillery staff (as well as independent bottlers) may elect to issue extremely limited lots of whisky, sometimes even from single casks. But the normal 'everyday' strategy sees larger lots of matured spirits being carefully allocated for bottling at a range of differing ages.
And as the age goes up, so does the cost. It's therefore not at all unusual for a 25-year old example to fetch three, four or many more times the price of its 10 or 12-year old 'siblings'. Go hunting for a whisky beyond a quarter of a century of maturity, and you could be looking at one seriously sobering cash outlay.
With that in mind, here are some pointers to help you avoid a costly disappointment as you consider that venerable bottle staring at you from the shelf of your liquor store…
Read up before you rip out your cash or card. Between books, magazines and the internet, there's a wealth of information (including reviews) covering most of the Scotch whiskies available commercially. No guarantee you'll agree totally with what's out there media-wise, but at least you will obtain some idea of the style and quality of various whiskies. From that point on, let the adventure unfold (or not).
Official distillery (or parent company) releases versus offerings from independent bottlers. The former are (with the exception of very limited edition or single cask issues) usually drawn from relatively large stocks of whisky, the latter not so much so. This is not to say that official distillery releases are invariably better, or that offerings from independent bottlers can't be quite superb. It's merely to point out that the distilleries (and their parent companies) normally hold most of the 'playing cards' in the 'deck'.
Releases from distilleries that are not operational or that have closed down altogether. This segment of the whisky market represents one of the few areas where independent bottlers periodically hold greater stockpiles of a given spirit than do the parent companies or the original proprietors. Expect to pay a premium (sometimes considerable), regardless of the quality of the liquor, for the 'privilege' of still being able to purchase such a whisky, especially if the distillery where it was produced has been silent for more than a couple of decades. The malt whiskies from Port Ellen on Islay and Rosebank in Falkirk are two prime examples.
Greater age invariably means better quality. In a word, "Wrong!" That very well aged and incredibly expensive edition you're considering purchasing may reveal a glistening gem, or just one tired old whisky long past its prime. Beware. It's well worth remembering that those spirits capable of truly improving in cask past two decades of age represent but a tiny fraction of all the whisky maturing at any given time.
Cask or 'casket'? To further elaborate, the quality of the cask or casks utilized for maturing an older whisky is critical to the resulting quality of the spirit. First-fill ex-Sherry casks or ex-Bourbon barrels may provide an ideal environment in which to mature a whisky over an extended time frame. But second or third-fill oak vessels might be even better in a number of instances, as they can often lead to a gentler and longer maturation cycle without introducing too many negative elements. Either way, you wouldn't want to lay down a lot of money for a supposedly exclusive bottle, only to be disappointed by what ends up in your glass.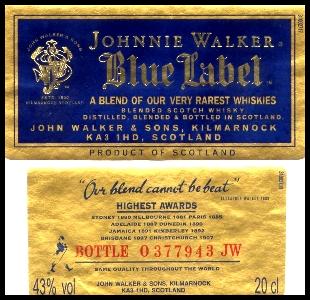 As an aside, what does it mean when no age is mentioned on the label? Simply that the producer has elected to blend together younger and older spirits in order to create a whisky displaying (hopefully) the best attributes of both youth and age. Any indication of age on a bottle of Scotch must, by law, refer to the youngest spirit in the blend. It matters not if the youngest component represents only a tiny fraction of the whisky as a whole.
Take Johnnie Walker Blue Label, an established classic in the ultra-premium blended Scotch niche. Here, spirits matured for less than 10 years are melded together with others aged for many decades. The result is a rather tasty and, yes, rather expensive pour, which has achieved a universal reputation as a prestigious product despite the fact there's no mention of age on its label.

The no-age-statement sector of the marketplace is becoming increasingly important of late, with delectable whiskies such as Aberlour a'bunadh, Ardbeg Uigeadail, Chivas Century of Malts (an astounding blend of 100 malt whiskies, many of them of great age) and J & B Ultima (128 different whiskies in this one!) blazing a trail for others to follow.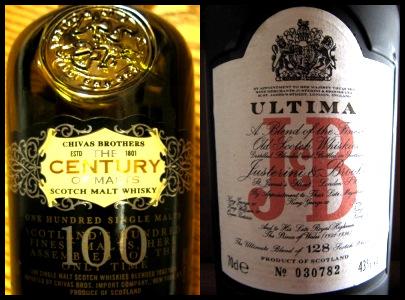 Is the wood influence delectable and well integrated, or does it border on chewing oak? It's all up to your personal likes and dislikes, of course. Just be aware that some older whiskies can lay a large load of lumber on your palate, to the point that other flavour aspects become something of an afterthought. It takes a strong spirit to be able to stand up to such a hefty contribution from the cask(s) it was matured in.
The distillate is the key. Yes, it is possible to come across very old whiskies, from any number of sources, well worth trying. But if you really want to increase your odds of success, you'd perhaps best begin by focusing on those distilleries and companies with an established reputation for excellence in this portion of the market. Names such as Chivas, Glenfarclas, Highland Park and Macallan immediately spring to mind.
The 'Mr. Fix-It' factor. Picture an older whisky that's perfectly palatable, except perhaps for a very slight dullness or degree of imbalance owing to its age. Toss it out or sell it off? Why not simply revitalize the spirit by racking it into some high-quality casks (for instance, superb Oloroso Sherry butts freshly imported from Spain) for a relatively short period of time? Presto… A miraculous recovery!
This sort of tinkering occurs. And while the reasoning behind it (not to mention the fact that it can and usually does work) isn't to be denied, I still have to wonder whether the consumer wouldn't have been better served by being offered the whisky in a younger and less expensive form.
The wood finishing phenomenon is everywhere within the Scotch whisky world these days. But when it comes to expensive, older spirits of this ilk, you need to proceed with even greater caution. After all, you're not purchasing makeup. You're hopefully buying what lies beneath that final gloss.
How much is too much? With a select number of Scotches currently fetching over $10,000 per bottle, it's clear that the stratosphere is the limit. In this respect, whisky has accompanied many other consumer 'luxury' items by tapping into the ultra-premium realm of the marketplace. Yet just as the age of a spirit is not a guaranteed indication of the relative quality of the liquor, neither is the price of the whisky.
Alright. It's time to taste. Let's take a few moments to put a 'six-pack' of older malt Scotch whiskies through their paces…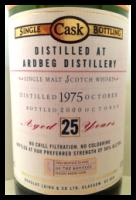 A quarter of a century in oak is a pretty long time for any Scotch whisky, never mind one from Islay. Why Islay in particular? Because those pungent, reverberating sensations of peat smoke fans of Islay whiskies so like tend to soften and dissipate over time. In this case, however, that diminishment has allowed an uncommon degree of underlying complexity to emerge. What's more, the peat, though seemingly delicate, is still everywhere. This single cask issue from a reputable independent bottler counts as one of the very best whiskies it's been my pleasure to experience.
(Cost: CDN$199 in 2002 / Now extremely hard to find)
Distilling operations at Convalmore were halted way back in 1985, and the facilities are presently being utilized by William Grant & Sons strictly for warehousing purposes. Remaining stocks of whisky from this venerable site thus grow dearer by the day. The sample cited here shows how well a judicious selection of older casks can work. For despite the pronounced wood thrust of the whisky, the sweetness of the malt is so intense as to effectively wrap itself around the cask influence. There's even a refreshing sensation that persists right through to the finish. Alas, yet another Highland episode of, "Why did they close that distillery?"
(Cost: CDN$203 in 2010 / Now increasingly hard to find)
Here's yet another malt whisky from a non-operational distillery, which has been converted into a museum. There's a lot of wood to digest here (Sherry impregnated, it would appear), although the balance between sweetness and dryness as well as the clarity of the overall flavour presentation are noteworthy. This thickly textured whisky certainly makes for an eminently satisfying after-dinner dram. A piece, or perhaps I should say, "sip," of history for lovers of well oaked whiskies.
(Cost: £130 in 2009 / Now practically impossible to find)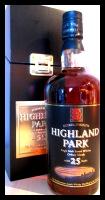 First introduced during the late 1990s, the official distillery release of this whisky has achieved a track record for consistent excellence in its age category equalled perhaps only by The Macallan. Here, we encounter an almost unfathomably layered, mouth-watering malt that exudes nuanced harmony and warmth in truly decadent fashion. Peat, salt, honey and heather dance together in perfect unison. An Orkney treasure, to be sure.
(Cost: CDN$266 in 2010 / Now replaced by a 48.1%ABV version)
Back to the past again with a whisky from a long-closed Islay distillery. This malt was bottled from a Sherry butt. From the outset on the palate, wine cask derived honeyed unctuousness fights a losing battle against an upsurge of quite complex simmering peat, with an oak sheen subsequently polishing everything as it infuses a mildly drying effect into the proceedings. A very, very good if not quite outstanding example of the uniqueness of the distillery's make. It's becoming increasingly difficult and expensive to procure top-notch Port Ellen.
(Cost: £48 in 2009 for 200ml / Other releases are still available)
Talisker is such an engaging, forceful sort of Scotch in its standard 10-year old guise that one has to wonder what's to be gained by leaving it in oak for such a long time. In this instance, subdued malt sweetness really struggles to be heard amidst a somewhat bitter astringency. Strangely enough, though, such a seeming imbalance actually serves to highlight the seaside aspects of the whisky. Expect massive doses of everything coastal (fishing wharves and salt) along with loads of citrus and pepper. If you're prepared for the onslaught, this whisky makes for a strangely palatable form of medicine. Give it a chance. It will grow on you.
(Cost: Prices range from around £150 upward / Releases have been issued on an annual basis)
The overall verdict? Truly unique whiskies across the board, with the near misses being more than compensated for by the truly remarkable. You pay your money and…
Cheers!

________________________________________
Doug Kuebler (jazznut) is an inveterate aficionado and collector of wines and whiskies from around the world. Doug has organized wine and food seminars as well as written extensively on wines and liquors. His well-received book set, The Tumbler's Guide to Single Malt Scotch Whisky, has recently been followed by release of The Tumbler's Tasting Notes.