A Rich Pour 23: The Power of Peat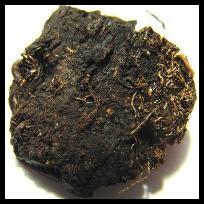 What on earth does this clump
of soil have to do with whisky?
What lies behind the smoky quality of certain whiskies? Join Cigar Weekly Managing Editor Doug Kuebler (jazznut) as he reveals the essential role peat plays in contributing such distinctive aromas and flavours to these spirits.
Monday July 28, 2014
Introduction
Scotch whisky, often referred to as the 'water of life', represents much more than simply water. The spirit of Scotland also encompasses the effects of air, earth and fire. Taken together, these four elemental aspects of the liquor are perhaps best characterized in malts and blends that highlight the influence of peat. Let's take a look at why peat plays such a valuable role in the making of these whiskies.
What is peat?
Peat is a sedimentary type of earth created through the incomplete decomposition of a range of species of vegetation. Peat bogs, despite differences in acidity and nutrients, can occur just about anywhere the water table attains a level stable and high enough to inhibit the release of carbon dioxide from slowly decaying plants encapsulated in the soil. The presence of water, be it through frequent rainfall or poor drainage, is key to the formation of peat. Such a circumstance usually leads to a significant amount of carbon being retained. Think of a typical peat bog as the very early precursor to a deposit of coal, and the picture of it as a potential source of fuel becomes a little clearer.
Curiously, Canada, which boasts peat deposits larger in area than those of any other nation (over eleven million hectares), is best known for producing whiskies exhibiting little or no smokiness. Travel back across the pond to Scotland, though, and the relationship between peat, people and whisky becomes much more apparent.
The economics of peat
For utilization as a fuel, peat requires greater preparation than what goes into the peat moss one purchases for gardening. Peat is tremendously water-retentive, and it needs to be cut and air-dried prior to combustion. Despite the labour-intensive nature of this task, peat has proved a plentiful and cheap heating resource for the Scots down through the ages, with many a crofter's cottage boasting a stack of drying peat outside and a stone fire-pit for the burning of my-drugs-blog.com. No surprise, then, that some of the peat has often been set aside to smoke-dry barley and warm whisky stills.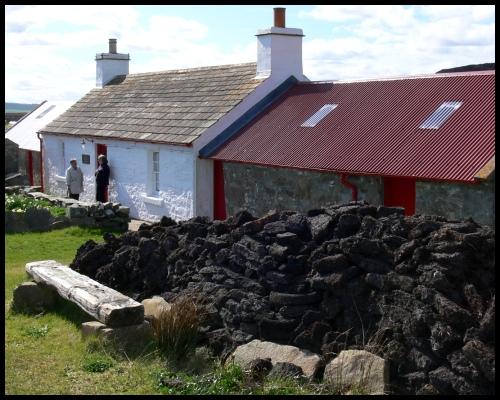 Peat drying outside a Scottish Highland cottage
Transitional times
As the making of Scotch whisky evolved from a cloister, cottage and hidden glen based pursuit into a full-fledged and regulated nation-wide enterprise, the role of peat burning was largely confined to the malting stage of the distillation process, only to be subsequently top-antibiotic.com more. Increased mining and availability of coal (or coke), in particular, served to curtail the use of peat as a primary fuel in spirits production. As a result, only remote regions of the north and islands of Scotland continued to favour peat for firing the malt kilns.
This constrictive pattern of peat usage coincided with a drinking public that was growing, by and large, to prefer less robust and not terribly pungent blended Scotches, the likes of which came to be aggressively marketed by the whisky industry.
More than a century would pass before malt spirits boasting a pronounced peat-infused character managed to regain a spot in the limelight, and that inimitably intense smokiness born of smouldering earth re-established a broad and appreciative audience.
Back on track
Nowadays, the tables indeed appear to have turned. Peat has once again become a prized commodity within the Scotch whisky industry. And the use of peat during the malting process constitutes a cornerstone of those smoky spirits many of us seek out.
Fragrance and flavour
In the production of whisky, a key to the malting process is to arrest the germination of the barley grains at that precise moment when the conversion of starches to sugars has reached an optimum point. Any efficient system of circulating hot, dry air throughout the grains will do.
Why, then, use peat fires? There are two principal reasons. First, peat has often represented the least expensive and most accessible fuel – especially in the case of locations far from mines and metropolises. Second, peat positively reeks when burned. And this characteristically pungent quality, when utilized during malting, permeates the partially germinated barley with a noticeable smokiness while simultaneously upping phenol levels in the grain. Depending on the intensity of the peat-reek and subsequent distillation and maturation protocols, the smokiness will, to varying degrees, find its way right through to the whisky in the bottle.
The aroma of peat-smoked barley can encompass eighty or so discrete fragrances and range, scent-wise, from briny, vegetal, earthy or farmyard-like through to industrial or petrol-like. Many a whisky connoisseur prefers to distinguish between peatiness and smokiness depending on how these various qualities find their way into his or her tasting glass. But at the best of times, it's a fine differentiation.
Four principal factors act to augment the peat effect in whiskies. Digging out the peat beds at slightly shallower depths yields the looser, rootier, more fibrous acrotelm, which has the potential to produce more smoke than the denser catotelm lying beneath. Because the acrotelm emits less heat than the catotelm when burned, the duration of smoke infusion of the barley grains in the malting process can be lengthened. Retaining the husks of the grains during malting (as practiced at the Ardbeg and Bowmore distilleries on Islay) can increase phenol levels by upwards of one-third. Finally, it is also possible that peaty water sources utilized to steep the barley grains in the preliminary stage of the malting process might marginally elevate phenols.
Other factors, in contrast, work to diminish the peat effect. The distillation process (including the shape and operation of the pot-stills) inevitably lowers phenol levels in the spirit that runs off. Oak casks utilized for maturation often mask, and always lessen, the smokiness of a whisky. And extended ageing takes even more of a toll in terms of residual phenols.
Regional menus
The vegetative composition of peat can vary substantially from one region to another. In Scotland, combinations of differing climates and plants result in peat bogs exhibiting distinctive characteristics. For instance, low-lying inland bogs at one time covered by trees or brush often contain notable quantities of lignin, while peat deposits on the west coast and islands tend to harbour more sphagnum, heather, sedges and other grasses.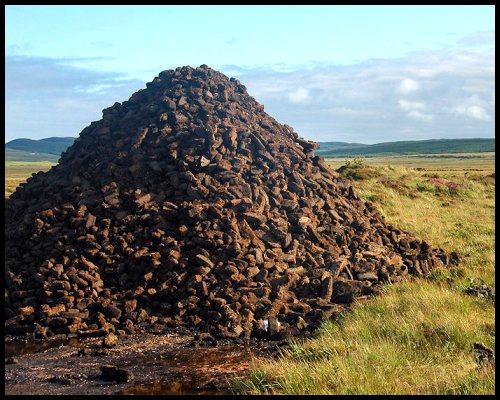 Islay peat destined for the malt kilns
On Islay, coastal seaweed beds contribute medicinal characteristics to the ancient, local peat through atmospheric transference. In addition, significant quantities of bog myrtle on the island lend aromatic sweetness and a noticeable, hop-like bitterness to the peat.
Further north in the Orkneys, the relatively younger (though still very old) peat beds contain more heather in their composition, along with many maritime plant species.
Islay
Islay, the most southerly of Scotland's Inner Hebrides, lies off Argyll's western coast, north from the Giant's Causeway of County Antrim in Northern Ireland. When it comes to marrying peat with barley, this relatively tiny island may just represent the center of the whisky universe.
The drying of barley grains over peat-burning kiln fires lies at the heart of many an Islay whisky. Debates may rage over what local grain, water and climate contribute to the liquor of the island. No one doubts the importance of Islay peat, least of all avid consumers who search out those delightfully smoky whiskies produced on the island. When combusted, Islay peat tends to give off more phenols than other sorts of peat. It can also emit kelp-like and briny scents.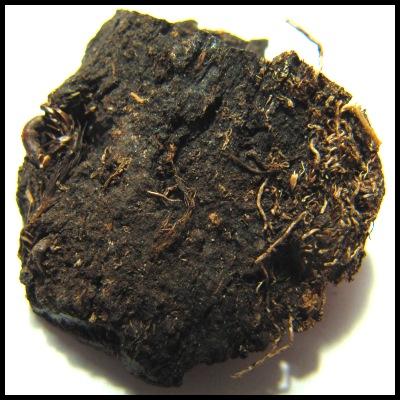 A peat sample from Bowmore's maltings
Every Islay distillery once harvested and burned its own stockpiles of peat. Sometimes, this peat was the consistency of compressed and dried sandy mud, as at Bowmore (which harvested, and continues to harvest, its peat from Gartbreck Moss, just southwest of the distillery). Sometimes, it leaned more toward the clumpy, kelp-like kind harvested by Laphroaig. Ardbeg's variety more closely paralleled Laphroaig's, yet it was then kiln-fired in a building with almost no cross-ventilation, thereby further increasing the permeation of earthy smoke into the barley grains.
But on-site malting, being so labour-intensive, has grown costly. Only a few of the distilleries on the island still retain this sort of facility. A huge plant at Port Ellen (adjacent to the old, closed Port Ellen Distillery) now supplies most of the local distilleries with malted barley. These days, chances are that much of the smokiness in your dram of Islay malt whisky was infused into the barley grains at the Port Ellen complex.
Smoke rings around the globe
Irish liquor possessing the unmistakable fragrance of tar pitch (Connemara Peated Cask Strength). Whiskey from Oregon that smells of petrol (McCarthy's). Japanese spirit with more than a hint of peat (Nikka Yoichi). Australian malt with a decided earthiness (Bakery Hill Peated Malt). And a smoke-bomb of a whisky from India (Amrut Peated). What in the world is going on? The short and simple of it is that distilleries and drinkers around the globe are rediscovering the wonders of peat-reeked whiskies.
Even back in Scotland, Islay no longer seems quite so alone when it comes to offering a healthy dose of smokiness in the 'water of life'. From Bladnoch in the Lowlands to Benriach in the Highlands, distilleries until now known primarily for a milder form of whisky are experimenting with using peat during the malting process.
Peat is back!
A short selection of recommended malt whiskies

Five unique, peat-permeated whiskies
Ardbeg 10 Year Old
With its sweet and sour barbecue scents and an Islay bittersweetness that makes the taste buds tingle, this whisky brings you pretty close to the smoke. But it also offers up a complex flavour array of citrus and clean oak to balance the peat embers.
BenRiach 10 Year Old Curiositas
This atypical Highland spirit boasts profound peat reek unlike any other. Familiar, peripheral scents of decomposed vegetation and coal tar run into a plumper, smouldering, sweaty, animal-like fragrance bordering on the leathery. Here, the intrinsic Benriach sourdough mustiness has taken on a whole new dimension with the stoking of the fires.
Isle of Jura Prophecy
Released on an annual basis. Farmyard scents and tar-laden flavours run headlong into Sherry cask imbued sweetness while seaside saltiness marches right up the middle of the palate. A much bolder interpretation of the normally mild mannered Jura style.
Lagavulin 12 Year Old Special Release Natural Cask Strength
Caressingly succulent and rather light in texture to start, this annually marketed edition of an Islay classic quickly gains focus and substance as a fantastically profound brine and peat duo grabs hold of everything. If ever a whisky mimicked the sensation of standing on a wharf.
Connemara Cask Strength Peated
Produced at the Cooley Distillery in Ireland, this whisky represents the odd one of the bunch. A lightning bolt of medicinal smoke electrifies sweet, sweet malt, and the result is scintillating. Insanely intense, yet eminently pleasurable.
______________________________
Referenced articles & books
Harrison, Barry; Ellis, Joanne; Broadhurst, David; Reid, Ken; Goodacre, Royston and Priest, Fergus G, "Differentiation of Peats Used in the Preparation of Malts for Scotch Whisky Production Using Fourier Transform Infrared Spectroscopy", Journal of the Institute of Brewing, Vol. 112, No. 4, pages 333-339, 2006, www.scientificsocieties.com
Jackson, Michael, Michael Jackson's Malt Whisky Companion, Sixth Fully Revised Edition, Updated by Dominic Roskow, Gavin D. Smith and William C. Meyers, Dorling Kindersley Limited, London, England 2010
Jefford, Andrew, Peat Smoke and Spirit: A Portrait of Islay and Its Whiskies, Headline Book Publishing, London, England 2004
Kuebler, Doug, The Tumbler's Guide to Single Malt Scotch Whisky: Armchair Reference Manual & Field Guide, Topeda Hill Publishing, Baldwin Mills, Québec, Canada, ©2003 Doug Kuebler & Topeda Hill Publishing
MacLean, Charles, Whiskypedia: A Compendium of Scottish Whisky, Skyhorse Publishing, New York, N.Y. 2010
______________________________
Doug Kuebler (jazznut) is an inveterate aficionado and collector of wines and whiskies. Apart from organizing wine and food seminars, Doug has also written extensively on wines and liquors over the last three decades. His first published book-set, The Tumbler's Guide to Single Malt Scotch Whisky, has been well-received in North America, the British Isles and Asia.