My First Drew Estate Safari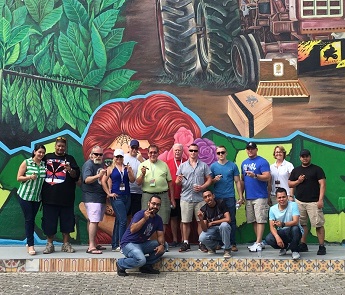 May 8th, 2017
I've been blessed by the generosity of Jonathan Drew a few times. Anyone who's met him knows how welcoming he is. He's an instant friend. His ability to create blends is truly a unique gift. Jonathan also has a knack for bringing just the right people into the Drew Estate family. And 'family' is just what the Drew Estate enterprise is.
Those who work on staff in the U.S. are full of personality. Each is a superstar in his or her own right. Many I consider friends. A few I consider brothers.
A few months ago, I embarked on my first Drew Estate Safari to Nicaragua. What a truly amazing and special time it was – one that I highly recommend, and can't stop talking about. If you go to the Drew Estate webpage, you'll find out more about it. But I wanted to share my personal experience with you, and to tell you some things I learned that aren't told there.
We were greeted by our host and tour guide, Henry, who welcomed us with several boxes of Drew Estate cigars while on the bus to Esteli. First, we stopped for lunch at a restaurant to try some of the local delicacies, which were fantastic. The surprise treat was having Jessi join us. We ended the meal with an outstanding coconut flan. I discovered that I am a fan of flan. (We had passion fruit once during our stay as well.) During lunch, we were provided boxes of cigars on the table to choose from. I ended my lunch with one of my favorites, a Liga Privada 9.
After lunch, we set on our two hour ride to the Drew Estate compound. We saw so much of the countryside as Henry told of its history, along with the history of the company and its cigars. Between his lecture, and the cigars we had along the way, the drive passed fairly quickly.
Upon our arrival at the compound, we were all impressed with our residence, where we would be staying for the next few days. The place was truly a resort, with a real 'home' feel to it. We were told to help ourselves anytime to the various Drew Estate cigars set out.
My favorite room was the gallery of humidors, which contained one box each of the cigars from Drew Estate's history. The living room included a kitchen, a comfortable leather couch and chairs, two televisions and a new, one-of-a-kind ashtray Jessi had made for guests to sign. I felt honored to mark it with my nickname, 'How Gross'.
Outside the living room, a balcony overlooked the compound and valley below, which were truly majestic. Stairs led down to a pool and several Adirondack chairs, each uniquely painted with a different Drew Estate theme or cigar. The walls also had murals with recognizable product characters and cigars. There was an outside dining area, and our rooms were located off to the sides. My room was 'made in the shade' – Undercrown Shade that is. It was quite comfortable too. Attached was Jessi's Subculture Studios, and next to that, one of the blog. The main factory sat across the street. We also had some one-on-one time with Jessi, and gave him our items to be adorned with custom art, as well as our t-shirt orders.
That night, we were fed an incredible feast by the chef, followed by more cigars with good company. I discovered that one of my fellow Floridians was a transplant from Long Island. We stayed up connecting on things we miss (like egg sandwiches), and enjoyed more cigars late into the night. He also happens to hold the record for most DE safaris - nine. He shared many of those experiences with me, as did his friend and fellow police officer. They are both big fans of Drew Estate.
The first morning, I woke up just after 3:00 A.M. (I normally wake up around five, and it was two hours later in Nicaragua). I showered, then smoked a cigar until coffee was served, and had it while watching a majestic sunrise over the beautiful valley. It was truly breathtaking.
We had a great breakfast around 8:00 A.M., and got to know each other better. Our hosts Henry and Edward became quick friends to us all. After lunch, we stopped at a museum and learned more about Nica Rustica's El Brujito – very cool. We all then went to the Joya factory following a quick souvenir stop at a local store.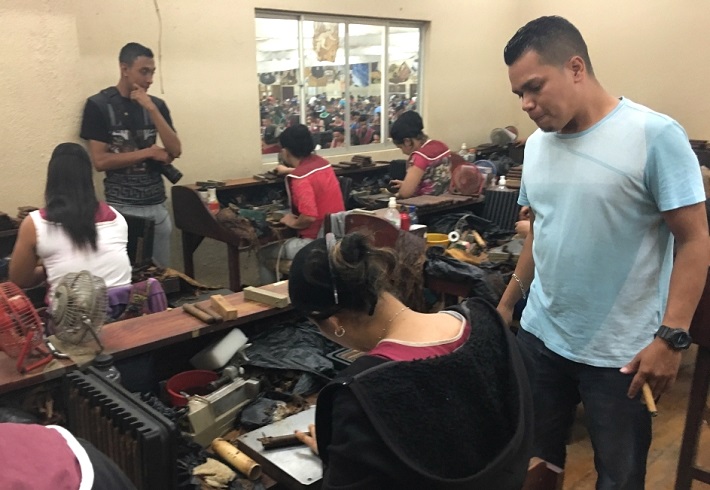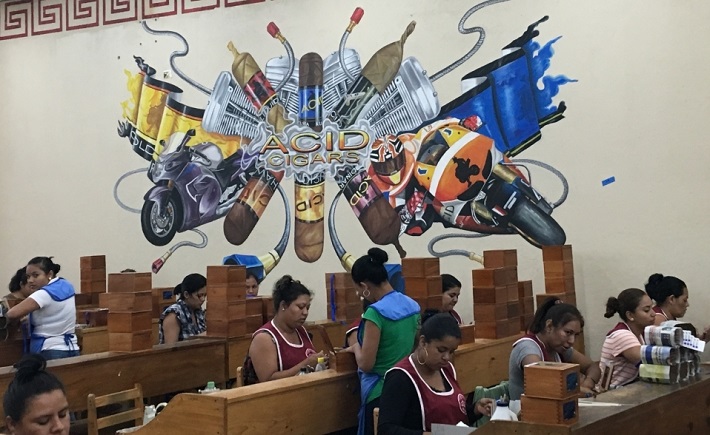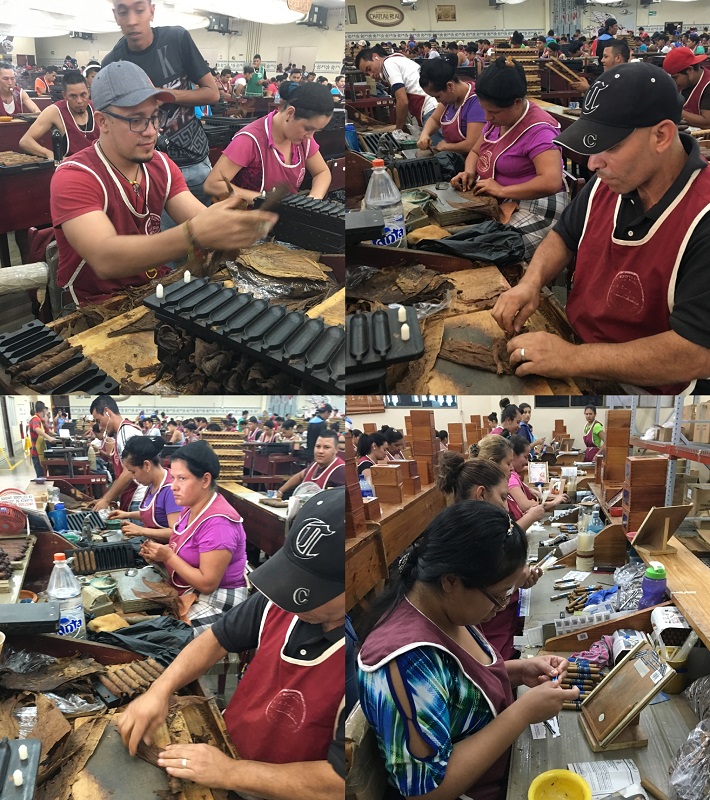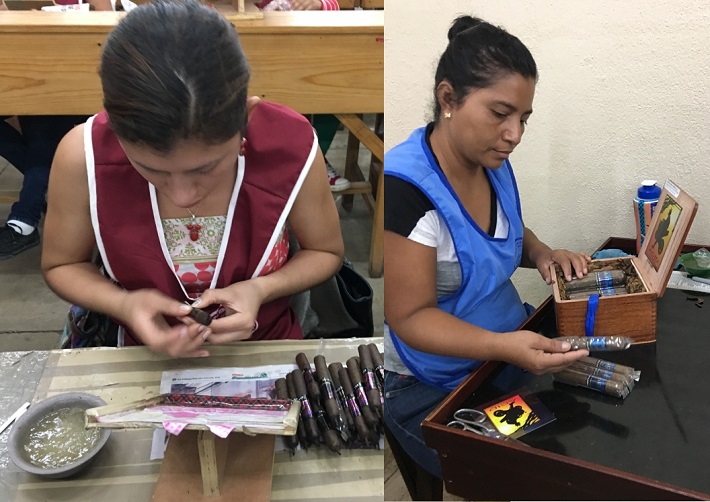 The Joya factory tour was so much fun, and informative. We got to see the entire process of cigar-making, which ended with us creating our own blends as well as having rum and other drinks along with snacks. Then, it was on to a leather store, and finally home for dinner and more good times – in particular, the Long Ash Contest, which I happily won. We all smoked Undercrown Shades in twenty-five minutes. My ash was just over 4½ inches, and I won my choice of three paintings. I chose an original Jessi Flores one depicting two 'Dirty Rats' riding a motorcycle. I love it! The other 2 paintings went to the second and third place winners.
Just prior, we wished Happy Birthday to Pedro via video chat. I happened to be sitting low on the couch with my back to the cellphone, and overheard, "Where's my man Howard?!" Loved it. I raised my hand and turned around to see my 'sweetheart of a guy' friend.
As the night died down and most people headed off to bed, three of us stayed up late smoking and laughing. It had been a truly memorable day.
Throughout our stay, we were gifted many special cigars – especially as finales to lunch and dinner.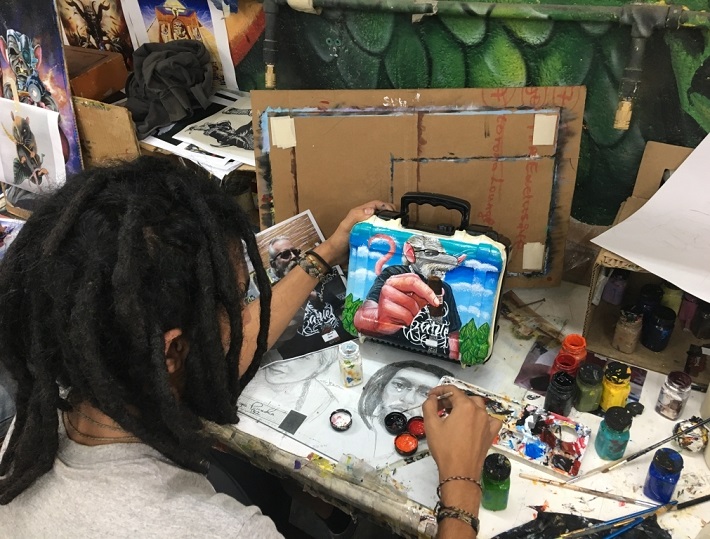 After breakfast the next morning, Jessi took us on a tour of Subculture Studios. My art was my first love. So, walking around and seeing the artists working on our items was an added bonus for me. I was the last to leave. I actually wanted to stay longer and continue to watch the artists at work.
We also got to see the only maker of the well-loved Flying Feral Pig in action, which is what I had my DE blend made into – a blend I call the 'Grip'.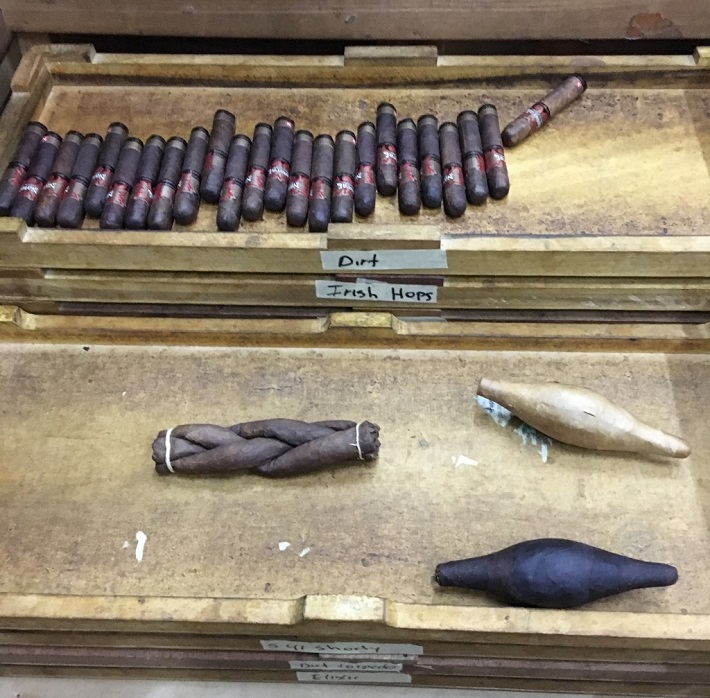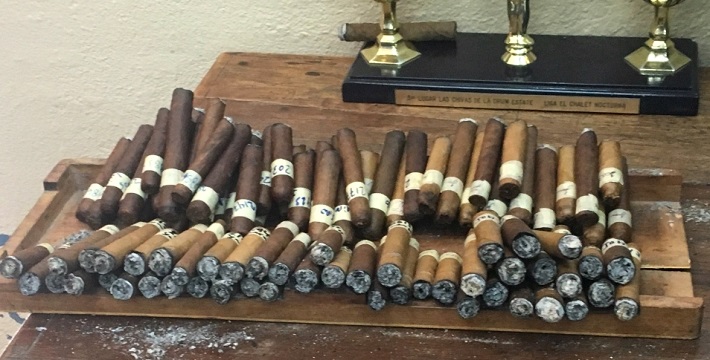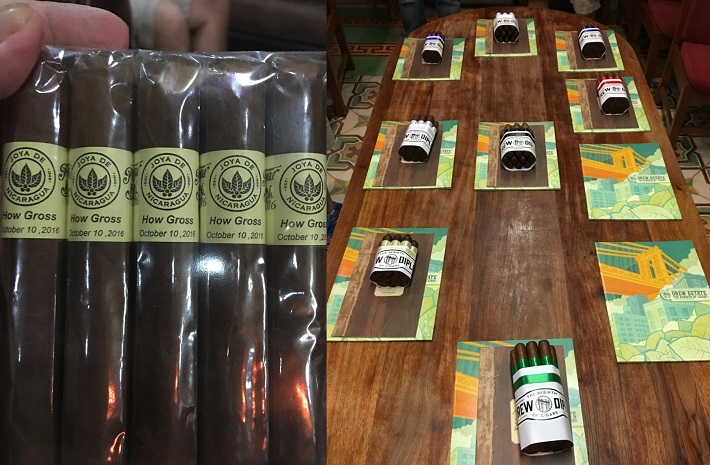 As I've said, Jonathan Drew is very generous. Yet something I didn't know was just to what degree his generosity extends. The man truly appreciates his employees and the people of Esteli. Years ago, there was a major storm that wiped out a highway bridge. He paid to have a new one built.
When we visited the Drew Estate factory, we saw a fleet of buses, which is used to transport employees to and from work. Another amazing thing is that Jonathan has built a free health clinic for employees (and their families) right on the factory property. He truly has a loving heart of gold.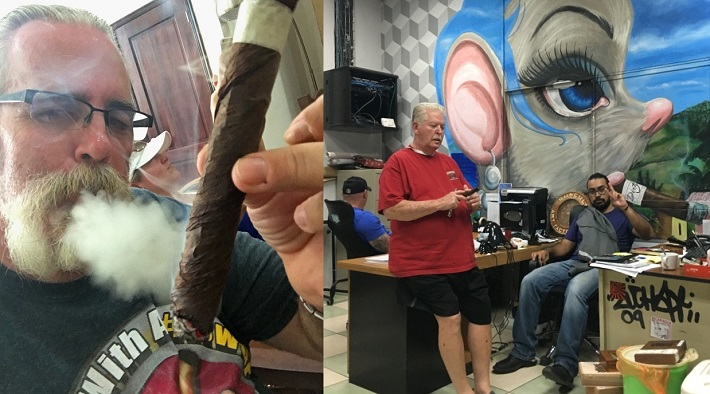 Each day, we had incredible meals (including so many local delicacies that were firsts for us) served up by the chef who worked so hard. Since then, I always want poached eggs in my tomato soup.
I'm already anticipating my next Drew Estate Safari, and plan to return to Nicaragua every year. If you haven't been on a DE Safari yet, let me simply say that it's a must for any cigar smoker.