A Rich Pour 32: Garnacha and Graciano Take Center Stage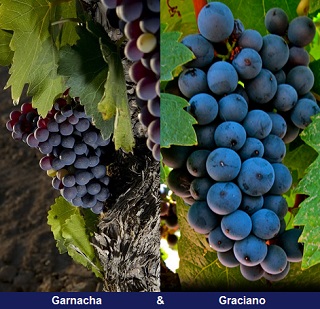 For the northern-clime residents among us who are, as yet, dealing with snow and cold, the thought of food and wine of the warming sort is, well, a comforting one. And given the vagaries of El Niño this year, we're not alone.
When it comes to winter wines, reds rule. I'm a big fan of the dry red wines from Spain, as I find they often offer tremendous quality at relatively modest cost. Garnacha and Graciano may not be the most widely planted red grape varieties in Spain, but they've certainly gained in stature of late – not the least because of the resurrection of old vineyards and the efforts of a few pioneering winegrowers.
Garnacha (known in many other countries as Grenache) is a case in point. Though somewhat low in acidity and tannins, and prone to giving large harvests and high alcohol levels, it still has the capacity to make quite densely constituted wines – if they are produced from grapes picked from older, lower yielding vines. These wines are generally rounded in texture, and usually boast spicy berry flavours. Garnacha also plays a crucial supporting role in the Rioja, where it is frequently blended together with the more prominent Tempranillo.
Graciano has, in the past, been something of a 'forgotten' grape. Once again, it's played second fiddle to Tempranillo in the Rioja. However, the low-yielding Graciano variety – like the Petit Verdot in Bordeaux – has proved its worth over the decades in terms of contributing colour, aroma, structure and ageing potential to many of the fine red wines of Rioja. And now, it's been thrust into the limelight as a solo performer.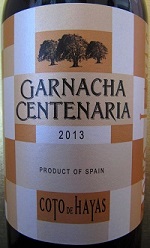 I've chosen to highlight five tasty Spanish red wines here – three produced from Garnacha and a pair from Graciano. (They range, in degree of alcohol by volume, between 14 and 14.5 percent.) Rest assured, none of them will make too much of a dent in your finances,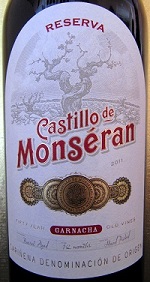 either.
Coto de Hayas Garnacha Centenaria
Price: Modest to moderate
I like the boldly modern stylistic traits of this wine. Its flavour evokes sensations of fruit liqueur and spices, while the mouth-feel is quite smooth and velvety. Anyone (New World wine lovers in particular should take note) looking for a balanced and fairly complex red wine to accompany stews or barbecues won't be disappointed with this one.
Castillo de Monséran Old Vines Garnacha Reserva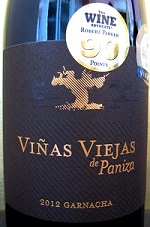 This wine has been a staple in our home for years, as it consistently offers a fantastic quality to price ratio. Floral, fruity, peppery and just a touch smoky on the palate, the Castillo de Monséran Reserva may not be the most complex wine on the block. But boy, does it satisfy!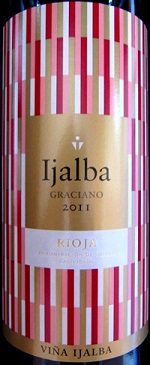 Viñas Viejas de Paniza Garnacha
Compared to the previous two wines, this one initially appears more classically structured and restrained in tenor. Give it a little time in the glass, however, and it opens up to reveal dried fruits that lean slightly to the tart end of the spectrum, as well as herbal notes and fine input from the oak. Very, very good, all told.
Viña Ijalba Graciano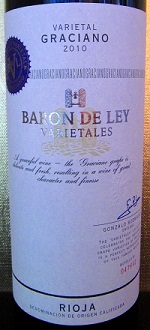 Region: Rioja
Whenever I'm searching for a more modern-style Rioja to place on the dinner table, this winery ranks high on my shopping list. And Viña Ijalba has done much to bring the indigenous Graciano grape back from the brink of total obscurity, too. The proof is in the bottle, as they say. Earthy, spicy, floral, filled with rich fruitiness and rather high in alcohol, this heady concoction really works.
Baron de Ley Graciano
Here is one instance when the elegance of the label truly reflects what's inside the bottle. From its dark plum fruitiness through its subtle notes of pencil lead, earth and leather, this Graciano wine oozes class. All in all, it approaches a Bordeaux-like demeanour (Graves, perhaps?) in both structure and flavour, and is well worth the investment.
Stay cozy everyone, and happy sipping!

__________________________________________________
Doug Kuebler (jazznut) is an inveterate aficionado and collector of wines and whiskies. Apart from organizing wine and food seminars, Doug has also written extensively on wines and liquors over the last three decades. His first published book-set, The Tumbler's Guide to Single Malt Scotch Whisky, has been well received in North America, the British Isles and Asia.
__________________________________________________
Discuss this article in the I'll Drink To That! room on the Cigar Weekly forums. Not yet a member? Then join other like-minded aficionados by registering HERE. You won't regret it!