Cigar Weekly's Top 10 of 2016 - Part 3

January 12th, 2017
Before we wrap up the Cigar Weekly Top 10 of 2016, I think it's important to recap a few things. So I hope you will bear with me.
First - Founded in 1997, Cigar Weekly is celebrating its 20th Anniversary! We're proud to have served you brothers and sisters of the leaf.
Second - CigarWeekly.com is a member-run and member-supported community! Thanks to all of you for visiting our advertisers, AND to our advertisers for being part of the Cigar Weekly family.
Third - I would be remiss in my thanks if I failed to mention some of the other fine cigars that our members, followers and friends nominated for this Top Ten list. I'll name a few at the end of the article.
Finally - It was you, dear reader, who chose this list. Unlike any other publication, we are truly 'member-created, cigar-related'. Thank you for your participation! We'll definitely do this again. In fact, I'm trying to figure out a way to allow people to nominate throughout the year. And when I've done that, we'll announce it here, in the forums and on social media. Please look for us on Facebook (CigarWeekly.com page) and on Twitter (@cigarweekly). Your participation in the forums is welcome too! Help us make our 20th year our best one ever. And stay tuned for contests and special content throughout 2017. This could be the year YOU become a published member of the Cigar Weekly family!
Alright... Enough with the housekeeping and banter. We know what you're here for.
Kicking off the 'Final Five', and coming in at a very respectable Number 5 in your voting:
Tatuaje Black from Pete Johnson and the Tatuaje cigar group. This one's another example of the fine product coming out of Nicaragua these days. The Black had previously only been a limited release item. This year, it's a regular production cigar. And, well, I guess you LIKE IT. Congratulations Pete!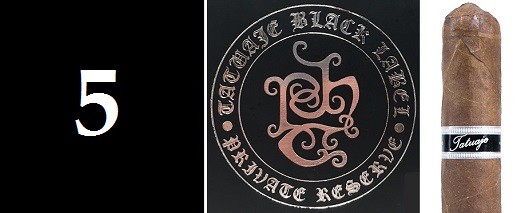 Rocking into 4th place is a cigar crafted by a man with decades of experience in this industry - the Señorial from José Blanco and Las Cumbres Tabaco in the Dominican Republic. This cigar is respectably strong (our Top Five picks certainly demonstrate a preference from our voters for medium-full to full-strength cigars), but it's also a room full of flavor. I was gifted one by José. And we featured a blending seminar from him (2016 edition coming soon) as our first webcast in 2014. The Señorial packs in so much flavor. But one also has to respect the nicotine in this cigar. Kudos to you, José. You really are a master blender!

Another well known player in the industry, and a longtime friend of Cigar Weekly, scores with your Number 3 cigar - the Sobremesa Short Churchill from Steve Saka and his Dunbarton Tobacco and Trust. Steve is especially well known for his work at Drew Estate some years ago. He gifted to a bunch of Cigar Weekly forum members pre-release Liga Priviada No. 9s, Chateau Reals and some other 'non-flavored' cigars as he launched the 'regular' cigar lines at DE. Well done Steve. This is a fine cigar!

Still on the flavor train, but backing off on the power a bit, we roll into 2nd place with the La Historia from Ernesto Perez-Carrillo - another well known and respected name in the cigar industry. (I hope I don't owe Guy Fiery anything for using the 'flavor train' expression.) In all honesty, I'd smoked a bunch of EPC cigars over the past couple years and loved them all - especially the short runs. But I have to state, in all honesty, that the La Historia is the ONLY cigar in 2016 that I smoked once, and then immediately got up and went into the shop humidor to smoke another back-to-back. Congratulations Ernesto. A truly wonderful, flavor-packed cigar!

And now we have it. We've finally come to the end. The reveal must happen. So let's just rip off the tape, shall we?
Sobremesa Corona Grande!
Congratulations to Steve for having three cigars presented in this countdown, and for scoring the first official NUMBER 1 Cigar of Cigar Weekly as voted by our readers, members and fans.

Now I promised, as I opened this article, that I'd mention some other cigars that were in the running. There were actually too many to comprehensively list here, as we had 41 nominations. However, those nominations did include Gaaja by MBombay, Serino Royal Maduro, Aging Room, Black Label Trading, Matilde, Imperia by MLB Cigar Ventures and so many more. I want to also thank the makers who participated in our blind reviews. Please DO look through our review pages. There's so much to see there! Of course, we have more blind reviews on tap for 2017. And we exit 2016 with special thanks to MBombay, Isabella Cigars, Martinez Cigars, J. Fuego Cigars and Tirador Ramos Cigars for participating in the exciting blind review process! Remember... If you're in our forums, you'll see the invitations to participate in reviews!
Don't forget to check out the other two installments in our Top 10 countdown:
The Top Ten 'Runners Up' article covered some really great cigars that split the vote a bit - bunching up in the 11th to 13th places, and really separated only by a few votes each.
And:
The Second Five - revealing Numbers 6 through 10.
Thanks everyone for spending a little time with us!